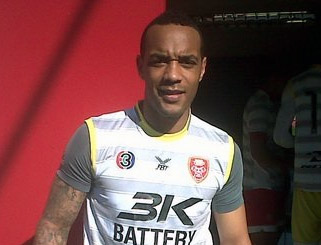 Daniel Gunkel
image: thaileagueonline
Former Bundesliga player Daniel Gunkel is in Thailand
at the moment
, looking for a new club. In the case for Björn Lindemann there is little new to report. While with Thai port the first signs of disintegration can be seen.
On Monday, in a little bit amazement we have taken note of the announcement that Daniel Gunkel should be in Thailand. At that time no club was disclosed he could trial with, but at the latest since middle of the week it is quite clear. It is BEC-Tero Sasana. The Champions League finalist of 2003, is celebrating his 20-year-anniversary in 2012 and with an informed budget of 100 million Baht for the coming season belongs to the top 3. Budget wise. The German-Ivorer Gunkel is under contract with German third division side Kickers Offenbach. Indeed, Kickers coach Arie van Lent informed him that he is not in his plans anymore.
Since January 2011 under contract, he managed to be fielded 18 times for the third division side, plus one time for the reserve team. According to Offenbach-Post the midfielder is to stay for one week in Asia (Thailand). Towards the club he openly indicated to look for a new club abroad.
Daniel Gunkel gave his Bundesliga debut in 2006 for Energie Cottbus and later played for Mainz 05 in Germany's top flight. Unforgotten his free kick goal against Bayer Leverkusen for Mainz.
At current stage there might be a lot of trialist with BEC-Tero. Thus the club explained to have no haste in signing foreign players from abroad. Instead they are looking on quality. In view of the new foreign player rule it is not further surprising.
With only one week to stay in Thailand, Tero could be the only club, Gunkel trials with. Other options exclude themselves almost. All top teams have already filled their spots, and mid table to bottom clubs might be hardly able to fulfill his salary expectation. Still it would be nice if we could welcome two players from Germany in the Thai Premier League 2012.
The other, Björn Lindemann, arrived to Thailand last week as we reported, to complete the compulsory medical. The contract seemed to be formality and his agency informed he would put pen to paper on Monday this week. Since, we have not heard anything new and daily we are wait for the signing of his working paper with Army United.
There are is the first sign of disintegration with Thai port. The financially hardly beleaguered club from Bangkok's dockland, has revoked the contracts with goalkeeper Ulrich Munze and defender Swa Moise. Obviously Thai port could not and did not wanted to finance the salaries of both any more. Both were key players and the backing of the team during the last years. However, according to rumors Ney Fabiano is on move from Chonburi to Bangkok whose salary certainly is not less. How does this fit?
Todsapol Lated move to Muang Thong is already announced, and Ekkapoom Potharungroj could follow him. After the loss certain of key players at the middle of the season, and now at the end, Thai port might be already labeled as number one relegation candidate in 2012. Besides, it is necessary to play league cup final on 4 February against Buriram, worth 5 mio Baht prize money.