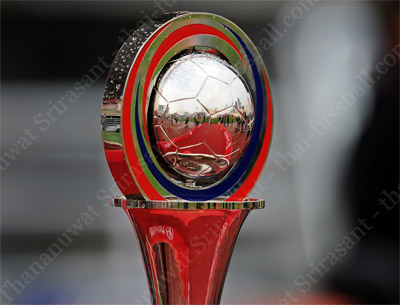 image: © Thananuwat Srirasant
With its first games this weekend the Thai league cup season 2012 sees its proper kick-off. All bigger teams will have to take on small teams on away in the first round, with titleholder Buriram facing Regional League side Roi Et United.
Ahead of the first proper round which is due this weekend, a qualifying round was played between all clubs from the Regional League. 28 of them eventually qualified for this coming round. At the draw all bigger clubs where drawn against smaller clubs, with latter all receiving the right to play at home. Sriracha and Siam Navy got a home match against Nakhon Ratchasima and Khon Kaen. All the four are playing in Thailand's Division One, from which Saraburi FC is the only club decided not to participate the League Cup. Pattani FC thereby received a bye.
For the modus: Up to the round of last sixteen, the winner is determined in only one match. From then usually the winner is decided in a two-legged tie. However, league and FA consider to drop this regulation for 2012 for tight schedule reasons.
Absolutely interesting games, even ones which have a lot of surprising potential, we can expect on the weekend. Thus Yala against Thai Port is just one. From the south it was to be heard that the pitch is hard like stone. And this should be only one example, from the circumstances with which the top teams have to deal with. Also with some teams for the first time, players will come on whom might not have appeared on a regular base in the league. They therefore could lack of game practice. With Chonburi FC this is, for example, the Korean Jeon Kwang-Jin. Udon Thani against Bangkok FC and Rayong FC against TTM are just other encounters to name where we may could see a surprise win.
Apart from we could see only one-legged fixtures this year, there could be one other change during the next years. League cup sponsor Toyota expressed his wish, the winner of the cup to be awarded with a AFC Cup starting spot. Compared with the Thai FA Cup, the league cup financial wise is already quite more attractive. Though till now the FA Cup winner is still guaranteed a AFC Cup spot. However, the league and association officials said to take the sponsors proposal into consideration. If that really would happen, it clearly would degrade the federation competition, which by all meaning still should be the most important cup to win in a domestic competition. Alongside winning the league title of course.
You can find all 31 encounters of the weekend on our
league cup overview
. Ratchaburi v Chainat and Sriracha v Nakhon Ratchasima are having live coverage on SMM TV.