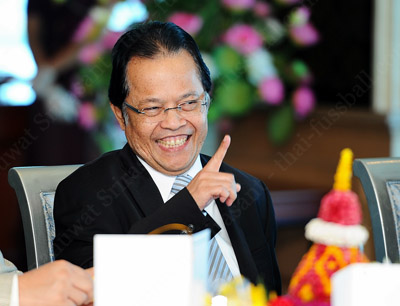 Makudi: still having a laugh
image: © Thananuwat Srirasant
As if there were no other problems in Thai football, officials, clubs and authorities are in a hard dispute over the realisation of the next presidency election. Besides, a fourth division side from Pattaya plays no unimportant role and Thailand could face a FIFA ban.
To make the whole things even more complicated for laymen and people who are not familiar with the local structures in the sports ministry and his connected football association, the world governing football body FIFA is involved. Namely in a manner which raises the question whether FIFA interfere in national sports affairs to secure a possible reelection of Worawi Makudi.
Thailand's incumbent FA boss Worawi Makudi announced in April that only 72 of the 184 FA members are eligible to vote at the next Thai FA election. Moreover, he informed that the presidency term should change to four years instead of two years. With it, one wants to follow proposals to the association to adapt their structures as recommended and announced by FIFA on 14 February. Indeed, these are no orders, but merely directives with which the associations can determine independently whether they do follow or not.
Though all FIFA members will have to ratify the changed statues, already compiled last year, and valid from 31 July. But so far available for checking at FIFA, this concerns no structural adaptations or even a change in the electoral procedure within the member's associations as Worawi wants to see them realised now.
While the proposal to elect the president for four years, is not to expect to meet opposition, the reduction of the eligible voters is. The distribution of voices according to the proposed reduction by Worawi Makudi would be as follows: 36 would fall to clubs of the Thai Premier League and Division 1. No changes here. But only 30 out of 80 Regional League sides would have a vote if the new rules would apply. And only six from amateur sides. Of the 30 voices from the Regional League, five would fall on to the Division Champions and the remaining 25 would be distributed by a FAT committee. Easy to imagine that surely none of the 25 would be one who stood out with criticism of Worawi recently.
So it is less surprising that Worawi's opponents fear he gets an upper hand if the votes would be reduced as proposed. Worawi replied to his critics that on the contrary, the planned reduction got him disadvantages. In view of the figures this might probably be a bad joke. And after rumors came out of possible vote-buying, 300,000 Baht per voice, it doesn't make wonder candidate Virach Charnpanich called on the sports ministry to observe the election closely.
However, if one takes the answer of FIFA to us, which can be read up at the end of the article it has the appearance as if the FAT has agreed with FIFA on the number of 72 already earlier this year, after the footballs top organisation studied FAT statues and made several proposals. A reduction on 72 members however, was not necessary if Worawi would have had a different opinion or proposal.
One day before the yearly meeting of the FAT on 15 June, Pattaya FC, if you like a fourth division side currently playing on amateur level in Thailand's B-Cup (Khor Royal Cup), filed two lawsuits. One against the association and one against Worawi. As a consequence the Minburi court ordered the FAT to suspend its meeting. It was planned earlier that the election should be carried out the same day as Worawi Makudis' term officially ended. But it was the that time incumbent presidents aim to see the new rules ratified first before any election could go on. And FIFA's too.
Makudi received backing already in May after a meeting with FIFA officials. Although FIFA neither could know whether the new rules would pass the congress in Mauritius and moreover, as already mentioned, all member's associations would ratify them by 31 July.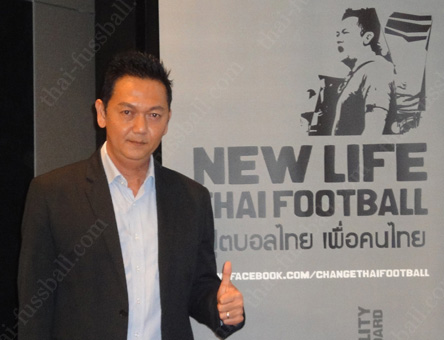 Pinit Ngarmpring
image: © thai-fussball.com
Both rival candidates of Worawi, Pinit Ngarmpring and Virach Charnpanich, are in believe that the election could have gone on as expected on 15 June and the statues could amended later.
[both are still of the opinion, ed.]
However, FIFA strive against it and in the forefront threatened with consequences, which as usual could entail a ban from all international activities.
Naruemon Siriwat, deputy chief of the Senate committee on sports, thereupon believed that one could disregard any national sports law, if they are determined anyway by international sports organisations. Thus, e.g., the Thai law intends, that a sports association (no matter whether volleyball, athletics or football association) must hold new elections within 30 days after a term has end (which in our case would be mid of July). Should it not happen, new elections can be also fixed by a 1/3 majority within the association or when in doubt the SAT can be called on. If now, FIFA and Worawi position oneself and mean new elections could take place in a duration till the end of September, it would break national law.
The FIFA statutes themselves state in article 17 that every association must determine his interests independently and without influencing control of a third party. And elections shall provide for a procedure which guarantees full independence for the respective committee. In the eyes of FIFA, the appeal of law of FAT member Pattaya FC, is a clear offense against article. 68 of the sports governing body, where it is written that no third party may interfere with the affairs of an association. In contrast it also breaks FIFA rights if FIFA interferes in national matters what might be given here, concerning an electoral delay.
Meanwhile Pattaya FC has withdrawn the case against Worawi, because his term officially end at 16 June. However, FIFA still demand that the club draw back his suit until the 24 June. Should it not happen, one requires to hand out sanctions for the amateur club. Following FIFA statutes, which intend the Court of Arbitration for Sport (CAS) in Lausanne as the last authority, a hearing of the CAS concerning the FAT election would be the only logical consequence.
Here, above all, spice is added by the fact that the updated FIFA statutes intend to be more transparent. Bringing through one of FIFA pleasant candidates (Worawi is, as everybody knows, a long-standing FIFA executive committee member and bosom-friend of Sepp Blatter) with the presidential election of a federation appears like the logical continuation of FIFA politics where the welfare of the "family" is in the foreground.
For the interested reader: We do not want to hide the reply's which we have received from on this topic from FIFA in full length.
FIFA in generall on the restructuring and its conversion concerning the Thai FA:
http://www.twitlonger.com/show/n_1rksk7s
FIFA on the informed reduction on members having a voice: http://www.twitlonger.com/show/n_1rkto2l
The article originally has been written in Germ last week and been translated these days. Meanwhile Pattaya FC has withdrawn all files.