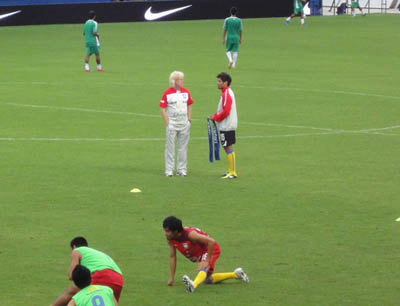 image: © thai-fussball.com
Thailand's preparation for the AFF Suzuki Cup in November starts next Monday. Winfiried Schafer called up 28 players to report on Monday 13 August.

A warm up match against a selection of Thai League foreign players will mark the kick-off for Thailand's preparation for the Suzuki Cup. Therefore Thai national team coach Winfried Schafer called up 28 players this week to report for camp on Monday 13 August. Taking a close look at all the nominees, you almost wont find any big surprise. Apart from the usual suspects the German called up Peerapong Pichitchotirat of Bangkok Glass, his first one under Schafer, and shooting star Napat Thamrongsuphakorn from Samut Songkhram FC. For latter it is his first call up for the seniors in general.
Initially it was planned to call up 18 foreign players from the Thai Premier League only. However, the plan changed as finally 22 players have been called up. And they are not even from TPL clubs only with eight players elected from Division One sides. Pretty noticeable, most of the players are from clubs which based not farther than a 2 hour drive from Bangkok. A proper selection of TPL and Division One players for the All-Star team surely would have look different. Nevertheless, Douglas Cobo from Sriracha FC, for example, takes it serious. He feels honored and is pride of his nomination.
Thailand:


GK:
Kawin Thammasatchanan (Muang Thong), Sintaweechai Hatairatanagun (Chonburi), Sivaruck Tedsungnoen (Buriram)
DF:
Theeraton Bunmathan (Buriram),
Mongkol Namnuad, Piyaphon Bantao, Panupong Wongsa
(Muang Thong), Cholratit Jantakam, Anucha Kitpongsri, Suree Sukha (Chonburi), Nattaporn Phanrit (BEC Tero), Niweat Siriwong (Pattaya)
MF:
Suchao Nuchnum, Surat Sukha, Jakkraphan Kaewprom Jirawat Makarom (Buriram), Datsakorn Thonglao, Phichitpong Cheuichieu (Muang Thong), Adul Lasoh, Natthaphong Samana (Chonburi), Peerapong Pichitchotirat (Bangkok Glass), Sumanya Purisai (Chainat)
FW:
Teerasil Dangda (Muang Thong), Suriya Domtaisong (Buriram), Pipop On-Mo (Chonburi), Chatree Chimtalay (Bangkok Glass), Kirati Keawsombat (Wuachon), Napat Thamrongsuphakorn (Samut Songkram)
Thai League Foreign All-Stars:
GK:
Devala Gorrick (Air Force), Junichi Watanabe (Chantaburi)
DF:
Keisuke Ogawa (Pattaya), Lee Jun-Ki (TOT SC), Obama Florent (Buriram), Dejan Vukadinović (Chainat), Mario da Silva (Thai Port), Yannick Ossoko (Police United), Kone Seydou (Wuachon), Abdoul Coulibaly (Rangsit JW)

MF: Jeon Kwang-Jin (Chonburi), Sylla Moussa (BBCU), Hironori Saruta (Bangkok Glass), Gilbert Koomson (BEC Tero), Yuki Bamba (Supanburi), Douglas Cobo (Sriracha), Solomon Tetteh Okutu (Bangkok FC), Alpha Sama (Saraburi), Adnan Barakat (Muang Thong)

FW: Dudu (Osotspa), Douglas Gardozo (Rachaburi), Paolo Barbosa (Siam Navy)

The warm-up between the national team and the Foreign All-stars takes place on 15 August at Suphachalasai Stadium. While the training camp for the Thai internationals start on 13 August. Initially the second preparatory match was planned for 12 September against Myanmar. Here the plans have changed, and Thailand will test against Iraq, coached by the Brazilian legend Zico on 5 September. Who once would like to see all Brazilians playing their trade in Thailand at one blow might have a good chance here.