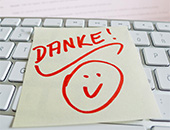 With the new year just arrived, we want to grab the chance to take a look back at 2012 and risk a look forward, especially on our own behalf.
But in first place we would like to wish you, dear readers, a "Happy New Year" and say "Thank you" to you all. Your continual interest in Thai football and the reading of our web page is confirmation and incentive for our efforts. Though we also like to thank various clubs, person responsible and players, as well as officials, journalists and the national team for the good cooperation with us throughout the last year. For example: following a personal invitation by officials, we participated a Regional League meeting in January 2012 which has marked an early highlight for us.
Based in Germany and Thailand, we were just more than glad to welcome the first German professional to Thailand in Bjorn Lindemann and as it stands, chances are not too bad to see him playing in Thailand another year. Germany's biggest monthly football magazine "11 Freunde", a magazine in the tradition of "When Saturday Comes" reported on us and the founder of this website in his print issue of September 2012. With the year closing in we were invited to the "Fehlpass-Podcast" where we got the chance to talk about football in Thailand for almost one hour. Other invitations we received, from a Thai TV show and a football Magazine in Malaysia, unfortunately, did not happen in the end after initial talks. So to say, 2012 was a really exciting year for us.
Of course we do not want to forget the FIFA Futsal World Cup in Thailand with the disaster around the new Futsal Arena, Chonburi's AFC Cup run with the sharks just stopped by Arbil in the semi-finals and not least the AFF Cup. Even if it was not enough for the Thai national team to lift the trophy, the shown performances of Winfried Schafer's Eleven, provides reason enough to look forward optimistically.
Our fourth year
With 2013, thai-fussball.com, enters his fourth year since founded! Together with our German version, we proudly look back on nearly 1,000 published articles, as news, reports and interviews. Besides, 2012 was as successful as 2011 for us as we once more counted more than 1 million page views in one entire year. Visitors of our web page can be found around the world. Whether it is Japan, Australia, America, Malaysia or Indonesia. And Thailand of course.
We are also well-positioned in the so called "social media channels" with 3,800 followers on
Facebook
and 1,500 on
Twitter
by the day the article is written. And of course we will work on increasing our reach, in hope more people become fans of football in Thailand. This also includes to keep our website up-to-date in terms of technology. So to say to equip it with all the latest comfort Web 2.0 has to offer.
To be able to realise this, we have to fall back on a different system as the one which drives our web page currently. Therefore our attention in 2013 will be dedicated to find such a system and to migrate our site. Unfortunately, our current system the website runs on could not hold pace with the development of the Internet and our webpage. Nevertheless, a possible move might not be happen before end of this year as a lot of coding is necessary and all the actual content will have to be moved and fitted.
Concerning our coverage for 2013 we are not short of ideas and plans but we want to be more inline with the theme of our website. What does it mean for you dear reader? We do not understand us as a news site about Thai Football, the more we understand us a magazine. To underline this characteristic we like to focus on more in-depth reports, interviews and articles. Though you do not have to worry, because we still going to provide you with the latest important news and headlines on our site, as well as the coverage of all leagues. It will be just not in such a detailed way, one may known from us of recent years especially in terms of matchdays.
The sportive year of 2013
...begins with the 42nd King's Cup at the end of January in Chiang Mai. Along Thailand as a host, Sweden, Finland and North Korea will take part in the traditional tournament. A couple of days later, on 6 February, we will see Thailand to kick off its AFC Asian Cup qualification campaign with the important home match against Kuwait. Domestic league action is back on the schedule after a break of unbelievable 4 months, with the 17th season of the Thai Premier League finally to start at the beginning of March. For the duration of the season, till the end of October, national team friendlies are planned to be played on official FIFA matchdays and we are curious on the conversion.
After a more than a year break, finally we look forward to the see the women's back in action with the league hopefully kicking off as planned early this year. It would be important in view of the qualification to the Asian Championship in 2014 which acts as the qualifier to the FIFA World Cup 2015 in Canada.
At the end of the year the next SEA games are on the plan. Then, Thailand's U-23 under the helm of Kiatisuk "Zico" Senamuang as coach, assisted by Saraburi FC coach Tawan Sripan, can hopefully restore Thailand's pride by winning the tournament. The record holder faced two embarrassing early exits in 2009 and 2011.
So let us look forwards to a hopefully successful, new year, for Thai football.