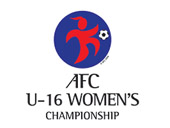 Almost to say, There we go. 2010 finds it end and we got a reasonably conciliatory end. Taking aside the results of the National-Futsal team, they year 2010 can be booked under failure. So more pleasant that Thailands under-16 Women managed to qualify for the final round of the 2011 AFC Asian Championship.
The qualification round was played in Bangkok from 3 December to 12 December at the Rajamangala National stadium. Only the first ranked team, out of a group of five Nations could advance. The girls found their opponents in Myanmar, Chinese-Taipei, Vietnam and Iran.
The girls, coached by Nuengrutai Srathongvian, started well into the qualification round beating arch rival Vietnam 3-1. After the second win against Iran, they were on course and it looked like to become a two horse race between them and Myanmar. The setback came by a loss to Chinese-Taipei which wasn't really on the map. Thailand trailed by two goals at half time but managed to come close by one goal. However, every time they scored Chinese-Taipei was able to to respond and after 90 minutes the game resulted in a 2-4 defeat. As their neighbouring country Myanmar won all their matches, it was coming down to the wire on the very last day. Myanmar had the better goal difference but according to the rules, the greater number of points obtained in the group matches between the teams counted only. So the only thing the girls had to do was beat Mayanmar. In front of 200 spectators Thailand took the lead close to the half hour mark, but Myanmar bounced back short after that. It lasted until the 81 minute to score the winner for the Thai girls. Even 7 minutes of injury time coulnd't change the result.
The final round of the 2011 AFC Asian Championship will be played from 3 November to 13 November. A host is not announced yet. However, Thailand will have to face the heavy-weights of women football in Asia. Namely China, DRP Korea, South Korea, Japan and Australia. All nations are ranked top-five in Asia.
Below you can find the whole under-16 squad of the qualifier.
Goalkeepers:
Kittiya Aryuwong (Sports School Sisaket), Sopa Praewnapa (n/a), Jariyaporn Sungpukdee (Sports School Sisaket)
Defenders:
Vasinee Pakthongchai (n/a), Pintong Kraiyoth (Sports School Khon Kaen), Supiree Testhomya (Sports School Chonburi), Pannaray Suyao (Sports School Nakhon Sawan), Sittinee Sripattanet (n/a), Kanthika Choodet (Sports School Sisaket), Sasiporn Donchanon (Sports School Khon Kaen), Supawadee Jundee (Sports School Sisaket)
Midfielders:
Booyathikan Pasarikang (Sports School Chonburi), Amornrat Utchai (n/a), Kornkanok Siriwan (Sports School Khon Kaen), Suwaporn Phiorueangnon (n/a), Pattha Srikapa (n/a), Chayaporn Samransuk (Sports School Sisaket), Sirintip Tongmai (Sports School Nakhon Si Thammarat)
Strikers:
Alisa Rukpinij (Sports School Chonburi), Innurag Jutarat (Sports School Nakhon Si Thammarat), Lalay Kanjana (Sports School Sisaket), Sridarak Oraya (Sports School Sisaket)

Thailand v Myanmar