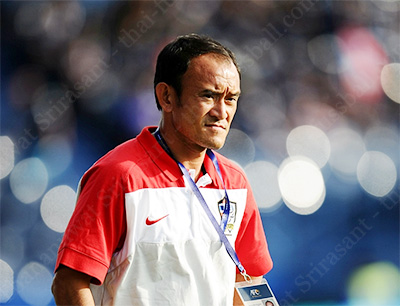 Surachai Jaturapattarapong
image: © Thananuwat Srirasant
A while ago now, Thailand's national side has found its successor of Winfried Schafer. With this article we like to introduce the new man on the sideline and we have spoken with three of his accompaniment about him.
"He was a fitness fanatic. I used to give players who were over 30 an extra day off to recover as I believed it would extend their career..."Chai" never took the day off, he used to train on his own! He used to run to and from training and when he played Golf he even ran in between holes". So Steve Darby, on his former player.
Chai, this is Surachai Jaturapattarapong. 43 year old and 1.63 m tall. Thin hair and he calls a striking chin like Michael Schumacher his own - adorned by a small little beard now and then. Since end of August he is the new national coach of Thailand. His first game in charge will be the friendly against Bahrain on 10 October, followed by the Asian Cup qualifying match against Iran next week.
Up to the obligation of Schafer's former assistant there was not a real discussion going on about any successor. Or any serious extensive search. Only two names, rather half-heartedly, were traded since the departure of the German. Thai striker legend Piyapong Pue-on who for some years hasn't been in charge of any side - and during the last years acted as representative of the TPL - and former national coach Charnwit Polcheewin. But the latter turned down the offer, because he reportedly would like to run for the SAT (Sport Authority of Thailand) presidency in 2014.
In spite of the new job Surachai remains in the office in Chainat. Initially it was announced to have his former national team colleague Kiatisuk Senamuang, currently at the helm of the U23, as his assistant coach. Although it is to be expected that both will work together closely. However, as revealed this week, it is former Osotpsa head coach Pairoj Borwonwatanadilok to help him. Chonburi's Yoshio Kato will be in charge to train the goalkeepers. Following earlier announcements, Surachai's boss at Chainat, club president Anucha Nakasai is to act as advisor of the team. Interesting, in February 2012, so still under Winfried Schafer, Nakasai took his hat as the national teams manager. Reason - he just has not enough time to do the job properly. Whether he does have more time in his role as advisor remains to be seen.
Surachai Jaturapattarapong is not exactly known as one of Thailand's remarkable coaches. And Surachai still need to prove whether he can lead a team to success and trophies. If one would had conduct a survey; asking which coach should lead Thailand, the choice certainly would have fall on Attaphol Buspakom. No other Thai coach produced more success over the last decade like the current Bangkok Glass FC boss. Phayong Khunnaen would have been another option. With BEC Tero, Esan United and now Suphanburi FC he already proves in the third year in succession that he can establish a club in the upper third of the TPL.
But let's go back to Surachai and the question: Who is the new man, which as the first Thai after Charnwit Polcheewin is to wield the sceptre? As a player the 43-year-old has won, actually, everything what a Thai footballer can win and collected a lot of trophies. At home and abroad. Internationally like domestically. He became champion with the legendary side Thai Farmers Bank FC several times and won the Asian Champions League twice with the club. Together with players like Dusit Chalermsaen, Tawan Sripan, Worrawoot Srimaka and of course Kiatisuk Senamuang Surachai formed the so-called "Dream Team" by the end of the nineties. So to speak the Golden Generation of Thailand.
In 2001 he moved to Singapore and joined Home United where he finished his active career in 2005. He won three titles with
The Protectors
and his then trainer Steve Darby rates him highly. "I had Surachai for 3 years at Home United in Singapore. A top class and true professional. I only had him at the end of his career and I wish it had been earlier. He had a great vision, could pass a ball well and had a massive work rate. Like a Dunga or Deschamps style of player". Darby goes on by describing him as: "A very nationalistic Thai who genuinely loves the country," and he believes that Surachai "is an excellent choice as National Coach".
Before he went back to Thailand, he collected first coaching experiences as assistant of Darby at Home United. Following his return to Thailand he started to work for Thai Premier League newbie Bangkok Glass FC and there he worked closely with German Hans Emser in the Academy of the club. In June 2009 he followed him at the helm of the seniors. It should'nt be his last time in charge. He returned in 2012 for another season. The German describes Surachai as hungry for knowledge and praises his methodical and didactic work.
Not only the two accompaniment, Darby and Emser give the new man in charge a good reference and are convinced that he is the right one if he only is given enough time. Also his player at Chainat, Michael Byrne, knows to praise him and sees no problem in a twofold burden. "For me I don't see it as a problem to be honest. I think it could be ok because sometimes when you are in the same place all the time doing everything in the club, day in day out, it can get a lot and I think the time he will take with he national side maybe help him not think as much and let the club side of things stress him out," so the British man and continues: "I think he's a coach with experience of the game as a footballer so he know what the players want and need to feel comfortable. He goes out to make sure the players are happy off the field as well as on. I think his appointment will be good for the national team if the players buy into his thinking and his training which I'm sure they will because they all respect him highly".
How long Surachai will be in the office seems not clearly defined. Presumably, his spell is to end in spring 2014 with the end of qualification to the Asian Cup 2015. There was no press conference on which he was officially introduced. And because he will be still with his club, it can be assumed that there is only a handshake agreement between him and the FA.
We wish the likeable coach the best of luck for his tenure and of course a successful term at office.