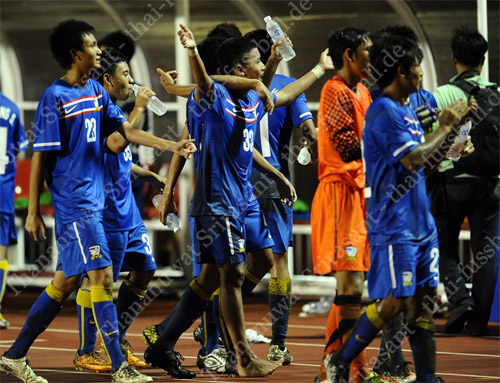 celebration after the first win
© Thananuwat Srirasant
Since this Monday Thailand under 16 is fighting for a ticket to the Asian Championship 2012. Thailand is hosting it's group G and got a very good start into the tournament.
From12 to the 22 September Thailand is hosting Group G of the qualification round to the U16 Asian Championship next year. Beside Australia the home team have to take on Indonesia, Hong Kong, Guam and Myanmar. With Australia, Thailand presumably had to play the strongest opponent in the opening match. About 1,500 spectators attended the game at Thephasadin stadium on Monday and got a got game to follow. Australia went one up in the 41 minute, with seeing the Thai equalise 3 minutes later, right before the break.
Thailand came quick of the mark in the 2nd half and after an hour they were up about their opponents by 3-1. Although the boys conceded one more and Australia could close the gap, Thailand hold the lead and won it by 3-2. Thai national seniors (WC-Qualifier) couldn't do it, the girls couldn't do it, but the boys did it finally, beating Australia.
Second match of Thailand U16 was one what appeared to be an easy task. And it was. Guam was kicked out of the stadium with an 11-0 win. Already at half-time the score was 7-0. Sittichok Kannoo alone scored five of the 11 goals.
Thailand is leading the table now and next opponent are Myanmar (17.09). followed by Indonesia (19.09). and Hong Kong (22.09). All matches take place at Rajamangala stadium and the two best placed teams of Group G are qualified for the proper final next year Already this year in in July, Thailand U16 won the regional ASEAN-Championship. That time the team was coached by Sasom Pobprasert, former Thai port now Buriram FC coach. Ahead of the current Asian championship qualifier, Brazilian Leones dos Santos was signed. He is a friend of Chiang Rai United head coach Stefano Cugurra. Team manager of Thailand U-16 is Mitti Tiyapairat, president of Chiang Rai United.
Highlights Thailand v Australien