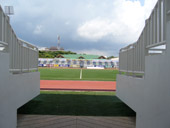 © thai-fussball.de
Over the past weeks there was plenty of action seen Thai national teams involved. It won't get less over the next couple of weeks and month. Already since Thursday last week the AFF U19 championships underway while Thailand is going to start it's campaign off this Sunday.
This years tournament is played with 10 teams, divided into two groups. The best two nations of each group are to face each other in the semis. Thailand was drawn into group A together with Singapore, Cambodia, Malaysia and Philippines. The first opponent Thailand have to take on this Sunday is Malaysia. Latter had their opener already against Cambodia, resulting in a goalless draw. The other match of group A between Philippines and Singapore ended 1-1. This year Thailand U19 will be under the helm of newly appointed head coach Somchai Chuayboonchum. Followers of Thai football may recognise his name, as Somchai acted as coach for TPL side Samut Songkhram for many years. He recently was in charge of Chanthaburi FC and was dismissed there few months ago.
Thailands U-19 squad as far as known to us: GK: Watchara Buathong (Osotspa-Saraburi), Natthapong Kajornmalee (TTM-Phichit), Prapat Rankrei (Ass. Collage Thonburi) - Thanakorn Saipanya (Bangkok FC), Narongrit Khakay (Thai Honda), Narubadin W. (Police United), Akarachai Sematangchairoen (Osotspa-Saraburi), Peerapat Notechaiya (Bangkok FC), Weerapon Srivipan (Sriracha FC), Thitiphan Puangjan (Suphanburi FC), Ittipol Yongporam (Osotspa-Saraburi), Artit Visedsin (Osotspa-Saraburi), Jetarin Phetborisut (Police United), Nitipong Selanon (Chonburi FC), Chalaongchai Pothong (TTM-Phichit), Pakorn Preampam (Police United), Jaturong Pimkoon (Bangkok FC), Narakorn Kana (Sriracha FC)
Group B of the tournament consist of Myanmar, Indonesia, Laos, Vietnam and Brunei. The federation of Brunei had been suspended by FIFA due to governmental interference in its affairs in September 2009 and the ban has lifted in May 2011.
AFF U-19 championships are held yearly since 2005. During the past four years, national teams from other parts of Asia took part of the tournament. However this year only nations from ASEAN are participate. The tournament lasts from the 8 to 21 September and Yangoon (Myanmar) is hosting it.