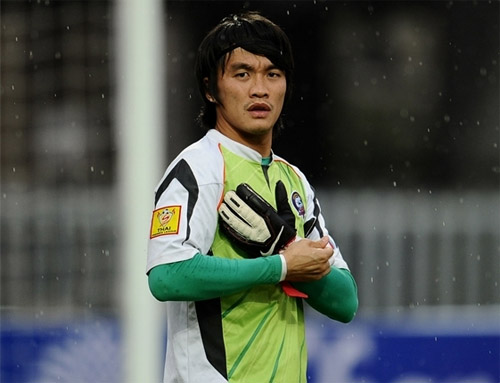 Sinthaveechai Hathairattanakool
© Thananuwat Srirasant
The latest Thai Premier League weekend herald the start of a two week break with international action. On 6 October Thailand is host to Jordan in a warm-up friendly and is to take on Saudi Arabia on 11 October for their third World Cup qualifier.
Thailand coach Winfried Schaefer called up an initial 27-man squad for the camp which already started on monday. In general he called up the usual suspects, with one exception. Regional League striker Sarawut Masuk from Chamchuri United received a surprise call from Schaefer. Though it is not unusual in Thailand, confessed players from the first league moveing to a third division side and vice versa. However the consideration of Sarawut Masuk looks like a novelty, even for Thailand. According to the German, Sarawut has been observed by his assistant Surachai since about a year. Reportatley, his biggest skill are his speed but of course he also can score as he did this season for his club. Sarawut was able to put 10 goals and 20 assist on his account.
Alongside Chatchai Budprom, Suttinan Phuk-hom and Arthit Sunthornpit he could not make it into the final squad consisting of 23-man. Most probably it was Schaefers intention to watch him during training sessions from close range to get an idea of him.
Thailand number one goalkeeper Kawin Thammasatchanan and defender Panupong Wongsa are back on board after injuries. Nominated despite of injuries are Sinthaveechai Hathairattanakool who came away with a dislocated finger from the AFC Cup tie against Nasaf Qarshi, as well as Datsakorn Thonglao and Teerasil Dangda. Datsakorn and Teerasil still carrying slight injuries and both presumably to be spared against Jordan. Nobody want to risk a major injury ahead of the tie against Saudi Arabia.
Winfried Schaefer aims to win the friendly, to boost morale of his boys. While Jordan coach Adnan Hamad want to bring on as many players as possible. Everyone of his squad shall get a chance to shine. The visitors do not really need to boost their confidence, sitting on top of group A in the Asian World Cup qualifier at current stage. Jordan beat China and Iraq already, both sides apparently are the ones to beat to advance to the next stage.
Tickets for the game still available for 100 Baht at the Rajamangala Stadium on gameday. Kickoff is 19:00. The game is going to broadcast live from Star Soccer (True CH 75). Thailand FA already announced that all proceed from the friendly be donated to the victims of the current flood disaster in Thailand.
Thailand 23-man squad:
Goalkeeper:
Kawin Thammasatchanan (Muang Thong), Sinthaveechai Hathairattanakool (Chonburi), Sivaruck Tedsungnoen (PEA)
Defender:
Suree Sukha, Cholratit Jantakam (bboth Chonburi), Nattaphorn Phanrit, Panupong Wongsa (both Muang Thong), Supachai Komsilp (Bangkok Glass), Niweat Siriwong (Pattaya United), Theeraton Bunmathan, Jakkraphan Kaewprom (both PEA)
Midfielder:
Adul Lasoh (Chonburi), Apipoo Sunthornpanavij (Osotspa), Surat Sukha, Rangsan Vivatchaichok, Suchao Nuchnum (all PEA), Datsakorn Thonglao, Phichitpong Cheuichieu, Piyapol Buntao (all Muang Thong)
Striker:
Teerasil Dangda (Muang Thong), Sompong Soleb (Buriram FC), Chatree Chimtalay, Sarayuth Chaikamdee (both Bangkok Glass)