Just fantasy?
idea by thai-fussball.de
In a few weeks time the host for the World Cups in 2018 and 2022 will be announced. From then on, we will have to wait nine years until the host for the 2026 World Cup will be unveiled. What all this has to do with Thailand? Not that much normally. As Thailand so far never qualified for the final tournament. For ages now Thailand has a strong desire being part of a World Cup tournament or even more to host it.
Recently those dreams got some new fuel. A few weeks ago there was a meeting organized by the senate to discuss a possible bid to host the WC in 2026. FAT president Wurawi Makudi attended the meeting. He said the government must give its full support and has a "master plan" if Thailand is to win the right to host the World Cup. He added there are about 10 places which could be World Cup venues.
Alongside Bangkok those could be Thonburi, Pattaya, Hua Hin, Phuket, Hat Yai, Chiang Mai, Udon Thani, Nakhon Ratchasima and Suphanburi.

In fact, every country going to apply needs to have a minimum of nine stadiums with a capacity for 40.000 plus and one stadium with 60.000 plus. And this is as of now. Nobody knows how high the bar will be in a few years. Thailand owns only one stadium so far which would fit into these criteria and that's the Rajamangala National Stadium. Besides it wouldn't fit into FIFA's image of a fancy new stadium.

However, Sports Minister Chumpol Silpa-archa confirmed after the meeting that the government is serious about to bring the worlds biggest event to Thailand. "It may be a dream at the moment but we have to make the dream come true," he said. "If we fail to host the 2026 World Cup, then we have to bid again for the 2030 and the 2034 finals and so on. "If we are not successful, at least we will get a foundation for Thai sports to go the right direction."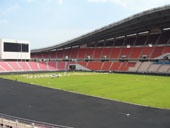 Rajamangala Nationa Stadium
(c) thai-fussball.de
Nevertheless, the plan to go for a bid of the 2026 World Cup, is absurd. And Worawi should know it. He is not only the president of the Football Association of Thailand. He is also a Fifa executive member. The 2018 tournament surely will be going to Europe. Favourites are England and Russia. Australia were bid for 2/18 and 2/22. FIFA already asked the Australian FA to withdrawal from the 2/18 bid. This indicates that Australia will become the host in 2/22. Nowadays, it doesn't matter how fancy and good your candidature is. More and more it becomes a matter of sport politics.

That brings us into the year of 2026. Do the acting people really believe that Blatters FIFA is going to give the tournament to an AFC member two times in a row? Don't worry, I am sure that Blatter will still reign the FIFA in 2020 and beyond. But maybe Thailand is going to have a chance if they apply for the Olympic Games first?! It looks like that there is a trend towards that. Just look at Brazil and England.

After the seminar, Charouck Arirachakaran, secretary-general of the National Olympic Committee made a sober comment when he said that Thailand is lacking of political stability. "This government may support a World Cup bid but the next government may not."

At the end of this article you will be able to find a small clip. It marks the premiere of the Thai Fooball Show from www.thaileaguefootball.com and his author Nigel Byne. In case you are not aware of the second lad, it is Mika Chunuonsee. He plays for Customs FC in the Division 1 and is a former Muang Thong United player. However, a few stars of the league are having their words in the clip, about what it needs to qualify for the World Cup. Hopefully soon, we can put a spot on this new Show, and tell you what it is all about.