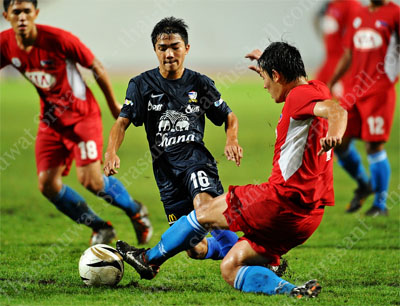 Thailand (U22) v Philippines (U22)
image: © Thananuwat Srirasant
The qualification tournament to the U-22 Asian championship is just around the corner and this means the first real test for Thailand's newly formed youth national team. The teams preparation is already underway since couple of weeks with its final stage just started.
The Asian championship for players under-22 was brought to life in 2011 by the AFC and should be held for the first time in January 2014. Except of group D, Asian-wide qualification takes place from the 23 June to 3 July. Thailand have drawn into group F together with Cambodia, China, North Korea, Hong Kong and Laos, which is hosting the round.
Thailand's U22 started its final phase of preparation on 14 June, with a selection of 29 players. Over the next couple of days two warm-up games are on the schedule. Against Myanmar on 17 and Vietnam on 19. Both encounters are to be played at Rajamangala stadium, kickoff in each case is 19:00. Already last week it came to a friendly in Bangkok against the U-22 of the Philippines which was won with 9-1 by the Thais.
After that game an initially 50-man squad was cut to the aforementioned 29. Up to one player of Narathiwat, the pool mainly consists of players of the Thai Premier League and Division One. And this is the main reason for the league break till middle of July. Apart from some catch up games.
Thailand then will travel to neighboring Laos on 21 June with a final 23-man squad. However, three of the nominated, Sakda Fai-in, Akkarapol Meesawat and the promising player of Narathiwat are possibly out due to injury. Watsapol Thosantia of Bangkok Glass is believed to be called up as a late replacement.
Of course the recently appointed head coach of Thailand's under-22 should not be unmentioned and we like to introduce him herewith. Alexandre Mano Polking is a 36-year-old German-Brazilian. He already worked as assistant of Winfried Schafer in Baku and at Al-Ain. Among others, in his active career he played for lower division sides in Germany like for Arminia Bielefeld (reserve) and Darmstadt 98. Beside being in charge for the U-22 it is said he will also be in charge for the U19 and possibly lead them to a far progression during the Asian championship in autumn.
Thailand U22 preliminary squad:
GK: Watchara Buathong (Chainat), Kampol Pathom-attakul (Muang Thong), Ukrit Wongmeema (Ratchaburi), Yodsapon Tiangda (Buriram United)
DF: Noppanon Kachaplayuk, Putthinan Wannasri (beide Chonburi), Artit Daosawang (Muang Thong), Sakda Fai-in (Osotspa), Piyarat Lajangreed (Buriram), Surachet Ngamtip (Chainat), Narubadin Weerawatnodom (BEC-Tero), Weerawut Kayem (Muang Thong),
MF: Seksit Srisai (Rangsit JW), Sarat Yooyen, Thitipan Puangchan (Muang Thong), Chitipat Tanklang, Kriangkrai Ura-ngam (Buriram), Chanathip Songkrasin (BEC-Tero), Pokkhao Anan (Police), Thanasit Siriphala (Bangkok Glass), Chutipon Thong-tae (Ratchaburi),
FW: Nurul Sriyankem, Wanit Chaisan (Chonburi), Adisak Kraisorn (Buriram), Wanit Chaisan (Chonburi), Anusak Laosaengthai (Muang Thong), Akkarapol Meesawat (BEC-Tero), Anuwat Nakkasaem (Sriracha), Chayanan Pombuppha (Osotspa)