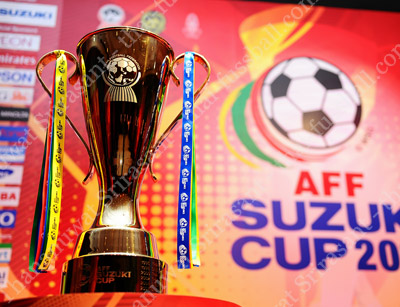 image: © Thananuwat Srirasant
Right ahead of a meeting with league and FA officials, national team coach Winfried Schafer released an open letter last week. In this he called for unity and close cooperation between all parties and called for warm up matches in preparation of the AFF Suzuki Cup.

The leagues programme was knitted too closely and originally, for the second half of the year, left no space for preparation games till November. Above all, appointments on official FIFA matchdays remained unused. On 20 July all persons responsible gathered together including Winnie and came to a positive result. Thailand's national team will be able to play four warm up games until the AFF Suzuki Cup kicks off on 24 November.
The first preparatory meeting is to take to place on 15 August against a selection of foreign Thai Premier League players. The team shall consist of 18 players in total and each TPL club can call up one player. Neighboring Myanmar is chosen as the opponent on 12 September.
The second stage of preparation starts from 5 to 18 November, with a training camp in Chiang Mai. Like for the important world cup qualifier against Oman earlier this year, Winfried Schafer elected this place as his preferred one. It is in possible reach that the friendly against Singapore scheduled for 14 November, takes place in the northern part of Thailand and not Bangkok. A fourth opponent is still searched, preferably from the middle east.
For both appointments in August and September, in each case, one FA Cup and League Cup round will have to make room. However, the league is going to end as recently scheduled on 28 October.
Thai national coach Winfried Schafer, was satisfied with the result. "I am pleased with the arrangement. I have selected Chiang Mai as our training camp because everything there is good such as the weather, accommodation and food".
Furthermore the German coach dismissed any reports that he isn't on the same page with Thailand's FA saying: "I am surprised by such reports because I do not have any conflict with the Thai FA. We have worked together smoothly."
The fact that the league made some room for the two warm-up games in August and September is just less surprising than the following fact. From now on the federation would like to follow the international FIFA calendar and is willing to schedule friendlies on the dates. Players called up for the dates should be pulled together 48 hours before. Of course a different regulation shall apply for big tournaments.