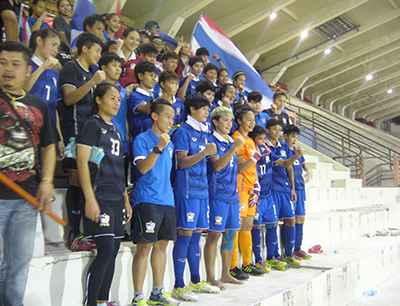 Ready for Canada
image: © thai-fussball.com
Finally on Tuesday evening it happened. As one of the last 24 teams the Thai women's national team announced his final squad for the 2015 World Cup in Canada.
The squad for Thailand's first ever appearance at a FIFA World Cup, composed of 23 players (including three goalkeeper), did not really came up with a surprise. And so changes to the squad was made as we have predicted them a few days ago. Coach Sathongwien made only two changes compared to the team which has won the AFF Championship in May in Vietnam. Talented goalkeeper Jantima Khunpiphat had to make way for the 27-year-old Sukanya choir. Charoenying. She just returned from a few weeks in Sweden which she has spent with Östersunds DFF. Like her compatriot and experienced international Thanatta Chawong. For her, Thai-American Irravadee Makris was left out.
Therefore, some
old friends
to see each other again - after 11 years - in Winnipeg when Thailand is going to face Germany in its last group stage game. Of Thailand's squad of the under-20 World Championship 2004 in Bangkok, five players can be found in the 2015 senior team with Duangnapa Sritala, Pikul Khueanpet, Orathai Srimanee, Naphat Seesraum and Anootsara Maijarern.
On the German side under the reign of Silvia Neid, who is responsible today as she was back that time, are six players who have been in the German under-20 squad 2004. These are Melanie Behringer, Annike Krahn, Lena Goessling, Simone Laudehr, Anja Mittag and Celia Sasic.
So Thailand's squad for the FIFA Women's World Cup 2015 looks as follow:
GK:
Waraporn Boonsing, Yada Sengyong, Sukanya Chor.Charoenying
DF:
Darut Changplook, Natthakarn Chinwong, Duangnapa Sritala, Warunee Phetwiset, Sunisa Srangthaisong, Khwanruedi Saengchan
MF:
Ainon Phancha, Pikul Khueanpet, Silawan Intamee, Naphat Seesraum, Oathia Srimanee, Natthaya Duanjanthuek, Anootsara Maijarern, Wilaiporn Boothduang
FW:
Alisa Rukpinij, Nisa Romyen, Taneekarn Dangda, Rattikan Thongsombut, Thanatta Chawong, Kanjana Sungngoen
Via Frankfurt the national team will travel to Canada this Wednesday with Thai Airways. Arrived at the final destination, the management plans to seek for one more opponenent for a final rehearsal before it's getting serious against on 7 June against Norway.