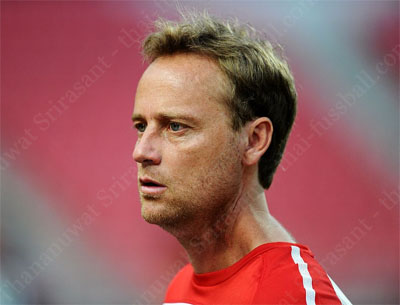 Thai U22 coach Mano Polking
Bild: © Thananuwat Srirasant
On Saturday Thailand's under-22 will start the qualification to the AFC Asian Championship with North Korea waiting as first opponent.
In the course of the preparation, two games against Vietnam's and Myanmar's under-22 served as a final test. Thailand lost both, although taking the lead in each of the respective ties. Against Myanmar it was a 1-2 and against Vietnam it was even a 1-3 defeat. Coach Mano Polking does not see the results as a problem or important. He also explained the two half time losses with many substitutions he made. The goals for Thailand were provided by Chayanan Pombuppha and Adisak Kraisorn. Meantime, the team has arrived in Laos and uses the remaining days to prepare for the start against North Korea.
Ahead of the departure the squad was reduced from 29 to a final 23-man squad. As might have been expected, Sakda Fai in, Akkarapol Meesawat and the promising player from Narathiwat were put off the list due to injuries. Defender Putthinan Wannasri of Chonburi FC is facing some sore muscles, but everybody hopes that he will be ok for the first game.
Regarding his starting eleven, Polking might fall back on established players. So to say players which are fielded on a regular base in the league.
Hence, in the goal
'we'
go with Watchara Buathong from Chainat and in defense, among others with both boys from Chonburi. Pokkhao Anan might be first choice in midfield. And we are curious on to see how the U-19 youngsters like Chanathip Songkrasin and Narubadin Weerawatnodom might do.
It becomes tight in the attacking with plenty to chose from. Chayanan Pombuppha from all certainly has the biggest experience, although even only 20. However, the German coach will also not want to renounce of Chonburi's super sub Nurul Sriyankem. Sriracha Shootingstar Anuwat Nakkasaem already has seven goals in the second Division on the account.
The qualification tournament of group F takes place in Laos and lasts from the 23 June to 3 July. Both first-placed teams qualify directly for the final of the U-22 championship in January 2014. Originally the final round was scheduled to its premiere in 2013 and then to be held every 2 years. So the initial plan of the Asian Football Association. For 2015 the next final is already planned and this one at the same time will serve for the determination of the participants to the Olympic Games 2016.
Up to now is not known whether there will be any live coverage from the games on Thai television.
Thailand under-22 final 23-man squad:
GK: Watchara Buathong (Chainat), Kampol Pathom-attakul (Muang Thong), Yodsapon Tiangda (Buriram United)
DF: Noppanon Kachaplayuk, Putthinan Wannasri (beide Chonburi), Artit Daosawang (Muang Thong), Piyarat Lajangreed (Buriram), Surachet Ngamtip (Chainat), Narubadin Weerawatnodom (BEC-Tero), Weerawut Kayem (Muang Thong), Watsapol Thosantia (Bangkok Glass)
MF: Seksit Srisai (Rangsit JW), Sarat Yooyen, Thitipan Puangchan (Muang Thong), Chitipat Tanklang, (Buriram), Chanathip Songkrasin (BEC-Tero), Pokkhao Anan (Police), Chutipon Thong-tae (Ratchaburi),
FW: Nurul Sriyankem, Adisak Kraisorn (Buriram), Anusak Laosaengthai (Muang Thong), Anuwat Nakkasaem (Sriracha), Chayanan Pombuppha (Osotspa)
All fixtures of group F
(including kick off times) and the table can be read on our website.