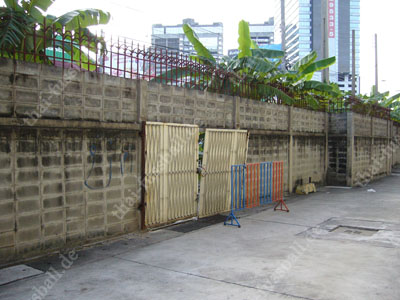 not really a good example,
PAT stadiums backside
© thai-fussball.de
A lot of meetings were held last week at AFC headquarter in Malaysia, toped by the yearly AFC award ceremony. Though Thailand went back home with empty hands from the ceremony, officials at least came back home with good news from Exco-meetings.
To the surprise of many, Thailand received a direct entry slot for the AFC Champions League 2012 while the second Thai representative is going to start at the initial qualification round. If the entrant fails at play-off stage, he is allowed to continue in the AFC Cup, presumed 2nd round of the Play-offs is reached. Thailand got slots in the group phase for the last time in 2008. At that time Chonburi FC as champion and Krung Thai Bank FC as runner-up were qualified. In 2008 as in 2012 Thailand benefits from Indonesia. With only 288 points as result from AFC recent evaluation, they clearly missed the mark and the direct slot to the Thais. While Indonesia dropped more than 200 points compared to the 2010 assessment, Thailand increased its performance about 20 points.
Evaluation? Assessment? Some of you just may ask what it means and what about the good old five-year-ranking we are familiar with from Europe? Now, there is none. At least not in a direct way as we know it from Europe, even though it is part of the evaluation criteria.
The number of starting slots for each country in Asia's elite division is based according to criteria made by the continental FA, and are not of sporty nature. For example, the AFC Cup finalist from 2011, Kuwait SC, would be eligible to play the Champions League qualification 2012. However the Asian FA refused a participation as the club does not meet the AFC criteria.
All together there are 11 areas where it counts, to collect as many points as possible and to fulfill AFC requirements. These are: Organization, technical standard, attendance, governance/soundness, marketing, business scale, game operation, media, stadia, clubs and logistics/infrastructure.
We took a close look at the AFC documents to find out where Thailand has improved or even lost ground. The following listing should get you a better picture of the whole thing. The figures below next to each point reads as follow. Pts in 2010 / Pts in 2011 / max. accessible Pts.
Organization (46.3/48/50) in this area you find things like number teams in a league, length of the season, promotion/relegation. There is not much to improve for Thailand here. 2 missing points could result from the referee criteria.
Technical standard (30.3/30.3/100) The sporty ranking is decisive in this segment. That of the national team (FIFA World Ranking) and the performance of the clubs in continental competitions like AFC Cup and Champions League. At least at club level there is no reproach to make as Muang Thong, Thai Port and Chonburi did pretty well in recent years. Thailand's national team ranks beyond 100 and gives plenty of room to improve and getting more points next time.

Attendance (40.2/42.1/100) Rather easy are the criteria here. Admission fee is required, attendance average of the league must be at least 5,000. Attendance figures from AFC Cup and Champions League ties are also evaluated. Unfortunately, Chonburi and Thai Port with small stadiums dropping there, in contrast to Muang Thong. All sides have represented Thailand during the last two years. Nevertheless, the evaluation of the AFC is still strange a bit. Even though Kuwait got more points than Qatar, former fell through and latter past the criterion created. Countries like Qatar, Kuwait, Saudi Arabia and Emirates by far achieved to get a higher score than Thailand and Indonesia. And it is widely known that league matches in those countries are mostly played in front of empty stands.
Governance/Soundness (93.8/87.6/100) In this category Thailand lost five points compared to 2010. The drop is less surprising than the fact that we are able to achieve such a high score. We even scored more than Australia, Korea and China. Australians are clearly degraded here by 50 points. Primarily this criteria is about full employment for persons responsible of the clubs (Officers, GM, CEO etc), balance sheet and legal entity.
Marketing (42.5/50/50) one area Thailand could completely score. Though web pages could be a bit more up to date sometimes, however, all other marketing tools are nearly exhausted by clubs and the league.

Business scale (1.7/16.2/100) This is the area in which we have improved the most and in overall gave us 20 points more than last time. In the same way, as 100 points are the maximum you can get, it is easily to recognize that even more must be done. Indeed, we do not know how the AFC compares Yen with Baht for example. Since both currencies certainly have a different value and a player from J-League presumably can be sold for more than a Thai player. Also other income of the clubs from Thailand might be lower than that from Australia and Korea in comparison. Just to underline what we pointed out before. A Gamba Osaka shirt cost you 1.800 Baht, while a Muang Thong shirt cost you 690 Baht.

Game operation (41.7/41.7/50) match Commissioner, security officers, fan service. All things they stand, and certainly justifies the points for the TPL. We cannot judge the VIP hospitality here as we want to mingle with the fans and not follow the game in an air-conditioned room behind glass walls.
Media (44.8/43.0/50) Why points were dropped here is not completely with us. There are many reports in many daily newspapers and magazines throughout Thailand about what is going on in the league, the number of the live broadcasts and shows is immense. The only fact we can imagine are, not enough working space available for media representatives, which sometimes does not exist really.
Stadia (21.9/28.3/50) With no doubt TPL flagship is the i-mobile stadium in Buriram. However, many small stadia do not need to hide behind in terms of comfort. All venues are equipped of demanded 1200 lux in floodlight. Except Thai Port's PAT stadium. All together it needs 19 sub-criteria to be fulfilled in the criterion which, unfortunately, cannot be done within no time. Differently than to the Emirates for example, there is no sheikh, building and financing a FIFA first-class stadium. Maybe double standards used here?
Clubs (86.9/83.5/100) 17 sub-points lead to the total number. Among the rest, Cross-Ownership and all what comes with it and possibly one reason why Buriram will become United next year. Back payments are also not permitted. How good the AFC were not assessing Thai Port recently, or did they?
Logistics/infrastructure (50/50/50) Full account in this area, therefore, nothing to comment.

With Buriram-PEA/United, the TPL champion of the 2011 season is virtually certain and so they will enter the group stage. The winner of the FA cup is allowed to participate in the Champions League play-offs. However, if Buriram should win the Thai FA Cup, which is to expect, leagues runner-up takes the qualification place.
Clubs which want to take part in the elite league, must have a stadium which lies in close vicinity of an international airport. If this is not the case, "the Stadia must be located in a city which has at least four connecting flights daily from the nearest international airport to the venue of the match." (cited from official AFC guidelines for 2012). Otherwise they will have to name a different venue. In fact, up to day, Buriram cannot fulfill this topic. However, certainly the AFC may not want to miss such a
"jewellery box"
like the i- mobile and certainly Newin is going to find a proper solution.
As pleasantly as a direct slot is for Thailand, it is valid for the season 2012 only. Next year we are going to see another evaluation by the AFC for 2013 and 2014. Furthermore the criteria will be raised steadily during the coming years. There remains no time for the Thai Premier League and the clubs to rest on the achieved. You cannot always rely on Indonesia to fail.