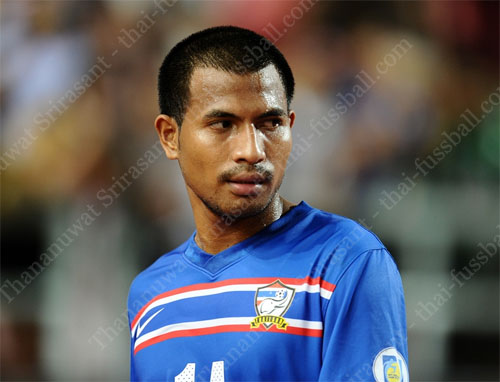 Sompong Soleb
Bild: © Thananuwat Srirasant
After Thailand lost to South Korea in the opening game of the 41st King's Cup on last Sunday, Winnie's eleven need to win against Norway, to stay in the tournament. However, missing fitness and injured players do not make things easy for Schafer. Not enough, with Sompong Soleb a player has "kicked" itself out of the squad today.
Sompong Soleb (Buriram FC) is no longer part of the King's Cup squad. And according to Schafer, he will never again be considered for the national team, as long as he is in charge. On Wednesday the striker produced headlines when he was taken up in the early morning by the police under alcohol at the wheel. According to reports he has driven his girlfriend to work and unauthorized went away from the player's hotel. The amount of alcohol which was proved, was more than permitted.
However, let's take on sports. Thailand lost it's opener to the 41st King's Cup on last Sunday by 1-3 to a South Korea pre-Olympic squad, a full U23 riddled with J-League and K-League players. Right before the break the Koreans took the lead. At the beginning of the 2nd half Schafer brought in Ekaphan Inthasen and Jirawat Makarom for Sompong Soleb and Surat Sukha. And it was on to substitute Jirawat to set up Teeratep Winothai equaliser with 52 minutes played. In the course of the second half Schafer carried out another four changes. Among the rest, U-19 international Chanathip Songkrasin.
The game for sure was not really the best since the German is in charge. Of course he knows how important the King's cup is for fans and people in Thailand. However, the national trainer had to renounce some players because of injury and others were spared like player from Buriram and Muang Thong to which had to play a cup final just days before.
On Wednesday Niweat Siriwong had to send back home because of injury. He was replaced by his club mate Sompob Nilwong from Pattaya United. Already yesterday Jetsada Jitsawad of BEC-Tero has been called up as a late replacement for Nattaphorn Phanrit. According to Schafer, many players lack the necessary fitness. After such a long season, since March 2011, it is not surprising. Though Thailand's top striker Teerasil Dangda is nominated however, he is spared. Others not selected are Datsakorn Thonglao, Suchao Nuchnum or Rangsan Viwatchaichok. All are making room for players like the two U19 internationals or others which Winnie just want so in action and led them to the national side.
Since the King's Cup Winnie has a new assistance coach in Arjhan Srong-ngamsub. He replaces Surachai Jaturapattarapong. But both have just switched the job. Surachai recently replaced Arjhan as head coach at Bangkok Glass. The new assistance coach is widely considered as expert and already filled the role as a national teams coach in the past.
The game on Wednesday against Norway is evaluated by FIFA as an official international friendly. It is the only one of the tournament. The Norwegian FA recognizes his Eleven as a full national side, although almost players from the leagues are represented.
Kickoff is at 19:00 and tickets are available at the gates of the Rajamangala stadium. The game will be televised on NBT 11 and Star Soccer.