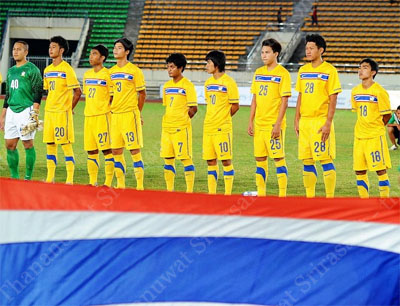 Thailands U22 in Laos
Bild: © Thananuwat Srirasant
Thailand's U22 will return home unsuccessfully from Laos where they hoped to qualify for the Asian Championship 2014. However, the way of Mano Polking's team doesn't end here.
China and North Korea went into the qualification tournament as favorites and came out on top eventually. Thailand lost its opener against North Korea, which inherently is a book of seven seals and therefore hard to judge, by 2-4. Though it was to be expected, however: "North Korea were not unbeatable. But many things didn't gel in the first game and unfortunately we were punished by too much easy individual mistakes heavily" as Sasha Schafer commented towards thai-fussball.com.
After a 4-0 success over Cambodia in the second game, the team around coach Polking was back on track. With Laos, Hong Kong and China in the remaining games, China appeared to be the crucial match for a successful qualification. However, it turned out differently. In hindsight Thailand squandered it most likely against Laos when losing 1-0 to the neighboring country. Though on that day, Laos did very well and were the better side. The host under the direction of Somsack Keodala, in training since 1 May constantly, is using a backbone of players earning their money in Thailand. Midfielder Soukhaphone Vongchiengkham and striker Saysana Sopha. The first one is under contract at Krabi FC and could net four times already during the 2012 season. While latter plays for Yasothon United in the Thai third division. One of his three goals during the tournament, Saysana Sopha then just succeeded against Thailand. The encounter between Laos and Thailand were the only one which could be seen live even if only on Lao TV. Before the tournament, the U22 management was informed by officials quite wholehearted: all games of the Thai team would be shown on TV back home.
Ahead of the clash against China it was certain: two victories from the remaining games are a must to keep hopes alive. And it went out very close.
Thailand could hold onto an one goal lead till deep into injury time and with just 10 men on the pitch, before China eventually scored the equalizer with 90+5 on the clock. Besides, goal scorer and Thai U-19 international Chanathip Songkrasin managed the following. He came on as substitute in the 55 minute, scored 60 seconds later and received his marching order just ten minutes later after being booked twice.
Generally the sending-offs seem to stretch like a common thread through the games of the Thais. Two preparation meetings to the tournament could not be finished with the full number. And also three of five ties of the qualifying campaign in Laos could not be finished with 11 players on the pitch. As our chances of an interview with Mano Polking are not too bad, we surely will question him on his opinion and possible causes, from his view.
Though the 4-0 win over Hong Kong was a conciliatory end, however, Thailand could just finish fourth of group F due to head-2-head comparison with Laos. Adisak Kraisorn (Buriram) and Pokkhao Anan (Police) with two goals each where the top goal scorers for Thailand. Adisak had to left the pitch against China injured and will be out for up to four weeks after first diagnoses.
The fact that the team could not qualify for the final in 2014, does not mean the end of the road for them. The FA's plan is long term based and it is hoped that the core of the players can regain SEA-Games Gold in 2013 after a drought in 2009 and 2011. Similar to Myanmar and Malaysia as they started to prepare their U-teams at early stage for the under-23 in recent years. Myanmar (played in group G), by the way, has been the only nation up to now from southeast Asia, able to qualify for the final U22 tournament. Although Indonesia and Singapore still have to play their qualifiers, but drawn together with Japan and Australia in one group, their realistic chances are minor. Though we heard Myanmar may have used over-aged players and the AFC is informed or aware of.
National coach Mano Pölking is to be remain with us as he also looks after Thailand's U19 and is coach them during the Asian Championship in autumn later this year. At the end one more personnel issue. Norbert Hauenstein who should be part of Winnie's stuff a year ago together with Stefasn Brasas, now finally arrived as we got confirmed. At that time, as everybody knows, a contract with the former condition coach of Bayern Munich did not come about. For more on that, please read also our
interview with Stefan Brasas
. Hauenstein, in his field will be responsible for Thailand's U19, U22 and the seniors.