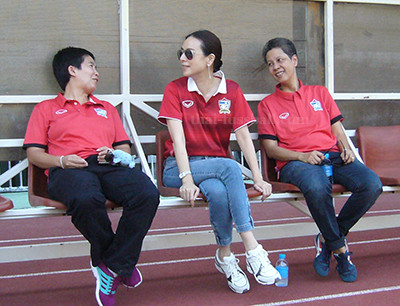 Women's TPL to return?
image: © thai-fussball.com
Will she come or will she not? This is the question. However, all signs point to a return of the Thai Women's Premier League in October.
Since the end of the women's league in spring 2013 it could be read over and over again the league would return. Yet nothing. After the absolutely unexpected successful appearance of the women's national team at the World Cup 2015 in Canada the subject was brought back on the agenda of course. And if Thailand really wants to apply to host the Women's World Cup 2023, a league needs to run if one wants to have a chance to stand against candidates like Japan and Australia with a successful league.
As Siam Sport recently reported, the league should resume in October. And like in 2013, eight teams should take part in the competition. Titleholder CAS-Khon Kaen, Sports School Khon Kaen, Chonburi-Sripathum, Air Force, Sisaket, Buriram-Rajabhat, Bangkok IPE and Bangkok FC (BMA).
The main sponsor of the women's league, as expected, will be the "Muang Thai Insurance" of which the Thai women's national team manager Nualphan Lamsam is chairperson of. She is also to chair the league which should run from October to March 2016. This indeed seems to be an absolutely good idea. On one hand one avoids the rainy season, on the other hand the league hardly overlaps with any national team fixtures.
The prize money up for grabs for the Women's TPL champion is expected to be of 1.5 million Baht. A proud sum as it is not inessential less than what the champion of the men's Division 1 gets. If everything goes by plan, the 2nd tier of the women's league should start in April 2016 and run until the end of the year.
All in all it sounds of good news for the women's football in Thailand. However, as the saying goes "Seeing is believing" thus we just believe it if the first ball is kicked off in October.