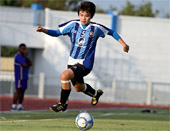 Chonburi FC player, 2010
© Thananuwat Srirasant
In a few weeks the FIFA woman's world championship™ is going to be kicked-off in Germany. Millions will sit in front of the TV or even will go to the stadium. This weekend the Thai Women's Premier League starts into the third, regular season with, most probably caught less spectator's interest.
For the second consecutive time the Thai Women's Premier League starts with two divisions in the season. Founded in 2009, there first there was only one league, in 2010 Division One was introduced. As well as in Futsal the league is dominated by the two big clubs Rattana Bundit and BG-CAS Khon Kaen. And there is no doubt that you will have to beat both if you like to have a chance to win the title.
This doesn't surprise further as both teams are build up by most of the national players. Pikul Khueanpet, Sunisa Srangthaisong, Junpen Seesraum, Chidtawan Chawong, Pitsamai Sornsai, Nisa Romyen just to name a few. Who once would like to see the sister of Muang Thong star striker Teerasil Dangda kicking the ball around, or like to have a chat in the stands with the mother of both should make his way to watch the ladies of Bangkok Thonburi FC. Other teams participate the Thai Women's Premier League are Sisaket FC, North Bangkok FC, Khon Kaen sports school, Surat Thani FC and Chonburi FC. Latter don't play in Chonburi as you could suggest, rather they play in Sriracha in the stadium of the local Sriracha FC.
Eight teams are fighting for pride and glory in Division One, those are namely Ang Thong FC, Ayutthaya FC , Sanamchan FC, Buriram-Rajabhat-University, Bangkok FC, Chonburi sports school, Thung Song school, Nonthaburi and Trang United.
At the end of the season champion and runner-up of Division One will gain promotion direct, while third and fourth ranked teams will have to fight for promotion in a play-off game against 7th and 8th from the first league.
Of course there is also prize money to earn and thus the champion of the TWPL receives 600,000 Baht, the runner-up 300,000 and third-placed team 150,000 Baht.
Several matches from both league will be televised, however, up to now we could not find out on which channel, or where the channel is to be found on Thai TV. Nevertheless, we will report about things ongoing in the women's league on a regular base.
Certainly we know that women's football for some is a rather difficult subject. For us from thai-fussball.de it never was. Because the ladies play the game with the same passion, and often under worse conditions, than her counterparts. There were times in Europe, when nearly nobody knew to make something out of it when hearing the name of Turbine Potsdam or Silvia Neid. That time, maybe 20 years back, the women's football in Asia for long was the measure of things. However, also here the time sometimes catches up.