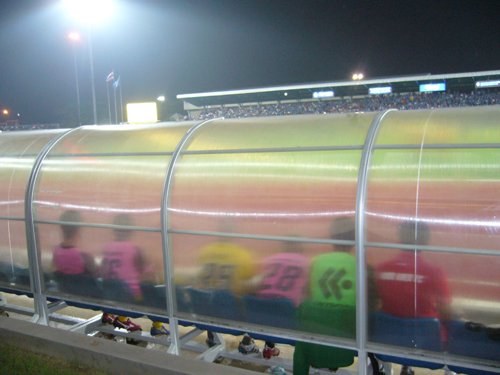 Back round
© thai-fussball.de
Thai Premier League's first leg comes to an end. For us, it means it's time to publish the schedule for the second leg on thai-fussball.de. As usual, we do this with some stomachaches as the second half of the season will just start at the beginning of July. And within 4 weeks time, many things can happen in Thailand.
The schedule we published this weekend for the second half of the season of the
Thai Premier League
and
Thai Premier League Division One
are as of 19 May and 25 May 2011 respectively. If you look at the fixtures you will discover some big breaks. Several points are reason for it. On one hand the cup competitions, League Cup and Thai FA Cup. The League Cup finale is scheduled for middle of October while the Thai FA Cup final will be in January 2012.
In addition, possible other games of the national side in the Pre-Olympic qualifier. A judgement by Court of Arbitration for Sport in Zurich is still pending. The actually most important tournament this year in the calendar are the SEA-Games in November, to be held in Indonesia. Record champion Thailand was eliminated at group stage two years ago. It will be a matter of honour to erase the disgrace of 2009. However, the football tournament of the games could come in question if FIFA eventually really banns the Indonesian FA.

According to the schedule, both leagues, are likely to end on Christmas. Although Christmas isn't really a celebration day in Thailand, the Chidchob family will be able to go ahead with their plannings for the festivities under the palm, er the Christmas tree. It seems unlikely that both clubs from Buriram are not able to celebrate their Championship at the end of the season.

Finally, as usual, our tip not to use the programme of for long-term plannings. It certainly can help you to arrange your visits. but as usual, everything can change quite fast.