Daiki Higuchi and Noguchi Pinto
© by the respective owners
All nine matches of the Thai Premier League were played last Sunday. This was due to the Olympic qualifier during last week. The results from the 3rd round of the TPL were not really surprising at all. Chiang Rai United and Khon Kaen FC celebrated their home premiers, while TOT and Siam Navy remain at the bottom with no point.
The team from the telephone giant TOT was smashed by the Sharks. Latter now smiling from the top of the table. Last weekends TPL matches of course, were also under the shades of the things going on in Japan and minutes of silence all over the place ahead of the matches. A lot of Japanese are playing in Thai League now and some of them wearing a shirt with a message for the people at home.
Muang Thong United - Thai Port FC
First match under the reign of new Head coach Calisto, didn't mean anything else than the first 3 points of the season for the defending champion. Middle of the second half, still goal less, and Mongkol Namnuad from Thai Port had to leave for shower after his second yellow. With such a constellation and Muang Thong playing at home, you can leave the ground. Because it is pretty much sure, that the home side will score. And so they did. Dagno Siako marked the lead with a lovely overhead kick. It seems some things do not change at Yamaha Stadium, no matter who the coach is. However, Thai Port didn't really deserved a point. Kawin was left without nearly any work. His equivalent on the other side, Munze Ulrich, showed a good performance and prevented the Harbor Lions from being down at a more earlier stage. It looks like he really got over his mistakes during the first two matches of the season.
Remarkable, both supporter sides were applauding each other and either side chanted the opponents name after the game.
Muang Thong United:
Kawin Thamsatchanan, Pakasit Saensook, Panupong Wongsa, Nattapon Phanrit, Boubacar Issafou ( Dagno Siaka), Datsakorn Thonglao, Jakkapan Pornsai, Santi Chaiyapheuk, Pichitpong Choichieu, Teerasil Dangda (Miroslav Toth), Anon Sangsanoi (Christian Kouakou)

Thai Port FC:
Munze Ulrich, Alef Poh-Ji, Mongkol Namnuad, Mario Da Silva, Moudourou Swa-Moise, Todsapol Lated, Worawut Wangsawad (Sarawut Kongjareon), Kiatjareon Ruangparn, Jirawat Makarom, Steven Robb (Ekkapoom Potharungroj), Jacob Aikhionbare (Phudit Niamkong)
Goals:
1-0 Christian Kouakou (86'), 2-0 Teerasil Dangda (90'+2)
Attendances:
13.590
BEC-Tero Sasana - Siam Navy FC
After the Nayv fielded an uneligible player in the first season match against Sisaket, the draw was converted into a 2-0 against them. Thus leaving the Navy now with no point out of three games. BEC-Tero win came by two goals of talent striker Ronnachai Rangsyio. Both goals were superb. Ronnachai is one of the perpetuity sleeping striker talents of Thailand. Showing his goal scorer skills on rare occasions. English Chris Brandon was brought in for the third time in a row since he arrived at BEC-Tero.
BEC-Tero Sasana:
Pisan Dorkmaikaew, Prat Samakrat, Ronnachai Rangsiyo (Chris Brandon), Piyachart Tamaphan, Teeratep Winothai, Mika Chunuonsee, Binaware Ajuwa, Paitoon Nontadee, Solomon Tetteh Okutu, Martins, Ekele Udojoh
Siam Navy FC:
Sittipong Manaowarn, Rattaporn Saetun, Pongpeera Prajongsai (Somporn Tanyajarern), Kusol Pengphol, Anuwat Sornchai (Adu Gyamfi), Piyachat Srimuang, Jerry Amara, Seksan Chaothonglang, Wuttichai Asuweewa, Jetsada Ngam-Muang, Komson Meundee
Goals
:
1-0 Ronnachai Rangsiyo (34'), 2-0 Ronnachai Rangsiyo (64')
Attendances
:
1.851
Pattaya United - Osotspa-Saraburi FC
The events happened after the match between Pattaya and Thai Port, resulted in a two match home game ban behind closed doors for Pattaya. However, a few hundreds in neutral shirts found their way into the IPE Chonburi Stadium. Without injured top-striker Ludovick and new arrival Obatalo things stuck up-front for Pattaya. The midfield dominated too much. Osotspa, always an unpleasant opponent anyway, didn't either didn't play much better. Cleiton da Silva was pale and therefore substituted early in the second half.
Pattaya United:
Narit Taweekul, Keisuke Ogawa, Niweat Siriwong, Hiroyuki Yamamoto, Seeket Madputeh, Kazuya Myodo (Piroj Anantanarong), Ittipol Poolsap, Theerawesin Seehawong, Rangsarit Sutthisa, Somchai Singmanee, Anuwat Inyin (Patipol Phetwiset),
Osostspa-Saraburi FC:
Chatchai Budprom, Boonmee Boonrod, Roberto Da Silva, Hiromichi Katano, Kriengsak Chumpornpong, Suradetch Thongchai (Anirut Suebyim), Jetsada Puanakunmee, Khaled Kharroubi, Lazarus Kaimbi (Theodore Yuyun), Cleiton da Silva (Pina, 68.), Pipat Tonkanya
Goals
:
-no scores on the board-
Attendances
:
673
Chonburi FC - TOT SC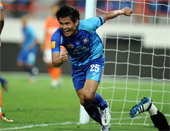 Cholratit Jantakam
© Thananuwat Srirasant
Maybe the few hundredths in the IPE Stadium of Chonburi just didn't found the right stadium. In case they did, after the game they may would have wished them be a few kilometres further down the road. Chonburi FC was kicking the ball at the OBD Stadium of Chonburi against TOT SC as much as they liked. A firework of a game which was opened by Therdsak Chaiman early in the first half. TOT down by four at the break, and the game was already over. Quo vadis TOT?! Nil points, nil goals out of three games. The visitors even fielded a very strong line-up, at least on the paper. Oumar Kondé made his debut for the new club. Together with Boubacar Diarra, the former SC Freiburg player formed one of the best central defence of the Bundesliga. Mohamed Koné, suddenly back in Thailand and previously already transferred to KV Mechelen, was in the starting line-up as well. Champion with Chonburi in 2007, he may had a different outcome of the match in his mind.
Chonburi FC:
Sinthaweechai Hathairattanakool, Suree Sukha, Cholratit Jantakam, Kenneth Akpueze, Natthaphong Samana, (Daiki Higuchi), Anucha Kitpongsri, Therdsak Chaiman (Phuritad Jarikanon), Kazuto Kushida, Adul Lahso, Ekaphan Inthasen, Pipob On-Mo (Nlome Ndebi Berlin)
TOT SC:
Witsanusak Kaewruang,
Jiranat Nontaket,
Oumar Kondé,
Takahiro Kawamura
, Arthit Boonpa (
Thanasak Srisai),
Richard Langley, Jeremy Novero,
Suriya Kupalang,
Nopphol Pholudom,
Kaisorn Parncharoen (
Nattaphol Poontawee),
Mohamed Koné (Younes Chaib)
Goals
:
1-0 Therdsak Chaiman (7'), 2-0 Adul Lahso (18'), 3-0 Cholratit Jantakam (22'), 4-0 Therdsak Chaiman (33'), 5-0 Kazuto Kushida (54'), 6-0 Nlome Ndebi Berlin (57')
Attendances
:
6.404
Bangkok Glass FC - Army United
Odd world at the LEO Stadium last Sunday. Bangkok Glass sitting on the bottom half of the table, while Army United visited as leader. Squad wise, the Rabbits belong to the top with no doubt. Obviously two players have the same opinion and talked to the media last week. They added that such a quality squad needs a quality coach. For sure they hadn't him in mind. But Hans R. Emser, the academy coach of the club still owns the starting record of all time in the TPL. He lead BGFC to an 11 game undefeated run in 2009 until he stepped down by his own.
Army United started with pace and scored right after seven minutes. It was Leandro again. He scored his third goal in three matches for the Army. They won't be fodder this year and the four new signings from Brazil lift the level of the whole squad. Soon after the first goal Bangkok Glass regained control, and kept it until the end of the match. Nevertheless, they were not able to convert lot's of chances. Two goals were disallowed. One with handball and one with off-side. At least the home side was awarded a penalty after a hand ball and Sarayuut Chaikamdee opened his scoring sheet for the new club.
Bangkok Glass FC:
Kritsakorn Kerdpol, Amnaj Kaewkiew, Thritthi Nonsrichai, Sutee Suksomkit (Hironori Saruta), Samuel Ajayi, Sarayuut Chaikamdee, Anawin Jujeen (Sarun Promkaew), Supachai Komsilp, Peerapong Pichitchotirat (Paul Ekollo), Chatree Chimtalay, Tanongsak Prajakkata
Army United:

Naratip Phanprom, Sarawut Thongsawad, Dawut Dinket, Alessandro Alves, Siwamet Tanusorn, Tatree Sing-Ha (
Jakkrapong Somboon),
Leandro,
Vinicius de Carvalho
,
Tony Pinho, Rafael Santana
(Weerapong Moolkamsan),
Wanchana Rattana
Goals
:
0-1 Leandro (7') 1-1 Sarayuut Chaikamdee (55')
Attendances
:
4.799
Chiang Rai United - FC Samut Songkhram

Chiang Rai United's Thai Premier League home premiere resulted in a goal less draw. Brazilian striker
Edvaldo scored for the home side was ruled using hand ball by the linesman. To defend the judge, he may didn't had a straight few towards the diving header as Samut Songkhram player stand in his view.


There are no official attendance figures being reported to the TPL, but we been informed by club officials that about 8.000 people attended the match. Not too bad if you consider that the TPL newbie has to play his home matches about 15 km away from the city at the
Mae Fah Luang University Stadium.
Chiang Rai United:
Mantehwa Lahmsombat, Adisak Sri-Ngam,
Tawatchai Thong-Huad,
Gilson Diaz,
Sanya Poungchan,
Teerasak Po-on
(Rattapon Atthawong),
Uilian Da Silva,
Yai Nilwong (Sampan Dumsook),
Panupong Aramviroj (
Kumpee Pintakul),
Wasan Natasan,
Edvaldo
Samut Songkhram FC:
Noguchi Pinto, Yannick Georges, Naratip Payappruk, Pongpipat Kamnuan, Divine Ngenevu, Jetsada Phulek (Efe Obode), Apiwat Ngaolamhin (Wittaya Nontalee), Chatprapob Usaprom, Ekkachai Preechakul (Watcharapong Wongsrikaew), Choklap Nilsang, Bireme Diouf
Goals
:
-no scores on the board-
Attendances
:
n/a
FC Khon Kaen - FC Buriram-PEA
With Khon Kaen another newbie had his home premiere in the TPL. Other than Chiang Rai, Khon Kaen lost it. Originally the first opponent at home should have been Osotspa-Saraburi. But as the club didn't pay much attention to their exile in Mahasarakham, Buriram-PEA become the first. The host's didn't really play bad, but acted to hastily in front of the goal. At the end a draw would be had been well deserved somehow, but Buriram-PEA was just to smart for the newbie.
Frank Ohandza, from Buriram was not within the squad. He followed an invitation of Cameroon under-20. Theeratorn Boonmatan scored the final goal for the visitors. During last weeks Olympic qualifier in Palestine he had to leave the pitch after booked twice with a yellow in the second half.
Khon Kaen FC:

Piyawat Intarapim, Supakorn Karada, Li Xiang, Padungsak Kittiwarapol (
Rermrat Ngam-Chareon),
Charin Bood-Hard,
Kanlaya Sysomvang
(Adisak Jarat),
Surachat Singngorn,
Apisak Asayuth,
Kritsada Hemvipat, Jattupol Sittiloar,
Khampheng Sayavutthi
Buriram-PEA FC:
Sivaruck Tedsungnoen, Theeratorn Boonmatan, Jakkraphan Kaewprom, Rangsan Viwatchaichok, Suchao Nuchnum, Kirati Keawsombat (Adisak Kraisorn), Sarif Sainui (Yuttajak Kornchan), Frank Acheampong, Obama Florent, Napat Tapketkaew, Yves Ekwalla Herman (Kraikiat Beadtaku)
Goals
:
0-1 Suchao Nuchnum (34'), 0-2 Theeratorn Boonmatan (75')
Attendances
:
3.000
Police United - FC TTM Phichit
A Korean festival ended with a win for the Police. On both sides of the pitch and all together eight players from South Korea were in the starting line-up. It didn't make wonder that the kids which are usually accompany the players were wearing Taekwondo clothes. However, it was up to a Brazilian, Felipe, to score the winning goal in injury time.
Police United:
Pattarakorn Thanganuruck,
Whoo Hyun,
Krissadee Prakobkong (
Chang Seung Won)
,
Rangsan Iam-Wiroj, Chakrit Buathong ( Assaming Mae),
John Wilkinson,
Lee Han-Kook
,
Nantawat Tansopa (Surachart Sareepim), Felipe, Jae Min Yoo, Nontapan Jeansatawong
TTM-Phichit FC:
Won Yoo Hyun,
Shin Hyun Ho,
Jung Ho Jin,
Watchara Mahawong,
Kobdech Chobmanotham,
Narong Jansawek (Supphakorn Ramkulabsuk, 75.),
Yeon Gisung (Kim Jooyong, 56.),
Maeng Jinoh,
Kraikitti In-Utane (Jetsada Boonruangrod),
Ossiam Neissim,
Ekkarak Thongkrit
Goals
:
1-0 Felipe (90'+2)
Attendances
:
4.437
FC Sisaket - FC Sriracha
As all things were set for a draw with no goals the night, it was Aron da Silva who open the score sheet with 6 minutes to go in the second half. Just three minutes later it was another Brazilian who equalised for the host and marked the final result. Argentine Lucas Daniel made his league debut for Sriracha FC, while number one keeper Nantapol Supathai was on the bench.
Sisaket FC:
Watcharapong Klahan, Suphan Hardkam, Wuttichai Tathong (Piyawat Thongman), Praison Huntaweechai, James Dissiramah, Theerachai Ngamcharoen, Ekkapan Jandakorn, Emmanuel Frimpong (Khim Borey), Victor Amaro, Assawin Boonman, Jimmy Shola (Tana Chanabut)
Sriracha FC:
Lucas Daniel, Yordrak Namuangrak, Wutthisak Maneesook, Pornsak Pongthong, Supoj Wonghoi (Attapong Nooprom), Justin Moose, Aron da Silva, Warut Wongdee, Douglas Cobo, Gaston Raul (Krirkrit Thaweekarn), Anuwat Nakkasaem
Goals
:
0-1 Aron da Silva (84') 1-1 Victor Amaro (87')
Attendances
:
8.107