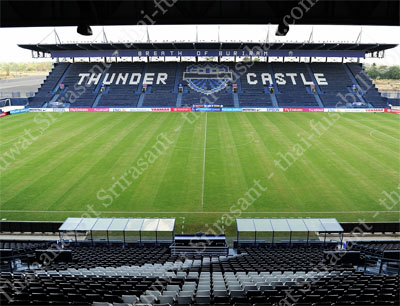 premiere venue - i-mobile Stadium
image: © Thananuwat Srirasant
For the first time a foreign referee and linesmen are to officiate a match in the Thai Premier League. Either way, the Japanese trio is set to write history on Sunday.
Already since a while now the Thai FA and the league entertains the idea of hiring referees from abroad and let them whistle important meetings in the TPL or in the Cup. Nevertheless up to now, it never came in addition. Be it for financial reasons, or because one decided that Thai Referees are at least as good. Few weeks ago now the about-turn. The federation was in earnest and officially asked Japan and Australia whether they could send referees over. One reason may lie in current performances of officials in the TPL. A lot of complaints from clubs led to bans and the league slowly run out of referees capable of refereeing a top match.
And exactly such one is in queue on Sunday with the rescheduled game between Buriram United and Chonburi. The Japanese FA gave its green light and sends three Referees. Murakami Nobutsugu will operate as a main referee. His both assistants are Tajiri Tomokazu and Nagano Taku. Linesman Tomokazu is the only one of three acting as FIFA ™ referee and could gain international experience so far. Even so Nobutsugu can look back on a total of 166 overall appearances in Japan.
To better classify the Japanese officials and their performance, we talked to TV-Expert Cesare Polenghi who also is Managing Editor Asia at goal.com. He informed us that poorly referee performances are nothing unusual in Japan. In particular the performances of the current season have provoked a lot of discussion recently. He referred us to an Editorial published these days in which he quoted two J-League players.
Tomoaki Makino, who played for Bundesliga side 1. FC Koln last season: "We always say that in Japan we want the level of the game to improve, but we never direct questions toward the standard of refereeing here. That has to improve, too." And Sanfrecce Hiroshima player Hisato Satō sparked controversy when he said: "The referee has committed huge mistakes, it was rather crazy. That was bad. We are in the same football community, we players do play as professional but some of the referees are not, that's the difference. There is an atmosphere in which it is taboo to disagree with the referee, but shouldn't be a legitimate right for the players to ask them for explanations [during the game] ? I hope the League will ponder on that and the referees could control the matches with a little more sense of responsibility." After this statement the league forced Makino to write an official letter of apology. In a traditional-afflicted Japan not unusually at all.
Asking Polenghi after the refs of this coming Sunday top-match between Buriram and Chonburi, he said "Murakami is a bit of a veteran. But once he sent off three players from the same team and in two of the three cases it was simulation, but he fell for it." and rates him just poorly overall. On Nagano Taku: "Well, he is OK at times but can be very annoying. He likes to take over the game."
On the final question, how he judge the level of officials in Japan generally and which country in Asia after his opinion has a good standard, he answered with: poorly and none! Albeit, Japanese Referees tend to do better overseas, away from the eyes of the J-League,
according to Alan Gibson
of JSoccer magazine.
By the way, evil to him who evil thinks with the fact that just in Buriram, a foreign referee is set to rule a TPL game for the first time. Since one thing is certain. Japanese officials are not for bribe as Cesare Polenghi told us. So Chonburi could still have a small advantage. On the pitch, midfielder Kushida should be able to communicate with officials in his mother tongue. Also coach Heang, after spending more than ten years in Japan, should be able to communicate in Japanese.
Even though we may soon could see more foreigners refereeing in Thailand, it must not necessarily mean that these are better than locals. And exactly in here lies the crux of the whole. Nobutsugu, Tomokazu and Taku could have been the first, but also the last. If they show a bad display, everybody will say: You see, they are not better and making the same mistakes like Thai referees. We do not need them.