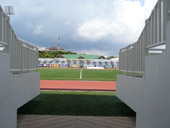 BEC-Tero against Bangkok Glass, without doubt seemed to be the game to watch of match day 9. Though how it turned out afterwards, it was the match between league leaders Muang Thong and Army United one should not have missed.
A hat-trick from Cleiton Silva sealed Bangkok Glass' first season defeat while BEC-Tero Sasana moved in to second place. The Brazilian Cleiton marked his first goal from the spot, after the referee decided on
dangerous play within the box
by BGFC keeper Kritsakorn Kerdpol. In the second half Bangkok Glass pushed forward while Tero relied on counters. After 64 minutes Silva hit for the second time and crowned his performance with his third in injury time. BEC-Tero remains a side which can be considered serious candidate on wining the league title. Cleiton Silva looks sharp this season and after nine rounds of play he already is having eight goals on his account and is leading the top-scorer list.
The game with the most goals of the whole weekend could be seen between Samut Songkhram and promotion side Chainat FC. Their captain Narongchai Vachiraban opened for the visitors with a strike from a good 30 meters distance. Almost from nothing Samut could balance the tie shortly before the break. The fact, that Chainat is dangerous on set pieces in particular, meanwhile should got about in the league. It's vital to avoid any fouls near your own box to prevent them from scoring. Best proof of it Thanakorn Kamkoma's goal in the second half. Trinidad and Tobago international Kendall Jagdeosingh then provided a comfortable 3-1 lead, with 10 minutes to play. He could have achieved another goal still in injury time. But he was denied by a brilliantly reacting Samut goalie. Although, in meantime the hosting team was able to draw one back the result remained and therewith Samut Songkhram at bottom of the table. Now Samut coach Vorawan Chitavanich, which announced his departure all ready for the end of the first round, may have to leave earlier.
For the time being Teco's job at Chiang Rai United seems to be save after a 2-1 success over Esan United. Despite "Teco go out" banners spotted in the ground. Club officials have assured him full backing. And acting president Khun Miti Tiyapairat can not comment much on this topic at the moment as he completes his military service.
TTM Chiang Mai was not able to build on last weeks success and the Northern Tigers are still without three points at home. The match against TOT got lost by the slim margin of 0-1 and once more it was Diego Walsh who hit for his telephone boys of TOT. With his late winner in the 88' minute he scored his fifth goal of the season.
The encounter between Police United and BBCU took place at Army stadium. Maintenance repairs at Thammasat stadium are still on going after the flood hit the venue last year. Nevertheless, obviously not a big deal for Leandro who was wearing Army's jersey last year, and knows the stadia like the back of one's hand. It took him just two minutes to score for his team and provide Police with the lead.
A very dubious penalty for BBCU
after a hour, provided the final scoreline.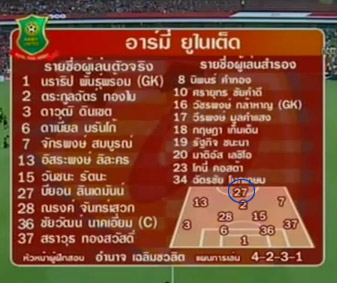 Lindemann linde up as striker

Muang Thong against Army, who would have thought it, turned out to be the game of the weekend. It was a game you hardly could take your eyes off the screen. Chances and offensive play on both ends till the very last minute and Bjorn Lindemann's first goal in Thailand.
So let's move on. Muang Thong entered the pitch with a dream of a midfield, at least on the paper. Datsakorn, Barakat and Mario Gjurovski is probably the best you can line up in Thailand, just adding Teerasil up-front. Lucas Daniel (GK) and Daniel Blanco (DF), again where fielded for Army United. Same as last week Blanco had a decent match and should be close to become a regular starter. While Daniel's weaknesses on crosses which he showed last year at Sriracha could be seen again. Well and either Army's new coach, Aumnart Chalermchaowarit, had no plan, watched Bangkok Glass with Rafael as forward last week or simply had a brilliant idea. Who knows.
In fact, he lined up German midfielder Björn Lindemann as lonely striker in a 4-2-3-1. Though Muang Thong started with pace and created a lot of chances, Army United had theirs. Lindemann interpreted his unusual role maybe differently than intended, but he executed absolutely excellent.
During the first 45 minutes, he always dropped on the wing side and thus could feed his moving up players with decent crosses. As a result, the visiting team had two great opportunities in the first half. If Lindemann found himself in midfield, he distributed the balls very well. After all it was the German's best season performance so far. After the game, Bjorn have let us know that the stadium, the pitch, and the atmosphere has particularly motivated him. If he only could have such a surface every week... he added. If the first half was quite good, the second was even better and spice has been added with goals to come. This aforementioned German gave his side
the lead right at second half.
No signs of a shock on MTU side as they played on. Thus it was Piyaphon Bantao who equalized just six minutes later. After a corner-kick by Gjurovski Army defenders could not clear properly and Bantao simply aimed for it from edge of the box. A rebound from crossbar was used by Teerasil to score the winner for Muang Thong with still 10 minutes to be played. Sarayuuth Chaikamdee who came on for Army mid half missed a great chance to level and in dying minutes of regular time the guests were reduced to ten man after a silly foul by Trakoolchat Tongbai. In injury time Lindemann got a chance to at least bring home a point, but he either twisted his shot or rushed too much in the end.
It definitely was an entertaining game and one of the best we have seen so far this season. And for a view through a more Muang Thong colored glass, check out
Greg's report
.
Chonburi saw the return of two former coaches Jadet Meelarp and Franz Schwarzwalder now on the payroll of Wuachon United. But both could not celebrate. Wuachon's skeleton crew, without any of the former Chonburi players, fought bravely. The Sharks needed 85 minutes to score, and it was substitute Nurul Sriyankem saving the evening for the home side. It took him just 60 seconds to score, from the point he came on till the ball was in the back of the net and marked a 1-0 win.
Pattaya and Osotspa went away in a goal less draw with just a few chances offered. Osotspa side star striker Dudu was brought on in second half, it did not help to change anything.