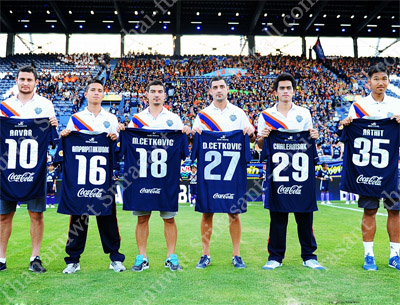 Buriram's new signings
image: © Thananuwat Srirasant
Clapboard 2012/16. Muang Thong's can be called first leg champion, while his
"magical duo" still dictates the rhythm of the league.
Chonburi had to swallow some of its own medicine, which they gave Buriram to taste a couple of weeks ago.
The reigning Champion, just that Buriram, does not seem to get into gear. After a 1-1 draw in 2011, Police United again has been able to come away with one point. This time after a 2-2 draw. Ekkachai Sumrei gave the home side a 2-1 lead in the 84' minute. However, the Thundercastle does not seem to be what it was used to be. Only a minute later Police United's Tanat Wongsuparak scored for the final result after heading home a corner kick.
During half-time all six new signings of Buriram were introduced to the fans. The following movements were already known: Anthony Ampaipitakwong (got his Thai passport already), Anvar Rajabov from this year's AFC Champions League participant FC Bunyodkor and Marko Ćetković from Polish Ekstraklasa side Jagiellonia Białystok. Unexpectedly: Also his brother Djordjije Cetkovic has signed with Buriram. He is pretty well known in Germany as he played its trade with former Bundesliga club Hansa Rostock. In addition two local players were unveiled with Chalermsuk Kaewsuktae (Chainat FC) and Arthit Boonyachinda (Qatar Aspire Academy).
Ahead of the match against Samut Songkhram, Chonburi came up with a nice
cartoon
. However, at the end the crazy "Mackerel" eat off the big "Shark" and gave him something of its own medicine. Still few weeks ago, Chonburi broke a few records, when beating Buriram on home soil. Now Samut on his part broke the home record of the "Sharks". The last home defeat dates from 2009 and at that time Chonburi lost with 2-5 against Muang Thong. That game in 2009, was played at IPE Stadium and last weekends result means the first home defeat to Chonburi since moving to Chonburi Stadium in 2010. From offside position, skipper Pipob On-Mo provided the lead for the host. Though it was on to Decha Sa-artchom to equalize with the half an hour mark. His goal was nicely set up by the Portuguese Zezinando who nabbed Chonburi defense on wrongfoot. Samut's winner fell shortly before half-time, provided by Napat Thamrongsuphakorn. He hit already twice a week ago against Wuachon. Throughout the 90 minutes the home team were the dominant team, but Samut Songkhram were clinical on its finish and counter attacks. Under the returned Somchai Chuayboonchum on the hot seat, the trend points clearly upwards for the "Makarels".
Meanwhile league leader Muang Thong benefited from Buriram's and Chonburi's slip and could extend its lead. Bottom ranked TTM Chiang Mai surely was not the side to be expected to put a spoke in MTU's wheel. Thus the home side cruised to a 3-0 victory led by its "magical duo" Teerasil-Gjurovski responsible for all goals of the night. Teerasil Dangda and Mario Gjurovski, both together scored 24 goals for Muang Thong so far this season. Contract back and forth. Instead of dealing with big names like del Piero, Louis Saha or also Roque Santa Cruz (true or not), Muang Thong maybe should use the money wisely to renew the contract with Gjurovski as soon as possible. As a neutral spectator it is pure enjoyment to watch the Macedonian play, and there seems only a matter of time until someone may knock on the clubs door.
In a pretty much unexciting game between Army United and Thai Port, the German Lindemann was lined up as striker again. Since the arrival of the new Army coach, the attacking midfielder has always been placed out of position. Meanwhile Argentine striker Matias Recio more and more is getting less time to shine, it looks like Austrailian Danny Invincibile becomes a regular. And it was him to score the winner late in the second half. Steven Robb who already crossed swords in the Scottish league with the goalscorer, unexpectedly was sidelined for the whole match.
Bangkok Glass won 3-1 away to Osotspa Saraburi. Besides, Thai-Swiss international Peter Lang found himself in the starting line-up for a second consecutive time on Sunday after he made on of its rare appearance from beginning last week against BBCU. Army United is to face Bangkok Glass coming weekend, and any of the side could miss the boat if losing, with both clubs have 30 points on account after round 16.
Chaiant FC on his part came away with an absolutely undeserved victory over BBCU. Kapfah Boonmathan headed home for the winner with just eight minutes played. Absolutely inexcusable the
deliberate dive
of Trinidad & Tobago international Kendall Jagdeosingh in the 2nd half-time. He was already booked in the first half, and consequently should have to leave the pitch after his dive.
After the midweek fixtures we had with Chiang Rai v Pattaya and Chonburi v Chainat, matchday 17 is to follow the coming weekend. After that it goes on at full speed and without a break until the new season starts in March 2013. Midweek fixtures paired with League and FA Cup, followed by the AFF Cup in November / December. Followed by the King's Cup in January 2013 and the first qualification ties to the Asia championship 2015 in Australia in February.