ex-Chonburi Arthit Sunthornpit (m)
image: © Thananuwat Srirasant
For the first time in this, still young season, a match day stretched from Friday till Monday. Both representatives of Thailand in continental competitions marked the beginning and the end.
Chonburi which had to take on Home United in Singapore on Wednesday, opened TPL's round eight last Friday. However, the guest appearance at Army United and therefore a rehearsal for the so important AFC Cup match, went awry. Army's new signings Lucas Daniel (Sriracha FC) and Daniel Blanco who moved in from Cyprus, were put in the starting eleven for the first time. Though it was Issarapong Lilakorn who produced the highlight of the night, when he was eaten up visitors defense and scored the winning goal short before half time. In the dying moments of the game Pipob On-Mo missed a great opportunity for a late equalizer from close range.
Finally, this week Army United could present a new coach. Its Amnart Chalermchaowarit who in the past already coached the Army. The Major General and former Thai international in his active career played for Raj-Vithi and won several Championships with the club.
Lindemann's appearances with the Army sometimes seem rather awkward, which does not mean his performances are weak. But in comparison, Mario Djurovski from Muang Thong always looks a bit more light-footed. With the Macedonian international the "Twin Qilins" obviously did a lucky pull. We praised him already last week and must have to do same this week. His leading goal against Osotspa is worth to be cherished in the way he anticipated the situation and finished it off. Not less worth seeing, Pichitphong Choeichiu winning goal, when he was sending home a
cracker from distance
. With three points from Saraburi, MTU remains top of the table after this round. On the last weekend of May the big match between Muang Thong and Chonburi is on the plan. For those of you which want to be part of this match, you better hurry and secure your tickets.
Diego Walsh with his fourth goal of the season so far, provided TOT's winner over Chiang Rai United. The Brazilian recently hit form and already scored in three consecutive meetings. Thereby the former A-League player already could achieve to score more goals for his club this year, than during the whole last season. While Chiang Rai, after this defeat, is now sitting on a relegation place and voices which demand Tecos head certainly will not become quieter.
Zico's boys of BB-CU find themselves on a relegation place after a 0-2 home defeat against Pattaya. Though his team was superior on the pitch, the guests used their counter-attacks for two clinical finish. The tie between Esan United and Police United was on the brink to be aborted middle of second half. A heavy downpour forced the referee to interrupt the game for a couple of minutes. At that time, however, the score line was 1-1. Luckily the game could be brought to an end. Though the result remained despite the heavy rain.
Still last week we have declared TTM Chiang Mai to be the most dull team of the league. Though it has not changed much in just a week, but finally, TTM has his first season goal and even ranks 12 now. And Watchara Mahawong was due the honour to score it. Chainat with Byrne in the starting line-up but without Spaniard Jose Galan, who will be sidelined injured a few more weeks, as usual got a lot of free-kicks around the box. They all were kicked pretty dangerous, but Korean Won Yoo Hyun between the sticks almost ruined every chance. By the way, Joe Kambour former youth player Hanover 96 and last year trialing with Muang Thong is currently on training with Chainat.
For the time being, Thai Port's recent upward trend was stopped by a 0-2 loss against BEC-Tero. U19 international Chanathip Songkrasin provided both goals at PAT stadium. He belongs to those youngsters which became a talking point during U19 qualification to the Asian championship 2012. Indeed, his both goals happened with gentle help of Thai Port defenders. BEC-Tero, starting with two defeats in to the season is now third and unbeaten since five rounds and they are to host Bangkok Glass FC the coming weekend. Latter still waiting at dropping three points.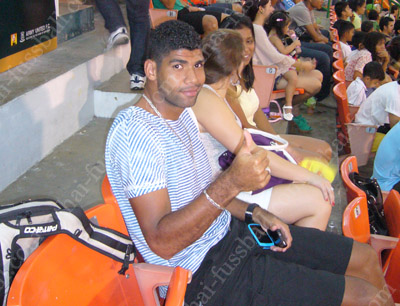 Rafael de Souza in casual
image: © thai-fussball.com
The first 15 minutes of the game between Bangkok Glass and Samut Songkhram was quite an affair. Most spectators probably had taken just a seat, and the ball was already in the net. Rafael there Sousa, so the immobile 2 meter giant from Brazil, scored the opener after four minutes. Naturally a defender, he was fielded up front alongside Saruta. Two penalties, given in the following minutes, provided for the half time score of 2-1. First there was a penalty kick for Samut which Christian Nade converted for the equalizer. Shortly after that it was on to Saruta on the other side restoring the lead. Both penalties were soft and it was unnecessary to give them. Earlier mentioned Rafael, had to be substituted shortly before the break with an injury. He will be absent for 2-3 weeks. For him Leesaw came into play.
Middle of the 2nd half Sutee Suksomkit with a delightfully placed free kick provided for preliminary decision and Leesaw in injury time hit for final score of 4-1. Besides, his goal was almost identical to the one from Issarapong Lilakorn against Chonburi. Like Issarapong Leesaw made a fool of the defenders. A class goal by the the female heart throb, if he just would show such a performance throughout 90 minutes and in every game. ..... and a less
chanticleer goal cheering
habit would do good.
On this week Monday, a goal less draw between Buriram United and Wuachoan wrapped up the last round. Five players of the visitors side were not allowed to get fielded. Everybody of them, till end of last season, was under contract with Buriram. However, according to Thai press these players are on loan to Wuachon. But according to our inside information this is not the case.However we go to the bottom of things again.
Nevertheless, within second half and after some subs, in total 7 former players of Chonburi were on the pitch. The coming weekend Wuachon plays against that Chonburi side, and so far we know, those ex-players are not allowed to enter this match as well. On a small note, Uzbek midfield player Asqar Jadigerov, who was just signed by Buriram before the season is allowed to leave the club.