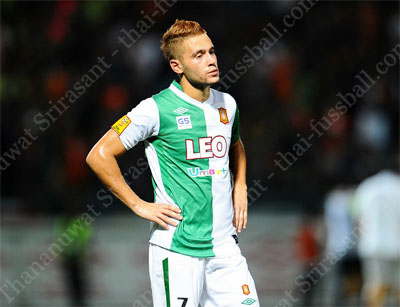 Michelini bewildered
image: © Thananuwat Srirasant
After the "hole in the net" last week yet another not given goal generated a buzz last weekend. Although substantially less. With Bangkok Glass vs Buriram United and Muang Thong vs Chonburi two real top clashes were on the programme.
Followers of Buriram United will have been glad. Finally, back in league action. Wuachon on 7 May was the last domestic duty for the reigning champion. Hence, one might be curious on the appearance in the top match against Bangkok Glass. Of course the LEO stadium with around 10,000 spectators was sold a sold out. The visitors side put on a surprising starting line-up with just to foreign players. Ekwalla and Obama.
Jadigerov has left the club meantime and Japanese Shinnosuke Honda found its place on the bench as well as Achempong did. Frank Ohandza is still absent with an injury. The missing of some foreign key players could be seen on the pitch since Buriram had not been the better side overall, but with the substitution of Frank Achempong (40') simply added the touch of individual class. In the 49' minute he hit the target successfully for the first time, and couple of minutes later picked up a lovely timed through ball from Sumanya Purisai to convert for a second goal. For Bangkok Glass, Samuel Ajayi squandered best chances in the first half and worse luck to came along for Surachai Jaturapattarapong's team.
Flavien Michelini's shot
, who clearly was behind the goal line was not given. The ball hit the bar first, pitched behind the line, again off the underside of the bar and eventually found its way into the hands of Sivaruck. Of course we have a slow motion and a replay, though the referee doesn't. And in real time the ball jumped and bounced so fast, that it was extremely difficult to see whether the ball was behind the line. The situation is surely another argument for the introduction of the goal line technology. However, the 'Rabbits' consolation goal came by an own goal of Herman Ekwalla. It was his second own goal of the season.
If nothing goes up front, the dear God or her, 'Hammer Niweat' just helps. Pattaya United won his home match against Wuachon United by a
goal of captain Niweat Siriwong
. With nine minutes to play in normal time, he took a free kick from about 35 meters and hammered it home. Wuachon goalkeeping coach Franz Schwarzwalder, after the game, was pretty much angry about his protégé. He told us that he instructed his goalie to be especially careful at set pieces, if Niweat takes them on.
Cleiton Silva at the moment seems to give the solo entertainer at BEC-Tero. He again, was responsible for all goals scored, this time against TOT SC. A total of 16 goals Tero achieved this season so far, with 11 of them scored by the Brazilian. Thus giving him the lead in the
top-scorer
list. TOT coach Somchai Subpherm proved a good hand when he brought in Pakit Deeprom short before half-time. Because just a minute in the game, he leveled for TOT. Englishman Bas Savage had a great chance to level the tie for a second time, however, was brilliantly denied by the goalkeeper.
Alex Ruella finally saw his debut for Thai Port FC, after he moved in from Siam Navy at the beginning of the season. With his late
2-2 equalize
r
he became match winner for his side. After the goal a Thai Port supporter ran on the pitch and tried to kick the ball. Just see himself landing on bottom side. Badly however that an employee of TPFC, considered to give him a right hook. During second half Sumet Yooto of Chainat FC bumped into Olof Watson and had to be given artificial respiration and was brought to hospital. He recovered quickly and was dismissed the same evening.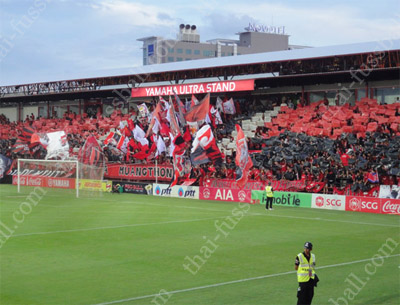 MTU Ultra choreography
image: © thai-fussball.com
Muang Thong against Chonburi. A meeting which always knows how to electrify in its own kind. Not least because of the atmosphere at the SCG (ex-Yamaha) stadium. Before kick-off Muangthong Ultras surprised with a nice choreography. MTU entered the pitch with its best available team. Christian Kouakou was not in the squad and national team captain Nattaporn Phanrit found his place only at the bench. The transfer list opens on 9 June. Make your own sense of it. Chonburi is still having some injury problems and could not really field his best eleven. Overall the referee of the match Prapot Dissomsri had a good performance, but both sides made it easy it for him.
Fright second after 20 minutes for all dressed up in red. Star striker Teerasil Dangda had to be exchanged with an injury and Jakkraphan Pornsai replaced him. All over the whole 90 minutes, Chonburi had its best time during last minutes of the first half. Still goal less and middle of second half Chonburi trainer Withaya Laohakul made two changes with Dossevi and Bireme Diouf. However, MTU remained the better team and had more chances on his side. With a smelt of a draw it was 'Super' Mario Djurovski who put it right. At the 83' minute he
scooped in a free kick
from near the by-line. Pichitphong Choeichiu put the final point under a good, entertaining and above all fair top match with a distant strike. Teerasil Dangda, by the way, is not further badly injured. However, his fielding against Buriram is doubtful.
Jacob Aikhionbare finished his goal drought after one year when he scored the winner for BBCU against TTM Chiang Mai. The last time he found the net was in May 2011 for his former club Thai Port. TMM's new coach Jose da Silva failed to make a successful debut on the touchline. In 2005 he was TPL player of the year and became champion with TTM. At that time the club was still located in Bangkok.
OK, Chiang Rai United against Osotspa is maybe not exactly a meeting from which one would expect many goals. Eye rubbing, confusion in the editorial staff room: What is going on there? Is this true? Is it possible? Seven goals in 69 minutes may have happened in history of football. However, time and order of the scoreline from last weekends game looking a bit unusual. After 3 minutes it was already 2-0 for hosting Chiang Rai. Osotspa was able to equalise by goals in the 8' and 22' minute. And just a minute later Chiang Rai United took back the lead. Besides, Choklap Nilsang succeeded a flawless Hat-trick. Last goals of the match came within one minute as both sides scored with 20 minutes to play in normal time. Unfortunately, there is hardly useful material of the game, so that it makes little sense to judge it.