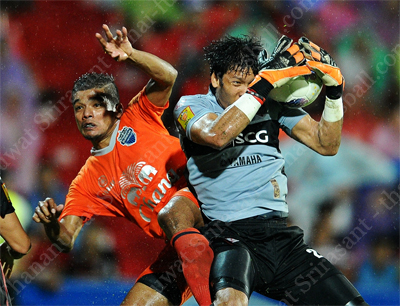 Kawin: solid as a rock
image: © Thananuwat Srirasant
Another derby win for Chonburi, a washed away big match and BEC-Tero in search of a new boss on the touchline. Our wrap up of matchday 23.

The sold out and eagerly awaited top match between Muang Thong and Buriram United was supposed to take place on Saturday. But literally was washed away after five hours of continuous rain. Even worlds best drainage system would have had its problems here. Hence the game had to be called off. In accordance with the rules set by the league, the game saw its kick off, finally 24 hours later with ugly clouds over the venue. After only six minutes of play the guests from Buriram took the lead. "Super Mario" Gjurovski tried to play a little bit too much 'Tiki-Taka' in the midfield, resulting in a soft tackle by teammate Mongkol Namnuad on the opposing player. Suchao Nuchnum lifted the given free kick perfectly to Frank Acheampong who eventually scored with a header. Fans of Muang Thong had to wait for nearly 30 minutes till they could see their side becoming dangerous. It was Teerasil Dangda taking a shoot from within the box, but hit the bar only.
A lot of stir after both have switched sides. Two minutes were played and Buriram goalie Sivaruk could not control the ball properly. Pichitphong Choeichiu went after it, just to see himself got hold at the edge of the six-yard box by the international in
wrestler's style
. Gjurovski converted the due penalty kick to level the tie. However, the not football like performance of Sivaruk led only to a yellow from the South Korean official. Another penalty kick was given halfway trough second half, this time for the visitors. Though it was a soft penalty, Piyaphon Bantao received his marching order after a second yellow. Thailand's number two goalkeeper Kawin, between the sticks for Muang Thong, denied Suchao Nuchnum with a fine save. In injury time Herman Ekwalla scored what looked to be the winner for Buriram United, but the goal, rightly, has been ruled offside.
All in all, from a playful point of few, last weekends top match was not exactly a feast for the eyes. The Korean officials may have played a deceive role. Nearly every small challenge had been whistled and most of the action between both teams happened in midfield. All together and over the whole 90 minutes, Buriram were the better team that day. But with 10 against 10, and without Sivaruk in the goal, the match could have seen a different outcome.
Though not a top match in consideration of the current table, but always an explosive one, the big brother duel between Pattaya and Chonburi. And again the Dolphins could not come away with a victory over rivaling neighbor. Almost for the whole time the clash was pretty much open and went from one end to the other. Although, Chonburi was simply icily in the use of his chances.
Marvelous combinations
lead to the visitors goal by Pipob On Mon after 23 minutes. New signing Thiago Cunha put the final point with his TPL goal premiere.
The revolving door of the league remains in swing. After an astonishing 1-0 defeat of BEC-Tero at Thepasadin brought by Esan United, the Australian Andrew Ord had to pack his bags. And it was just ex-Tero coach Payong Khunnaen, Ord's predecessor, which tipped the balance with the success of his team on Sunday, at least partially. The self-appointed championship candidate only managed to get one point out of the last three games in the league (2-2 against BBCU). Surely not enough for general the manager Robert Procureur who hates nothing more than lose. The last time a coach have survived more than one season at the helm is long time ago. Attaphol Puspakom (today Buriram United) could achieved this between 2002 and 2004. Now Andrew Ord who was promoted from youth to head coch at the beginning of the season will now be shifted to the Academy Director position. Meanwhile BEC Tero already is on the search for a new boss. Any bets on former Muang Thong chief René Desayere?
Though Bjorn Lindemann haven't seen any playing minute last weekend against Chiang Rai United, as he just warmed the bench, he was pleased to see his team coming away with surprising three points. Army United is still in a good position to finish the season within the top five of the table. Meanwhile for Chiang Rai United it was the first home defeat of the season. Trainer Somchai Chuayboonchum which we already praised last week for his success since returning to Samut Songkhram, also did not disappoint us this time. His 100th match in charge of Samut ended, how else could it be, with a narrow 1-0 win over relegation rival BBCU.
After round 23 Muang Thong still leads the table by a comfortable margin of 10 points, hunted by Chonburi FC. Both are due to meet this Sunday in a direct duel which should be also officiated by referees from South Korea. It is expected to be a sell-out and the guests receive 1,600 tickets. For those not able to grab one, it is planned to put up big screens in Chonburi, and the one next to SCG stadium surely will be in use as well. And for the first time in the history of the TPL, a game wil be broadcast in HD.