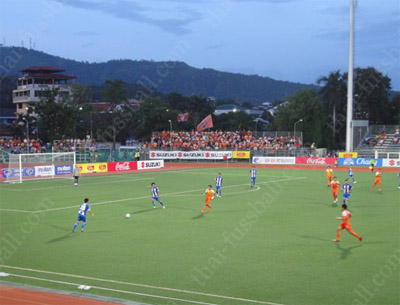 Sriracha vs Nakhon Ratchasima
image: © thai-fussball.com
31 encounters were to be seen in the first proper round of the Thai League cup. Small clubs challenged the big boys and sometimes were able to cause some upsets. But in any event more than to expect.
Our conclusion after the first round of the Toyota League cup 2012: very enjoyable. Exciting matches in which some smaller teams forced their bigger counterparts to play to the limit. Surely, some teams have not field its first line up entirely, focusing on the FA Cup. Although some saw themselves in a constrained position to bring on their stars later in the game to turn the result in their favor. But TPL side Samut Songkhram, did not had that choice. In an unforgettable if not even unique match, the guests came away with 0-1 win over Regional League club Kalasin.
Usually a match starts with 11 men on each side. Not in this one. Samut started with eight and finished it with eight players only. What had happened? Now, in the forefront of the game Samut had sent a wrong player's list to the FA. Arriving at Kalasin, thus leaving them with only eight eligible players. You can read the whole story and a nice round up of it on the
Thai Port Blog
.
Muang Thong United struggled against third Division team Thai Honda FC and scarcely won 1-2 at the end. Teerasil and Mario Gjurovski, both were brought on as substitute after the favorites were down by one goal. Kasetsart, currently ranked four in the Regional League Division Bangkok, left Thai Premier League club Esan United with no chance, trashing them 4-0. At early stage BBCU faced a three goal deficit against Customs United but despite coming from behind and scoring two goals to draw back, it was not enough and the underdog advanced.
Ratchaburi v Chainat and RBAC v Bangkok Glass, respectively, were two completely mad matches. After an intermittent 1:1 in the first half, Bangkok Glass went up front 3:1. However, BEC-Tero's farm team could equalize in the 81st minute and with final whistle in normal time seconds away, Chatree Chimtaley scored the winner for the "Rabbits". Chainat's injured Spaniard twittered on Ratchaburi against Chainat: "
Partido de locos!!!
" And indeed it was. Galan's team took a 2-3 lead with 53 minutes played but Douglas Cardozo for Ratchaburi leveled short after it and the tie went into extra time. Ratchaburi's Brazilian Wander who already marked the first goal, than scored the final one and helped his team to make it to the next round.
The financially battered Phattalung FC which actually also experiences a bloodletting in players surprised Police United by wining the encounter 2-1. Kamphaeng Phet FC was also close to achieve an upset, by holding Chiang Rai United to a goal less draw after 120 minutes. But Seksan Siripong saw his young team losing after penalties.
Roi Et United was merely minutes away from the weekends biggest surprise when hosting titelholder Buriram United. But it was like almost whenever Buriram plays:" The Game is not over until the fat lady sings".... or, until the referee blows the whistle. And you can take this ambiguously. Buriram did not really started with a second string team, as Suchao Nuchnum and Achempong where fielded among others. And it was Roi Et which took a two goal lead after fifty played minutes. Though Florent Obama could draw one back a few minute later, Roi Et did hold on to his one goal advantage until injury time.
From there it took 120 seconds for the visitors and Sarif Sainui made it 2-2 and again 120 seconds later a penalty was awarded to Buriram after a challenge on Suriy Domtaisong. Suchao Nuchmum made no mistake blasted one home from the spot for the winner. Taking a closer look on the
replay
, it seems the player from Roi Et clearly hit the ball. However, watch it, and get your own picture. And while you have a look at the whole clip, you certainly will discover that there has been a few more decisions handled in favor of Buriram, been more obvious than the penalty.
All in all, it was still a great cup weekend, like one wish. With small clubs challenging bigger ones and partially even knew to surprise. Five teams from the Thai Premier League and eight from the Division One fall by the wayside after the first round. Among the last 32, nine clubs are from the Regional League.
The second round of the Toyota League Cup is scheduled for 14/15 July.