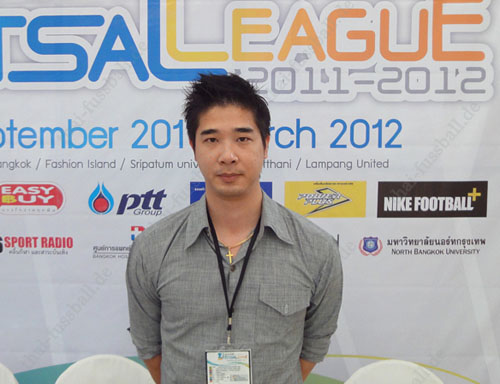 Utchen Udomdejwatana
© thai-fussball.de
Since a few weeks Thailand national Futsal League is underway. Recently we have met with Utchen Udomdejwatana, the manager of Universal Sports Management, USM, and talking about the new season.
The company, is not only the name giver for the national Futsal league. USM also holds the marketing rights for the competition and at the same time is responsible for organizing the league. Serious changes could bee seen since the Sports Management company become in charge last year. Match days are now stretched over two days on a weekend, league is extended and a national cup competition is introduced. Moreover, for the first time, since this season, matches are not played only in Bangkok. Unsurprisingly right at the beginning of our conversation the name of "Mr. Futsal" Adisak Benjasiriwan was an issue. From Khun Chen we could here that Khun Adisak, despite of his dismissal from the football association by FAT president Worawi Makudi, still acts for Futsal in Thailand in advisory function.
thai-fussball.de:
At the opening weekend, no one from FAT officials showed up as far we overlook it. Thirachai Wuthitham, designated Futsal official from the FA actually is in Spain to negotiate a contract with a possible new national team coach. Will we get a Spaniard again?
Khun Chen:
I must say first, that I am responsible only for the national interests of Futsal and I am not involved with the international business of the federation. The teams current coach (as care taker) is of Thai nationality. He also acts as coach of Suphanburi and was the national teams coach before Pulpis. Whether the new coach will be a Spaniard, I cannot say. However, I hope that it is somebody who is qualified enough for this job.
thai-fussball.de:
The new season should have start in May, however, was postponed from one day to the other. What was the reason for moving it on a short notice?
Khun Chen:
We had a sponsorship deal with Easy Buy, a finance company which is a subsidiary of a Japanese corporation. We already had a cooperation with them for the Futsal FA Cup last season and now they also wanted to become active with the league. The contract was worth 20 million Baht. However, after the Tsunami in Japan in March, all Japanese companies in Thailand have used her funds for Japan. Suddenly we were without means. As USM is responsible for all the financial things, and has to pay referees, renting the venues and so on we had move the start of the season.
Now we have asked the FA whether they could bear the prize money and additionally we talked to all teams and explained the situation. They support us as far as they can and fortunately the championship can still take place. Currently we are in talks with the government to support us, because it is the highest Futsal league in Thailand under the wings of the FA.
thai-fussball.de:
Ahead of the season some clubs stated to sign foreign players. From what we have seen up to now, mostly Thais are on the parquet.
Khun Chen:
The rule in the league is, every team can have up to three foreigners, with a maximum of two being on the field the same time. I suppose that many teams have the local players in the ranks to strengthen the national team. On the other hand one reason might be the move of the season. Without receipts from competition, teams do hard to pay salaries for the players and without income some players left, particularly as they could not play as expected.
thai-fussball.de:
How high the player wages are?
Khun Chen:
For foreign players and the players of playing for the national team it is between 50-100.000 Baht a month. Albeit salary of a descent Thai player lies underneath. Two players of RBAC are moved to Iran before the season. They are about to get 4,000 US Dollar a month.
thai-fussball.de:
With the referees it was to be seen that they are the same on one day, but have to fulfill different duties on and beside the field. How much money a referee gets?
Khun Chen:
The referees are always split so they occasionally have enough time to rest. This means the main referee is changed four times a day. For each game the referee and his assistants are getting 5.000 Baht which they have to share. If Lampang or Surat Thani are having two consecutive home games, we try to send the arbiter there for ten days to reduce travel expenditure.
thai-fussball.de:
Ahead of each game we could see advertising boards were exchanged. What's it all about?
Khun Chen:
The clubs have different sponsors. All teams having a home match are allowed to attach there own advertisement. Admittedly, only a few teams have enough sponsors.
This is one reason, why we push the clubs to play in their own halls from the next season onwards with real home and away ties. We already talked to the chairmen of each club about this. If all clubs are playing on the center court, there, simply is not enough money for everybody. Most of the teams do not have any merchandising. We assume that if clubs are able to play at home, they are able to build up better connections with local sponsors. Nonthaburi for example plans to host its games in the Mall Ngam Wong Wan.
thai-fussball.de:
On the former place of FBS-TV (one D-TV), Football Plus / Live TV now took the field and broadcasting the Futsal league.
Khun Chen:
Of course, that is much better for us. More people receive D-TV. Football Live as our media partner is going to show more than 100 games.
thai-fussball.de:
Under the responsibility of Adisak Benjasiriwan there was a slogan "Road to Futsal World Cup" (for the Fustal World Cup in 2012,
red.
) and during the last Futsal Cup, advertising boards were seen already. Several events and competitions were in plan. What happen to it?
Khun Chen:
Meanwhile the motto changed in "Thailand to the World". At the moment the whole project is under rework. Surely soon there will be a press conference about this issue and we will carry it over into the league. For years I personally lived in Australia and I am in hope we can see the same affect on our futsal league like the football World Cupô in 2002 had on Japan, South Korea and Australia.
thai-fussball.de:
Now substantially football is more popular than Futsal. In case of Thai Port FC we know a few supporters who like to follow their team in Futsal and Football. In recent years we have seen some overlapping in games with cup finals and so on.
Khun Chen:
Yes, we are aware of that. We want to put that in a more professional way. If there are important football matches, like cup finals, we try to avoid having Futsal the same day or time.
thai-fussball.de:
How are the revenues from ticket sales are split? It's not quite easy, with four teams acting as host each game day.
Khun Chen:
Now as an interim solution membership cards were introduced to the ticket sale. They are a little bit cheaper, instead of 50 Baht they only cost 40 Baht. These cards are team related. Fans of the respective team which has the right to act as host, are getting the discount. At the end of the day the respective team is getting the full amount of money from its member. The remaining money is to be shared between the teams.
If teams are able to play in their own venues next season, local following I hope develops and then teams know that they can sell merchandising.
thai-fussball.de:
What are your top-4 teams for this season?
Khun Chen:
RBAC, Thai port, Surat Thani and Lampang. These four teams undertake the most efforts to become professional in my opinion. Whereas in terms of professionalism Surat Thani and Lampang are even leading much over RBAC. For example Surat Thani put two Brazilian players under contract. There is a new management and they are able to play in their own venue. The same goes on for Lampang. Up to now it was like the teams are coming to the hall, play the matches and off to back home. They have nothing to do with the rest of it.
thai-fussball.de:
Khun Chen, thank you very much for the interview and you time.

interview by esgede