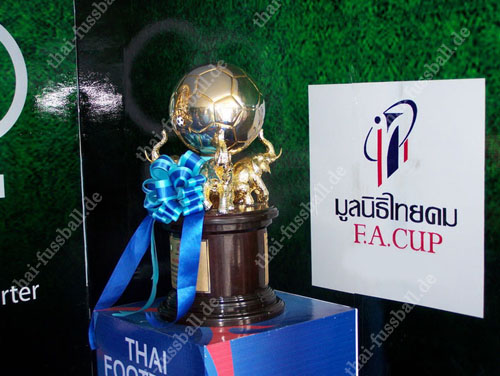 image: © thai-fussball.com
Second round draw of the Thai FA Cup 2012 has been completed. The first encounters are to take place next week on 9 May. Including the top match between PTT Rayong and Sriracha.
Like in recent years, at first a qualifying round in which this year a total of 40 clubs participated, was played. Different to the League Cup, non-league and amateur teams which mainly playing in Khǒr cup, Khor cup, and Ngor cup are allowed to apply and to enter the competition. For the second round, from which then also the Division One league teams enter the competition, a total of 10 clubs qualified from previous rounds.
With Pattaya City FC and Ratchaphruek College even two non-league teams could make their way into the yet to be played coming round. The first mentioned team will have to travel away and take on Khon Kaen FC while latter got a home draw and will host Bangkok FC with experienced top-flight players, like Mika Chunuonsee and Ivan Brosovic. Otherwise the draw brought us five Division One duels. One of the most interesting, if not the most interesting one, might be the cup encounter between promotion favorite PTT Rayong and relegated Thai Premier League side Sriracha FC. PTT head coach Dusit Chalermsaen was in charge for the opponent last season and could not prevent relegation. In the course of the season both teams did not meet yet.
Once more a lot of luck of the draw for Hat Yai which for a third consecutive time is allowed to play at home. The opponents from the first two rounds, Chiang Rai FC and Kamphaeng Phet FC had to undertake the longest journey of all traveling teams, and supposedly totally exhausted on arrival. However, Hat Yai's next opponent, Krung Thonburi, will not have to make such a long trip.
All games are to be decided over 90 minutes, extra-time or even by a penalty shoot-out. With the next round all TPL clubs to enter the Thai FA Cup. All
second round draws and fixtures
of the FA cup can be seen in our overview.