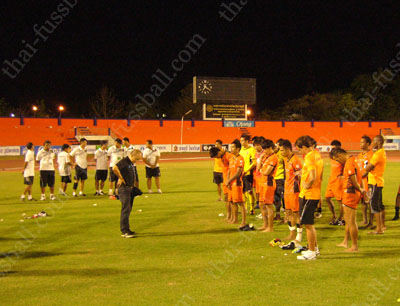 rarely depressed: Ratchaburi
image: © thai-fussball.com
It is high time to cast a glance on Thailand's second Division. In the recent past she came up short. Wrongfully! Because in contrast to Thailand's top tier league, Division One offers tension almost every year till the very end.

During the last years the now officially called "Yamaha League 1" has turned out mostly to be the more exciting and also more interesting league compared to the TPL. And same goes on for this season. The number in clubs distributed all over Thailand was and is higher than this is the case in the TPL. While in early days, she was much maligned by quality foreign players, the number is continuously rising and helps, to lift the overall standard. In what to itself the league will also remain abidingly in 2012, at least one promoted team will make a clean sweep. There we commit ourselves.
This might be
Ratchaburi FC
this year, who is about to be heir clubs like Muang Thong and Buriram FC (now Wuachon or Buriram United). Quite early in the season the newbie could settle on top immediately. Still last year the club dominated his third division and bolstered its squad right at the beginning of this year's playing time with players from Buriram for whom there was no more place. To emphasise, Douglas Cardozo. The striker hit 15 goals in 2011 and at the half-time of this year's season, has already nine goals on account.
After matchday 19,
Suphanburi
lies in second with 40 points, six points behind Ratchaburi. To ensure the club finally can regain a berth in the TPL after relegation five years ago, one have put shoulder to the wheel. Worrawoot Srimaka, who missed promotion with Songkhla FC last year, has been assigned as new coach. With Pipat Tonkanya an experienced top-flight striker could be added, and during the current transfer window, Sutee Suksomkit moved in from Bangkok Glass. If the start of the season was rather rough, Suphanburi is now on track.
Promoted
Krabi
follows next and to some extend a bit unexpectedly, is sitting in third place. Thanadech Phooprasert took over the reigns only for play-offs initially. But since he finished his mission successfully, he still in charge. Looking at the squad, you do hard to find any big name. At current stage the
Andaman Eagles
thumb rival town Phuket's nose. From a sportingly and financially point of view. The chance, that Krabi could play in Thailand's top flight next year is not too bad and realistic. If that happened, they would be the first team from the South to qualify via promotion. Here, another thumb nose might be certain. This time for Songkhla/Wuachon boss Nipon Boonyamanee.
The probably nicest and newest stadium of the league ranks in fourth currently and is home to
PTT Rayong
. Unexcited and strict the club goes his way, after he has found a firm home finally last year. Coach Dusit Chalermsean was put under contract, who could not avoid league rival Sriracha to drop from TPL 2011. However, PTT Rayong has been able to hold many talented Thais like Adisak Srikampang and added experience in the likes of Jozef Tirer and Erikson Noguchipinto.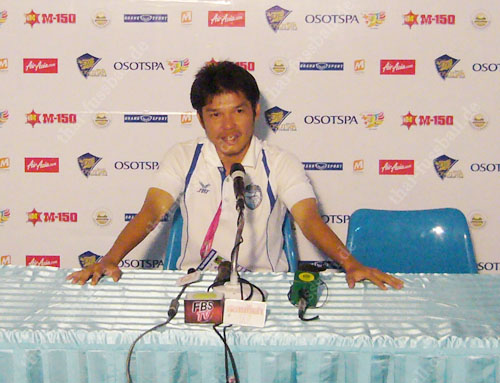 Sriracha Trainer Trongyod
image: © thai-fussball.com
Of all the relegated teams and throughout the season,
Sriracha FC
has been the best placed team. The fact that the "small" club from the eastern seaboard is a promotion chaser, is probably the biggest surprise. Level on points with PTT Rayong and ranked five in the table, one is only two behind Krabi FC. Nearly half of the team had to be replaced to the start of the season as many key players left. With no money for shopping, the leaving players were replaced by mostly young, unknown and inexperienced players from their own youth. So an age average of 23 years is no surprise. The three foreign players Douglas Cobo, Gaston Gonzales and Diego remained as mainstay of the team. Gonzales as well as Diego are already present at the club for several years now. Trongyod Klinsrisook took back his chair at office after he was replaced by aforementioned Dusit Chalermsaen midway last season. Already in 2010 he led the
Marlins
to TPL masterfully. Shootingstar of the team is the agile youngster Anuwat Nakasaem. Only 21 years old he scored already nine goals in his first full pro season. Thus earned him a call by Thailand's U22 coach Mano Polking recently. For the second half of the season ex Chonburi striker Berlin Ndebe-Nlome has been added merely to the squad.
Once more by all available means
Bangkok United
tries to reach the desired reemergence finally. The just mentioned
Marlins
were able to edge the side from Din Daeng by a 4-0 victory a few weeks ago in a direct promotion duel and last weekend in front of the own home fans both teams draw goalless. Since beginning of the seaosn Sasom Pobprasert is in charge, who had his most successful time with Thai Port FC. Moving in from Buriram he dragged Alef Poh-Ji, and for the time being former international Sompong Soleb along with him. The French Romain Gasmi in his second year with Bangkok United and forming the spearhead, has appointed captain by Sasom. This is rather unusual for a foreign player in Thailand and surely a big honor.
Well that should it be with the promotion candidates and we are heading mid-table, formed by two teams. Relegated
Siam Navy FC
which just recently could get some air to breath after a difficult start, and promoted
Nakhon Ratchasima FC
. With an average of about 6.000 spectators, latter is able to put even a few Thai Premier League clubs in the shade. Although the club benefits from the fact being able to use one of Thailand's biggest and most modern multifunctional arenas. The team consists of a mixture of old third Division and top-flight experienced players. David Le Bras might be the most experienced of all. He laced his shoes already for BEC-Tero in 2007 and for Chonburi in 2008. Since 2010 he is back in Thailand. Thewet Kamolsin who have led the
Swat Cats
to promotion was removed shortly before the season break. He is replaced by former Sisaket/Esan United coach Royter Moreira who is popular among many fans in Thailand. At least by his name, Anon Sangsanoi is the star of the team. The leading goal scorer of Thailand'S elite-league from 2008 and 2009 is on loan from Muang Thong United. However, with just four goals so far this season he fall short of expectations. In Valci junior just last week a new striker has been put under contract. The Brazilian already played for TOT, Sisaket, TTM and Thai Port throughout his career in Thailand.
Relegation battle starts with Thailand's record champion Air Force. But this, we take on in our second part of the review.