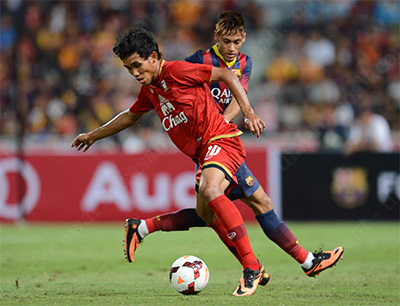 Teerasil and Neymar
image: © Thananuwat Srirasant
After more than 150 games, more than 70 goals and at the club since 2009 without cease, the time had come for Teerasil Dangda to say goodbye. To his fans, his club Muang Thong and the SCG Stadium.
Teerasil Dangda could certainly have fancied a nicer farewell from his fans and his SCG stadium. From the bench he had to witness Muang Thong's defeat and elimination from the League Cup against eternal rival Buriram United a week ago. Nevertheless, he was heading off for lap of honour right after the match, shook hands, gave autographs and was ready for pictures with fans. Just as one knows the down-to-earth striker.
But his goodbye will be only for the moment. The 26-year-old is going to make a swift return to his old place of activity at the end of this month. Though the difference: he will wear the jersey of his new employer UD Almeria. On his official website the Spanish club recently has announced a training camp in Thailand from the 28 July to 8 August, including two friendlies. The first one to take place on 30 July against Muang Thong United at the SCG Stadium, kick-off 19:30, and the second to be played on 6 August against Phuket FC at the Surakul Stadium. Kick-off 19:00.
The striker who will be lent to Almeria for one year, traveled to the Iberian peninsula this week to start his La Liga adventure. On his arrival he was welcomed by a handful of Almeria-Fans and headlines who described him as "la perla del fútbol tailandés " (The pearl of Thai football).
Already in February this year the deal was fixed between the Spanish La Liga side and Muang Thong United when the contracts between the two were signed. Thus, the international striker is moving on a free transfer. A transfer fee would become due only if Almeria want to sign him permanently.
Due to the league schedule in Spain, Thailand's top-striker will be missed by the national team for the upcoming tournaments. The Asian Games in September, and the AFF Suzuki Cup in November-December