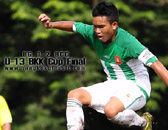 Siwakorn Saengwong
(c) Jane Chalinee
We decided to give the young Thai talents an own theme. Therefore we created the theme "Talent Pool". We already put our focus on perspective young players like Surachet Ngamtip, skipper of the under-U19. But also on Joe Khambor in Germany, playing with SC Langenhagen.
Today we would like to introduce another young talent. Siwakorn Saengwong is in the age of 13 and is from the Bangkok Glass FC youth academy. He went through to the U11, U12 and U13 of Thailand. Back in August he played the Yamaha Cup in Indonesia with his national mates.
Until April this year he went to school in Chonburi, where he was born. However, since January 2009 he trained with Bangkok Glass FC already. Since May this year he is part of the clubs youth academy. Since in Bangkok he visits the Thanyaburi school together with other 23 under-14 mates.

The school isn't far away from the training facilities, so he is able to train on a daily base. Hans R. Emser, the Academy Director highly rates his dynamic style of play. "I consider him as one of the biggest talents in Thailand, and I am pretty sure that he will develop further. In May 2011 Siwakorn will travel to Germany. There he will train for about 4 weeks with the under-14/15 of Bayer 04 Leverkusen. U19 Thai national skipper Surachet Ngamtip had two training spells with Bayer Leverkusen already last year and the year before, now it's Siwakorns turn. Emser adds "I think it is really good for him that he will have the possibility to train with U-14/15 from one of the best clubs in Germany. I personally believe that later on, he is capable to play for a professional German club."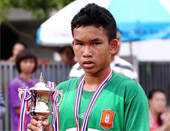 (c) Jane Chalinee
Name:
Siwakorn Saengwong
Nickname:
Tos
Born:
06/02/1997 in Chonburi
Club:
U14 Team Bangkok Glass FC
U14 Nationalteam Thailand
Position:
central defense or
denfesive midfield