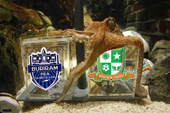 Prediction of octopus "Dale"
The last round of the TPL brought us the first home win of the season for Bangkok United and the first defeat of Buriram PEA. Teerathep Winothai said
"good bye
" to Muang Thong with a winning goal against Thai Port and Michael Byrne gave his debut for Bangkok Glass FC.
However, match day 19 of the TPL was lacking of goals and their have been not any movements in the table. Nevertheless, it doesnt mean it was a weekend without any to discuss. By short notice, the match between Bangkok United and Buriram PEA was moved to the old Bangkok University stadium. Under the name of Bangkok University, the club won they're first ever Championship in 2006.
Bangkok United - Buriram PEA FC

Besides the return to the old home, a few more facts portended a win from Bangkok United before the game. Still without any home win in the 2010 TPL season, BU beat Khon Kaen FC at home in the 3rd round of the FA Cup the week before. New signed head coach Prapol Pongpanich is a championship coach. In 2008 he won the Thai championship surprisingly with PEA. Buriram PEA, till that weekend, was without any lost during the 2010 campaign. Surley enough for something written in the stars. Favourite side Buriram had the better start into the game, and where given a penalty on halfway to the break. Weera Koedpudsa blocked the dubious penalty in style and was even able to save the rebound from Suchao Nuchnum. From now on, the momentum was with the home side. Maxime Ongmakon scored just before the break, to took the lead for Bangkok United. It turned out that it wasn't the day of Douglas, when he hit the bar during the second half. Preecha Chokla sealed the first season home win for BU by making it 2:0 just before the whistle blew.

Bangkok United:
Weera Koedpudsa, Punnarat Klinsukon, Kittisak Siriwan, Kraisorn Panjaroen, Songsak Hemkeaw, Pollawat Pinkong, Tanat Wongsuparak, Anon Boonsukco, Sarif Sainui, Rungroj Sawangsri, Maxime Ongmakon
Buriram-PEA:
Sivaruck Tedsungnoen , Theeratorn Boonmatan, Pairat Tapketkaew, Rangsan Viwatchaichok, Suchao Nuchnum, Apichet Puttan, Kouadio Pascal, Douglas Gardozo, Seydou Koné, Simão Wellington, Dudu
Attendance: N/A
Gate receipts: N/A
Merchandise: N/A
Sisaket FC - Rajnavy Rayong FC

By wining 4:1 at home vs the Navy, Sisaket took revenge for their 3:4 defeat in Rayong during the first leg. At all, it was just the 3rd winning game of the season for the isaan side. With that win, relegation battle could go down to the wire. Just three points separating Sisaket from a save place. Skipper Piroj Anantanarong made opened the sheet. On his way to an eventually hattrick, Kittisak Jaihan made it two after getting a penalty in the 35 minute. Just after the break the Navy got some breath when Somjet Sattabud shortened the gap. However, three minutes later it was all over with the second goal from Kittisak. His last goal came twenty minutes before the games end.
Sisaket:
Ruben Djofang, Ekapan Jandakorn, Prachya Hong-In, Divine Ngenevu, Pralong Sawandee, Piroj Anantanarong, Tehwa Sritammanusarn, Víctor Amaro, Kim Yoon Dong, Piyawat Thongman, Kittisak Jaihan
Rayong:
Kosin Hembut, Chanatawat Srisuk, Kusol Pengphol, Yannick Georges, Suradej Saotaisong, Jetsada Ngam-muang, Ratinho, Jang Gil-Yeong, Somjet Sattabud
Attendance: N/A
Gate receipts: N/A
Merchandise: N/A
TTM Phichit FC - Chonburi FC

Patience was the key to success for Chonburi FC during their away game in Phichit. Therefore the first goal of the match came in the second half. Therdsak Chaiman tapped the ball in, with second half beginning. It was his ninth goal of the season so far. In injury time it was Pipob On-Mo to close the game. Cunningham was not able to hold on to the ball after a cross delivered into the box and Pipob only need to find the net. Overall, TTM missed to create dangerous situations in front of Chonburis goal.
TTM:
Samuel P.Cunningham, Kraisorn Sriyan, Valci Junior, Sakda Chutipakpong, Chatprapob Usaprom, Jetsada Boonruangrod, Narong Jansawek, Peeratat Phoruendee
Chonburi:
Sinthaweechai Hathairattanakool, Suree Sukha, Suttinan Phuk-hom, Ekaphan Inthasen, Natthaphong Samana, Pipob On-Mo, Purithat Jarigarnon, Chonlatit Jantakam, Therdsak Chaiman, Dave Simpson
Attendance
: 3.340
Gate receipts
:
173.400 Baht
Merchandise:
N/A
Samut Sonkhram FC - Police United
Heavy rain produced conditions on the pitch, where you normally don't like to play on. Big puddles where all around the pitch. Despite the conditions on the pitch, the first goal of the day was a lovely produced one. Samut Songkhram moved the ball forward, using eight touches until the ball found his way into the net. Police made it 1:1 after set piece. The free kick came out of a turmoil in puddles. Chayoot Nakchamnarn, looked accidental on that set piece. Besides he was falling like a gate, the ball jumped up right in front of him.
Samut Songkhram:
Chayoot Nakchamnarn, Chumpon Buagnam, Prayad Bunya, Apinan Kaewpila, Annop Chaipan, Panuwat Yimsa-ngar, Songwut Buapetch, Jean Marc Bénié, Bireme Diouf, Patcharin Sooksai, Sittipan Chumchuay
Police:
Intharat Apinyakool,
Krissadee Prakobkong
, Whoo Hyun, Payungsak Pannarat, Saranyu Intaraat, Tanapat Na Tarue, Felipe, Won Chang Seung, Assaming Mae, Surachart Sareepim, Pichet In-bang
Attendance
: 3.268
Gate receipts
:
191.200 Baht
Merchandise:
100.700 Baht
Pattaya United - Royal Thai Army FC

Pattaya United faced an Army side which had not gave up any point in the return leg so far. Right from the beginning both teams showed some nice moves forward. However, defences on both sides acted very disciplined. As a result, there have been less chances to seen. Leading goalscorer Kegne Ludovick advanced his lead in the
list
by netting his eleventh goal of the season so far. After a nice combination of plays he taped the ball in. After the break the Army pushed forward and Pattaya pulled back. Pattayas defence with Sompop and Arlindo did a good job and nobody missed captain Niweat Siriwong. After 30 minutes in the second half, Arlindo moved in to the box and was fouled by an Army defender. Kengne moved to the point, but he was not able to convert the penalty, his rebound was way off the bar. The Army never gave up but was to harmless in front of Pattaya's goal.
Pattaya United:
Narit Taweekul, Kignelman Athanase, Sompob Nilwong, Arlindo, Seeket Madputeh, Theerawesin Seehawong, Rangsarit Sutthisa, Anucha Kitpongsri, Santi Chaiyaphurk, Kengne Ludovick, Tana Chanabut
R. T. Army:
Kochi Chun, Dawut Dinket, Wittaya Po-yord, Jakkrit Reangsantere, Tatree Sing-ha, Jakkrapong Somboon, Trakoolchat Thongbai, Anuwat Noichernphan, Yasuhiro Kato, David Bayiha
Attendance:
1.560
Gate receipts
:
93.600 Baht
Merchandise:
46.750 Baht
Bangkok Glass FC - TOT CAT FC

Since last Saturday, Michael Byrne may can be named
"Mr. One touch".
In a more or less boring game between Glass and TOT, Byrne produced the highlight, as long as you are with Bangkok Glass. Because the second goal of the day wasn't bad either. Bangkok Glass started the game without their new singings Byrne and Laeng. Both took a place on the bench. At least in case of Peter it looks like he is still not eligible to play because of missing player license. Byrne was brought into the game right after the 60 Minute mark. And it took only 30 seconds and one touch from him, to gain the lead for his new Club. After a set piece was blocked by the Bangkok Glass in their own half, Samuel Ajayi used his speed to outplay three players from the opponents. After moving the ball 70 meters into TOT's territory, he still had an eye for Byrne and crossed the ball with touch. Jozef Tirer on the visitors side, wrecked the home premier for Byrne. A strike from outside the box found his way into the net and made it 1:1 in the end. Not really a happy end for
"Mr. One touch".
Bangkok Glass:
Kittisak Rawangpa, Surachet Ngamtip, Amnaj Kaewkiew, Panuwat Failai, Tanongsak Prajakkata, Kunihiko Takizawa, Wichaya Dechmitr, Wannaphon Buspakom, Moussa Sylla, Anawin Jujeen, Chatree Chimtalay
TOT-CAT:
Adisak Duangsri, Prawit Sansook, Kanchit Chonlaratnomrit, Marián Juhás, Tay Junlasom, Polawat Wangkahart, Jozef Tirer, Yuttana Chaikaew, Anton Kubala, Miroslav Tóth, Georgi Tsimakuridze
Attendance: N/A
Gate receipts: N/A
Merchandise: N/A
Muang Thong United - FC Thai Port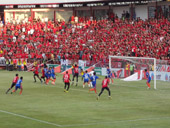 Muang Thong United - Thai Port FC
(c) thai-fussball.de
Eagerly awaited was the match between Muang Thong and Thai Port FC. After the incidents during the Kor Ryoal Cup, back in February this year, both Clubs have been confident there won't be any problems to see. Most of the time a fair match was to be seen between both 11. MTU tried to dominate the game and Thai Port put a lot of physical strengths into the wage. Defences on both sides have been very mindful and chances have been rare. Christian Koukaou produced the biggest chance for the home side, but his shot was wide. With the beginning of the second half, Thai Port looked to be the better side, but they weren't able to create much danger. Thai Port defender Swa-Moise was sent off after 53 minutes. He was booked already with a yellow card during the first half. With just 10 man left on the pitch, the visitors where pushed back and Muang Thong took control of the game. But it lasted until a few minutes before the end of the game, when Leesaw finally scored the winning goal. He will be on loan to BEC-Tero until the end of the season, so it was a great "
good bye"
present from him to his club.
Muang Thong United:
Kawin Thammasatchanan, Jakkraphan Kaewprom, Jetsada Jitsawad, Panupong Wongsa, Piyachart Tamaphan, Pichitphong Choeichiu, Cristian Kouakou, Datsakorn Thonglao ,Koné Mohamed, Dagno Siaka, Teerasil Dangda
Thai Port:
Ulrich Munze, Rangsan Iam-Wiroj, Pongpipat Kamnuan, Todsapol Lated, Moudourou Swa-Moise, Worawut Wangsawad, Kiatjareon Ruangparn, Issarapong Lilakorn, Jacob Aikhionbare, Sompong Soleb, Sarayoot Chaikamdee
Attendance: N/A
Gate receipts: N/A
Merchandise: N/A
Osotspa Saraburi FC - BEC Tero Sasana
was a game to forget. Considering the difficult situation of BEC-Tero, the goalless draw can be seen as a success for them. During the recent days BEC lost 8 players and the draw can be considered as an important one in relegation battle.
Osotspa:
Chatchai Budprom, Boonmee Boonrod, Pratum Chuthong, Wanmai Setthanan, Jetsada Puanakunmee, Olof Hvidén-Watson, Apipu Sunthornpanavej, Santitorn Rattirom, Cleiton da Silva, Evans Mensah, Paitoon Tiepma
BEC-Tero:
Pisan Dorgmaikaew, Prat Samakrat, Chalakorn Sa-nguandee, Narat Munin-noppamart, Anon Sangsanoi, Guy Hubert, Douglas Cobo, Israel Rodriguez,
Angello Machuca
Attendance
: 2.825
Gate receipts
:
134.200 Baht
Merchandise:
34.000 Baht

* However, the starting formations shown here makes no claim of completeness, up-to-dateness, or correctness.