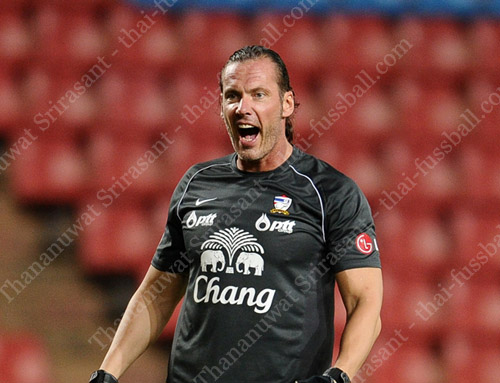 Stefan Brasas
Image: © Thananuwat Srirasant
Stefan Brasas is Thailand's goalkeeping coach. In the first part of our exclusive interview we could get to know why Sinthaveechai currently is the number one goalkeeper for the national team.
In the second part which you can read today, Stefan explains why from his view Kirati Keawsombat is important for the team, about Felix Magath and how live feels in Thailand.
thai-fussball.com:
In your spare time, do you deal with psychology?
Stefan Brasas:
I would say I am doing this every day in every conversation. It's with psyche that you win games, not with feet and legs.
thai-fussball.com:
Concerning a goalkeeper's training. How do you improve yourself? From coaches we know that they often observe other coaches and training techniques. Are you looking at current goalkeepers like Manuel Neuer, who is saying he learned a lot from handball? How do you bring your training to the next level and develop it?
Stefan Brasas:
What he (Neuer) says about learning by watching handball is old hat. But he turns it into perfection. The way he is going into one-on-one situations, making himself large and broad, we could see twenty to thirty years ago; it just wasn't as widely known as today. Let's put it this way. I do not have any firm plans, but you must want to learn things by watching other players. And then you have to ask yourself how he made it. No matter whether you speak with somebody or you have seen it on television. Then of course you must try to put this into training situations.
From time to time I follow training units from different German Bundesliga clubs. Otherwise it is intuition; I trust my gut feeling. Of course you need to know your boys. If I see that they are tired, then we go and have a coffee rather than a training session and the very next day we just go again. I am not like Magath.
thai-fussball.com:
Was Magath ever your coach?
Stefan Brasas:
Yes in Bremen. I enjoyed his coaching for a nine-month period. He has of course many good views – is an absolute expert. But his manner is not part of my world. I have experienced many coaches and I picked up a lot, also from Magath. With Winnie I must say – and this distinguishes him particularly from others – the "love" for his players. It comes close to my way of handling things.
Kirati is a striker who helps us in our situation.
thai-fussball.com:
Regarding Winnie, I think that one can see this clearly. Even people who are not regularly watching his training can recognize this; a look at the pictures of Siamsport are enough; we have been able to see it with our own eyes when watching the final training ahead of the Australia game. This is certainly something that distinguishes Winnie and has helped him in the past to produce all those Karlsruhe players who later ended up moving to Bayern Munich.
Stefan Brasas:
Unfortunately, I wasn't present at that time, but I can speak of Al Ain. There are six players who have become internationals recently where before you thought that they cannot progress. They have all been discovered by Winnie. I can see this in Thailand now again. He's different to his character on the pitch or touchline – during the game he looks a little bit gruff sometimes – and as a young player you could be frightened. But how he speaks with the players, how he recognizes the potential, and how he promotes it, this is quite strong.
thai-fussball.com:
Right on cue. Kirati Keawsombat. Many fans seemed to be happy that Kirati was training with Leicester City because he could not play against Oman and Saudi Arabia at home. Then suddenly he lined-up against Australia and Saudi Arabia from the start. What qualities does he have which make you say he is a good striker?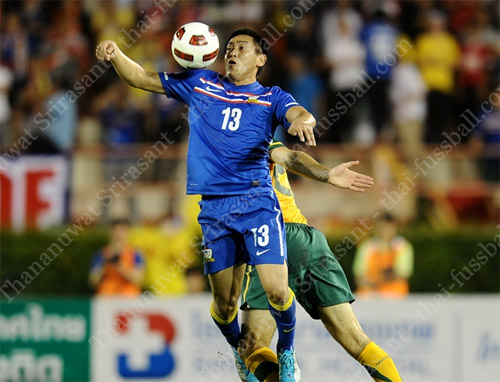 Kirati Keawsombat
Image: © Thananuwat Srirasant
Stefan Brasas:
Kirati is a striker who helps us in our situation. We need a striker holding on to the ball, is physical, is quick and aggressively goes towards defenders. A player you can pass the ball to, with his back to defence and drops off. So there are not many like it. We don't have unlimited resources, of course: we have no Klose; we have no Gomez.
Kirati did a good job, particularly against Australia. Used his body, held the ball, dropped off. Exactly as we wanted to play, actually – also against Saudi Arabia. However, during that game we gave possession away too easily after we had just won it.
thai-fussball.com:
It is said all goalkeepers have a quirk. Could you identify Sinthaweechai's and Kawin's, and what is yours?
Stefan Brasas:
Now, well, with both I can't think of any. Absolutely, I agree with you, as a goalkeeper in certain ways you must have a quirk. But I think that I acquired a quirk in recent years – since becoming goalkeeper coach and during the last years of my playing career, when I have really understood what sport is all about. The fact that it is just not only a fun event; it is a professional sport which is about winning only. As goalkeeper you need to get the quirk to give somebody a bollocking and an elbow on the pitch sometimes. This is something I am trying to moderate! The lads are completely freaking out sometimes on the pitch because they want to win; I am the biggest!
Like Gerry Ehrmann (1. FC Kaiserslautern): I do not want to say he is a role model but, for me, Gerry comes close to it. To be a goalkeeper is quite easy. You do not need to have a lot of talent. You just need to have the willingness to work tirelessly. You must have a good body, self-confidence. You see, what players he's produced...
thai-fussball.com:
...over the last years, absolutely agree.
Stefan Brasas:
... Fromlowitz: only Ehrmann has made something out of him. He formed Weidenfeller (Borussia Dortmund), and now he again has two top goalkeepers [Kevin Trapp, Tobias Sippel, ed]. He must be doing something right. If you give someone to me they at least become better by about 20%. So that is why I am telling you I can even make your granny become a good goalkeeper!
thai-fussball.com:
In the short time which you have been in Thailand, what do you think of it?
Stefan Brasas:
The nice thing, in contrast to the pragmatic side on the field, is the relaxed kind of living off the pitch; food is superior in Thailand; the polite, deferential, kind contact people have with each other. The first impressions are very nice and I really enjoy working here. Everybody is very nice and my players are motivated a lot. All in all, a great experience.
...whenever I used to reach the maximum, I cast the anchor.
thai-fussball.com:
As far as we know, you won two titles in your career: the German Cup with Werder Bremen and championship with Omnia Nicosia. Is there one of them which means more to you?
Stefan Brasas:
Honestly? Neither. It's so long ago; this doesn't interest me at all. It meant something to me at the time, and the title with Nicosia meant more to me in the past because I played in all the games. In Bremen I only sat on the bench. Fundamentally, I am someone who never looks back, only forward. Right now I want to beat Oman in February. I still want to go to Rio, even if that sounds stupid.
And if we beat Oman, we can achieve it. But in addition the team must progress, and I say this over and over again; this dream and the faith that you can make it. Look at all the teams at the current stage. Except three, we can beat all of them if we are stable enough.
thai-fussball.com:
Apart from your admiration for Manuel Neuer, were there any goalkeepers in the past who were role models for you?
Stefan Brasas:
Quite early it was Toni Schumacher, and also Gerhard Welz. Latter was one not blessed with big talent but indomitable will. With me it was the reverse as I was lacking punch and the will to push myself over the limit. So that is why I am maybe able to speak of it so well today: as whenever I used to reach the maximum, I cast the anchor. That is something today which I react allergically to!
thai-fussball.com:
We talked about that already at the beginning of our interview. Winnie apparently has a bit more work to do than you. So what do you do if there is no training camp with the national team?
Stefan Brasas:
I go to the stadiums and watch games – together with Winnie or alone.
thai-fussball.com:
... and to get away from it all?
Stefan Brasas:
To get away? I am the king of getting away (laughs).
thai-fussball.com:
Bangkok and Thailand are known, partly, as a golf destination. Do you play golf?
Stefan Brasas:
No. I am in the gym every day. That is like brushing teeth to me. That is my form of relaxing and getting away. I eat well. I like a massage every day for two hours.
thai-fussball.com:
Any favorite dish you have already?
Stefan Brasas:
Yes. Tom ka gai.
thai-fussball.com:
Stefan, many thanks for the very interesting interview.

* If you are interest to publish the whole interview or a part of it, for Print or online media, please ask for permission via: info [at] thai-fussball.com. Many thanks for your understanding.*

Autor & translation: lokomotive
Editor: Paul Hewitt