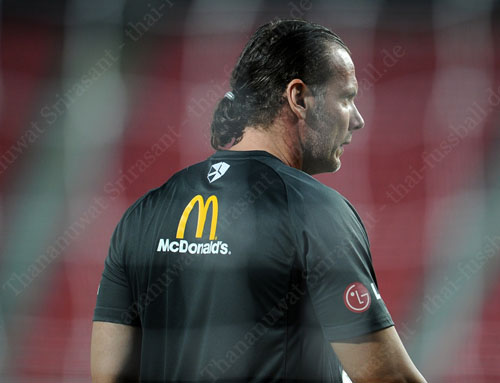 Stefan Brasas
© Thananuwat Srirasant
Since a few month, Stefan Brasas is the goal keeping coach of the Thai national team. Together with Winfried Schafer, he tries to make the impossible, possible. To bring Thailand to the World Cup 2014™. Stefan's job, to condition the guys between the posts. An exclusive interview with him is giving us insight into his work.
During his active career as goalkeeper Brasas played for German clubs like Werder Bremen and MSV Duisburg. Felix Magath was one of his coaches. Hard to believe but true, Stefan Brasas and Chonburi coach Withaya Laohakul have something in common. Both played for Saarbrucken, although both didn't came across. Haeng was with the German side at the early 1980's while Brasas was there at the early 1990's. With Omnia Nikosia (Cyprus) Stefan won his one and only championship title.
If you meet Brasas, for one moment you could feel cowed by his statue. His upper body is fully trained and with 2.02 m, his tallness is doing the rest. Nevertheless, the feeling makes way if you start talking to him off the field. Calmly and placidly speaks the man who has played Bundesliga for nearly his whole career and was destined for more, but never played to his potential as he is tells us. Because he did not understand what it was about. In the meantime he is more mature and knowingly what it is about and with German virtue he tries to make Kawin & Co becoming better goalkeepers.
thai-fussball.com:
Stefan, how did the cooperation between you and Winfried Schäfer come about? The first time you worked together with him was at Al Ain. But you were never a player of his in your playing career.
Stefan Brasas:
: It came about through an agent and it was pure coincidence. Al Ain was looking for a goalkeeping coach with a profile like mine and it happened. Winnie and I do have a very good understanding and we constantly kept in touch after our time together in the Emirates.
thai-fussball.com:
It was announced at the beginning of Winnie's time here in Thailand that you and Norbert Hauenstein would become part of his staff; however, your contract with the Thai FA did not materialize at first. What really was the reason for the way you suddenly departed and then returned to sign in the end?
Stefan Brasas:
: There were a few misunderstandings concerning contract clauses, causing us to depart. Afterwards Winnie clarified the issues with the FA, so that I could return. Since then everything has been solved and is fine.
thai-fussball.com:
Sinthaveechai Hathairattanakool, perhaps surprisingly for many, showed steady performances and good form in all of the World Cup Qualifiying matches. No small amount of credit for this must go to you. Did you think that in this short space of time you could really make such a difference and cause this change?
Stefan Brasas:
: It is nice if people think that. But basically it is not only to my credit: it is to his own. I can offer certain things in training, which the boys can transform into something. Sinthaveechai is a very intelligent player just as the others [Kawin, Sivaruck, ed] are and they have simply understood what I want from them. Sinthaveechai was the first choice keeper already – owing to Kawin's injury – when I arrived and he is now on the up.
I believe that you must have a close examination of all aspects of goalkeeping if they are going to progress further. One must look not only at technical and physical problems they have: specifically, you have to go into the psyche. As goalie you need to have a definite mind to act positively, for the team, the audience and primarily for yourself. Up to a certain point you can sort that out in short period of time.
thai-fussball.com:
Sinthaveechai and Kawin, both have foreign coaches at their clubs. Does this matter to you?
Stefan Brasas:
: It doesn't, as there are only good or bad coaches. I don't like to judge the coaches at club level, as I don't know their work. Anyway, there is nothing to complain about from my side as both are fit as a fiddle and physically in good shape. At the end of the day, I have to work with the lads as I get them.
I am of the firm conviction that it requires no big talent to be a goalkeeper.
thai-fussball.com:
It means Winnie is going to league matches, observing the goalkeepers, and coming back with suggestions for you?
Stefan Brasas:
: Now I have been here for about four months, and I have seen more or less thirty games in the intervening time, so I now know the league rather well. Of course, we work hand in hand when it comes to goalkeepers. Winnie has a lot of experience and a good eye for gifted
young players. We then discuss the whole behind closed doors; however, in the final instance he decides. Of course, I can suggest players. But if I'm honest, I haven't seen any better than the four we have
(Sinthaveechai, Kawin, Chatchai, Sivaruk, red)
.
thai-fussball.com:
Now, Thai goalkeepers are rather shorter than their European counterparts. Do you have to train a little bit differently to compensate for the reach disadvantage? Maybe more on jump strength?
Stefan Brasas:
: You are not able to train away this disadvantage. However, shortness can have advantages too. Everybody has jump strength, no matter if you are 1.85m or 1.93m. I am of the firm conviction that it requires no big talent to be a goalkeeper. Of course it would be an advantage. But if you have the requisite willingness to work, knowing your goals and aiming for them, then nobody can detain you.
thai-fussball.com:
How do you mean?
Stefan Brasas:
: Look to the past. Oliver Kahn and Toni Schumacher were no talents. Now Manuel Neuer is an exception. Kahn and Schumacher: both were world class goalkeepers but one thing distinguished them: that uncompromising will to win, to be strong. This is very much a Darwinist approach which I also coach. In private I'm not that way, only on the pitch. You have to teach your players in such a way, that they are the strongest, the best. They also have to believe this. However, this works only if proper training is given.
thai-fussball.com:
Indeed, it seems you have achieved this with Sinthaveechai, considering his recent performances. Just with crosses he looks greatly improved and more self-confident.
Stefan Brasas:
: We have worked on it from the first day. Because we knew, if we wanted to compete in Australia, he must help his teammates. On average the Australians are twenty centimetres taller. If you look at Manuel Neuer, what is he doing when he expects a corner kick, a free kick? Basically he tries to change his passive position to an active one in which he, from the outset, shows readiness to go for the ball. This of course needs to be put together in training: footwork, coordination, all these things. But the readiness to show you have no fear and to say "this ball is mine", this is important. Even if there is someone who is 1.90 m going for the header and you are just 1.80 m, it doesn't matter. It is purely a mental thing. I was destined for more, but unfortunately I had a career which was average. But because of this I have learnt that I always acted too anxiously. A successful goalkeeper does not hesitate; he goes into the box and punches the ball away. If he misses the ball, who cares? Don't be afraid; go your own way.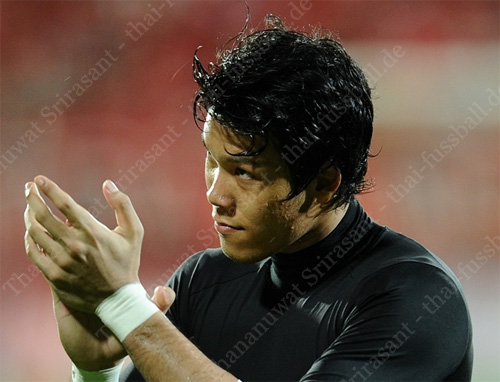 Kawin Thammasatchanan
© Thananuwat Srirasant

thai-fussball.com:

There are no further friendlies before the King's Cup in January. Does Kawin have a chance to win back the number one position?



Stefan Brasas:

: Basically it is a constant fight and everybody has their chance. Even if one is the current number one between the sticks, it is not engraved in stone. It always depends on performances. As the camp is starting again, we will see the shape everybody is in. But in my opinion, Sinthaveechai is the first choice and there is no doubt about that after the past five games. Kawin is very young, one shouldn't forget this. In fact, the future belongs to him and everybody should be aware of that. On the other hand, Sinthaveechai is just 29, and if I was in his place, I wouldn't let anyone push me aside easily!



thai-fussball.com:

...particularly if you consider he still can play for ten more years.



Stefan Brasas:

: Well, maybe not ten years at this level, but certainly five to six years. I hope that someday we will see three players fighting for the number one shirt rather than just two as it is now. This would stimulate things a lot and the competition among themselves would become even greater – I hope to see this even with the other players. I would like to see players not only celebrating for themselves after a win or a good game but also going back to the club as a role model, spontaneously, doing more than is necessary. What I do is to try, with a lot of effort and personal talks, to bring the motivation from outside. But to keep the fire burning over a long period of time, motivation has come to from inside. In Germany players like Effenberg, Kahn and Schuamcher have been successful. People who constantly went to the limit. Though the Thai mentality is different to ours as fun is in the foreground.



thai-fussball.com:

...no doubt about that; 'sanook' is important.



Stefan Brasas:

: ...basically I have nothing against it. But the old German virtue is work comes first. On the contrary, I have nothing against enjoyment. It is in the bag. But first I have to perform. And this is maybe something where we mutually can learn from each other. The Thais can teach us how we can react a bit more relaxed in some situations while we can teach the Thais to hang on in certain ones; to dig deep once more even if you think it is not possible; to test the limit and shift it. If you have experienced that, you are able to pass it on. Sinthaveechai is doing a pretty good job here as he demands a lot from his team mates, addressing them in a negative way when it needs doing.



thai-fussball.com:

However, I think that there are one or two other players who embody the attitude you talked about. We are positively surprised by what you told us about Sinthaveechai. We had players like Niweat, Pipob or Therdsak in mind. Perhaps you have to tell them that they have to go back to their clubs and life so that this mindset spreads.



Stefan Brasas:

: Yes exactly. You are not always in the condition to put up a fuss. You are not always in the physical constitution to push your team so then others need to step into the breach. With regards to Pipob, I do not want this to come across negatively, but after the Australia match I sat in the dressing room totally exhausted. Then the boys came in just laughing. The spectators were contented; everything was fantastic! But this is the difference in mentality; I am very pragmatic. For me only the result counts.


...we were close to defeating ourselves at home against the Saudis..



thai-fussball.com:

The example you gave with Pipob is surprising. Together with Therdsak and Sinthaveechai he plays for Chonburi. In Witthaya Laohkul they do have coach who played in Bundesliga and was in Japan for many years. We remember a press conference after an AFC Cup game which Chonburi won 4-1. Coach Heng was anything but pleased with his team and even criticised his team for not scoring more goals: this was not typical Thai behaviour.



Stefan Brasas:

: Sure, but then the players are, nevertheless, with the national team. You know how people are. I have seen Heng a few times and how he freaked out during the semi-final against Buriram-PEA. He lives and preaches this; he is doing a great job. His team always plays with closed ranks. He is also very practical and ruthless in what he does, even if he sometimes takes players off after fifteen minutes and doesn't consider them again for two or three weeks. But this is only one impression. Pipob I have only got to know for three to five days. But, as I said, then he steps into the dressing room laughing. Of course I won't diss him as I am not entitled to do so. However, we could have been out of the race

(it was not certain immediately after the game, red)

. But we had a big slice of luck: to have everything in our own hands if we can win in Oman and to hope that Austraila beats Saudi Arabia.

Afterwards, one can't criticize the game against Australia. The team played very well and has progressed very much, and there were worlds in between this match and the Saudi Arabia game a few days before. Not in defence, even though we conceded three goals against Saudis, as it worked pretty well in both games. If we had possession against Australia, we were in a situation to play football. We kept the ball away from our goal and put pressure on our opponent as we put into effect what we practiced during training. Against the Saudis this wasn't the case, and perhaps because we had less time to prepare. It was a typical way to play the ball where it is tight, or to take one touch too many. You can do that in the Thai League, but you cannot on international level as you will lose the ball immediately. It was our downfall in the game against Saudi Arabia. If we could have had more possession in their half, we would not have lost the game. In the game against Australia, we transformed it very well; we had a great game but lost. In that situation you get really angry. It lasts one day and the very next day it's gone and you are fine. That is part of the game and the part that helps you to get better and improve. There is not just sunshine and roses.

I don't only want to see the desire to win by my goalkeepers, although that's my job, I want to see it from the whole team: "with every fibre of my body I need to show that I want to win the game." Just take the elephant in our badge. We need to be more like this; nobody can beat us; only we can beat ourselves. After the good start and the win against Oman, we were close to defeating ourselves at home against the Saudis because the team didn't come back in the condition we were hoping for.



thai-fussball.com:

Which presumably lies with the club coaches?



Stefan Brasas:

: I don't think that lies with the club coaches. The players should look at themselves. As a player I can talk to the coach and say "I want to do more", it is not forbidden! The player needs to understand that he has to do more of his own accord. I believe coaches would be glad to see if a player came back from the national side and was simply a bit more of a role model. Therefore I don't want to nag and blame them.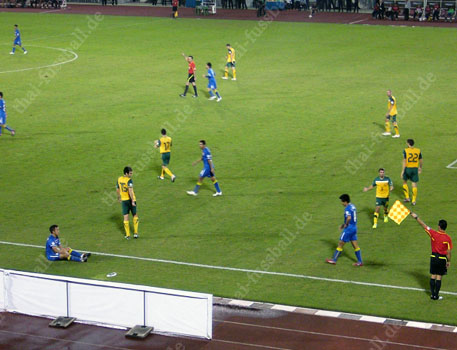 Thailand v Australia
© thai-fussball.com

thai-fussball.com:

As a goalkeeping coach, how do you deal with the mistakes of your fosterlings both on the bench and away from the match? Let's take Australia's equalizer in the first game and Saudi Arabia's first goal in the second game as examples?



Stefan Brasas:

: I will not join in with people who say this was a goalkeeper's mistake or a stoppable ball. A goalkeeper usually knows if it was avoidable or not. In the moments where he has looked at fault, you need to pick one problem and look at what he has done wrong there. The goal against Australia, his footwork was bad because he didn't stand correctly to the ball. Saudi's first goal was unfortunate. He needs to be a bit more consistent here. But, perhaps, for a fraction of second he was thinking about catching the ball. The ball was already on the line, and he had no time to control the it. It wasn't really a mistake, but something you have to work on. There are possibilities in training to mould it into a positive thing without refering to it as a mistake. Eventually you will be in the same situation again, and then you just won't make that mistake again. It is in human nature to make mistakes, and even world class goalies don't look good in certain situations.

However, I would get freaky if Australia constantly send crosses in and he sticks on the line and has fear. Of course he can make mistakes, but he should operate aggressively and actively.

That was part one of our extensive interview with Stefan Brasas. Part two to follow within a couple of days. Among other things, then we are talking about Kirati Keawsombat and Stefan's dream of Rio.

* If you are interest to publish the whole interview or a part of it, for Print or online media, please ask for permission via: info [at] thai-fussball.com. Many thanks for your understanding.*

Autor & translation: lokomotive
Editor: Paul Hewitt