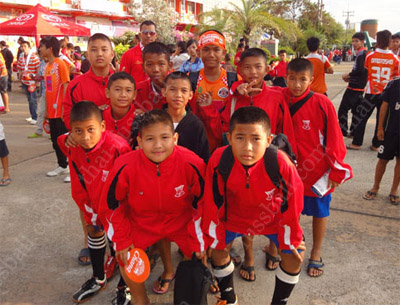 image: thai-fussball.com
The efforts towards a cooperation between the German Football Association and the Thai association continue. Within a meeting between representatives of both sides, Winfried Schäfer also introduced his concept helping youth football in Thailand to develop.
Over and over again there are rumours, announcements and false reports around the future of Winfried Schafer as Thailand's national coach. Notwithstanding, the German speeds up his aims to bring football in Thailand forward. One of his main target is a possible cooperation with the German Football Association (DFB). After initial talks in Frankfurt some months ago, there was a second meeting at the end of April in Bangkok. There, Markus Weidner a representative of the DFB and persons responsible of several clubs, have met for further talks. The aim is to reach a similar cooperation already existing between the German Football Association and the associations of Japan and China. The German FA, primarily, shall help in the areas of coach and referee's education as well as in helping to build up and develop a youth league.
Within the meeting Winnie also introduced his concept under the theme "Awake the potential of our youth". The draft is available in English and Thai and ready for download at the end of the article if you wish. The aims are summarised in prefatory words followed by the details of the concept. The key point is the youth work and the set up of a youth league which is, up to now, not existing in Thailand. Schafer repeatedly stressed how high he rates the potential of talented young players in Thailand and whose inefficient support cause criticism. Of course the financing of a youth league is a big problem. However, a sponsor is found and willing to support such a plan. Although the name can't be revealed currently.
Nevertheless, this alone will not be enough. Since the clubs as well as the association are the bodies to implement such a project. And of course the FA in first place, if accepted. If Thailand ever want to participate in a final round of the World Cup or don't won't to be ranked beyond 100 in the FIFA World Ranking in future, there is no way around investing in the youth and making use of a proper concept. The future is ours, and so it's our youth.
Winfried Schafer's concept can be read in Thai and English by clicking the links below in your preferred language.
ปลุกศักยภาพเยาวชนของเรา (PDF; ภาษาไทย)
/
"Awake the Potential" (PDF; ENG)