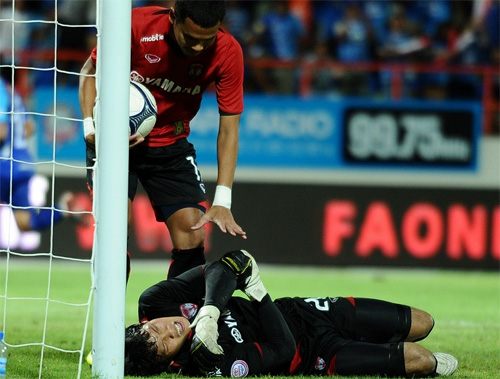 The nations elbow
© Thananuwat Srirasant
update 22 August
On Monday the coming week, Thailand and Winfried Schaefer are going to start into their preparation for the World Cup qualifiers against Australia and Oman. A little bit earlier than expected Schaefer announced his preliminary squad. With his nominations he absolutely knows how to surprise.
Winfried Schaefer has nominated 26 players for the training camp which is to begin on Monday. Actually this is one more player than originally planned, but has it's reason and caused by bad news. Kawin Thammasatchanan, Thailand's current number one goalkeeper injured itself last Wednesday during the league cup tie with Chonburi. According to the doctors he will be out for at least two weeks because of an injury on his elbow. Despite that, Winnie nominated him together with three more goalkeepers.
Of course it was to be expected that, in the core, the usual suspects are nominated by Schaefer and he did so. However he still added a few surprises to the squad.
With no doubt, the biggest one is Sarayuut Chaikamdee who has not been selected. Sarayuut, known as 5-yard Joe for it's own reason, is leading the
TPL scorer list
with 13 goals this season so far. Besides he is one of the most prolific strikers in the TPL and for the national side. Under the helm of Bryan Robson, Schaefer's predecessor, he marked his come back for Thailand and was responsible for most of the goals. However, this exactly could be the problem. Sarayuut, may have fit well into Robsons preferential (English) game but Winnie might want to be a bit more tactically adaptable up front. Especially if there is a need to bring a second or even third striker. Friends, fans and followers of Chaikamdee's club Bangkok Glass FC may agree certainly and know that it is hardly possible with him. Buririam-PEA Kirati Keawsombat is another striker who has not been selected. Since the existing of thai-fussball.de we cannot remember he was not nominated, although he hardly knew to convince anybody when he appeared on the pitch.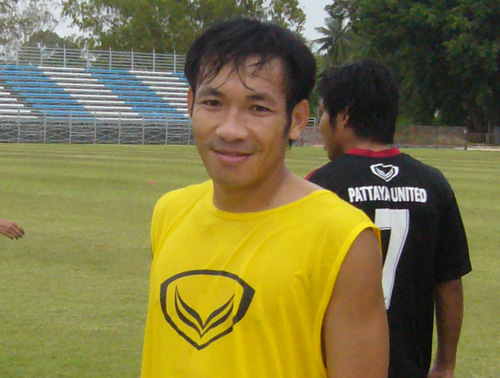 Niweat Siriwong
© thai-fussball.de
Definitely on of the biggest surprise in Schaefer's call up might be Pattaya United captain Niweat Siriwong. 2 years ago Niweat had already announced his retirement from international duty. The 34-year-old can be called international experienced with no doubt. Nearly 7 years he played abroad, among others, for Gombak United and Sembawang Rangers in Singapore. All together he was part of three Asian Championship campaigns and almost earned 100 caps. Presumably one of the reasons for his nomination. Thailand regular captain and central defender Nattaporn Phanrit unfortunately still not recovered yet from his qualm a few weeks ago and, therefore was not considered.
The final cut of the squad, down to 23-man, should follow the day after the warm-up match against Singapore on Wednesday. However, changes on the preliminary 26-man squad are still possible according to Winfried Schaefer. Be it due to injuries or players who might caught his attention on the coming weekend. The warm-up against Singapore takes place at the Rajamangala Stadium. Kickoff is about 19:00 local and tickets are on sale at the ticket counters on game day.
Goalkeepers:
Sivaruck Tedsungnoen (Buriram-PEA)
Sinthaveechai Hathairattanakool (Chonburi FC)
Kawin Thammasatchanan (Muang Thong United)
Chatchai Budprom (Osotspa-Saraburi)
Defenders:
Suttinan Phuk-hom (Chonburi FC)
Cholratit Jantakam (Chonburi FC)
Suree Sukha (Chonburi FC)
Niweat Siriwong (Pattaya United)
Pratum Chuthong (Osotspa-Saraburi)
Paitoon Tiepma (Muang Thong United)
Supachai Komsilp (Bangkok Glass FC)
Theeraton Bunmathan (Buriram-PEA)
Midfielders:
Adul Lahso (Chonburi FC)
Pokkhao Anan (Police United)
Surat Sukha (Buriram-PEA)
Apipoo Suntornpanavej (Osotspa-Saraburi)
Rangsan Viwatchaichok (Buriram-PEA)
Suchao Nuchnum (Buriram-PEA)
Datsakorn Thonglao (Muang Thong United)
Jakkraphan Kaewprom (Buriram-PEA)
+ Piyapol Bantao (Muang Thong United)
+ Arthit Sunthornpit (Chonburi FC)
Strikers:
Teerasil Dangda (Muang Thong United)
Wuttichai Tathong (Sisaket FC)
Surachart Sareepim Police United)
Chatree Chimtalay (Bangkok Glass FC)
Sompong Soleb (Buriram FC)
+ Sarayuut Chaikamdee (Bangkok Glass FC)