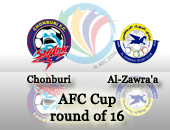 On Tuesday evening in the round of last 16 it comes to an one-off AFC Cup tie between Chonburi and Al-Zawraa SC. In the home match the Sharks have the chance to advance to the quarterfinal for a third time after 2009 and 2011.
As winner of group G, Thailand's representative qualified for the knock-out stage. It secured him the so important home advantage. In just one meeting which decides who is making it to the next round, Coach Haeng and his troops would have been certainly anything but happy about a trip to Bagdad. The club from the center of the Iraqi capital finished it's group campaign behind Al-Shorta from Syria. Just as their opponent, the guests were without a game in the domestic league on last weekend.
Differently than Chonburi, Al-Zawra'a has played already 24 rounds domestically. Though sitting only on ninth place, a successful title defence as it stands at the moment, is almost out of reach. The 80-times capped former international Radhi Shenaishil is at the helm of the 12-times champion. The Iraqi side is no newbie on continental level, with collecting experiences already since the early 90's in all major competitions. AFC Champions League, 2007 for the last time, AFC Cup of course and even the Cup winner's cup competition. Reaching the Final in 2000 of the latter, can be considered as biggest success in the Clubs history. Eventually Al-Zawraa SC was beaten by the slim margin of just one goal by Japanese representative Shimizu S-Pulse which in the semis, kicked out Bangkok Bank FC. The final of 2000, by the way, took place, in Chiang Mai.
For Al-Zawraa some current and former Irqai internationals are playing. Khaldoun Ibrahim and Ahmad Ali Jaber, both were part of the winning Asian Cup squad in 2007. While Mohammed Ali Karim has been part of the last Asian Cup selection. The 37-year-old striker Hesham Mohammed capped 40-times for Iraq during his career. He also seems to be the most dangerous attacker. In the present tournament course he already scored four goals.
Chonburi possibly has to deal with some injured players. Definitely be missed will be the French Geouffrey Doumeng, who is reported to be out until end of leg 1 of the Thai Premier League. There is still a question mark behind Suree Sukha, Adul Lahso and Cholratit Jantakam. Everybody slightly injured. Their fielding will be decided only shortly before kickoff.
After all games of current round is played, the draw for coming rounds up to the final to take place. Quarters and semi-finals then will be decided in 2-legged encounters. Indeed, the next lap of the AFC Cup is not due before September.
Tuesday's game between Chonburi and Al-Zawraa, as usual is covered by True sport 3. Kickoff is at 19:00 local time.