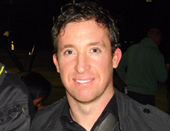 Robbie Fowler
Pic: Jonesy702, Lizenz cc-by-sa 3.0
Will we welcome Robbie Fowler in the Thai Premier League soon? First rumours about a possible sign came to public on Monday this week. After 2 years in the Australian A-League the former star of Liverpool FC could put a final point on his career here in Thailand.
You never know in Thailand. Clubs often seem to dress up with big names just for purpose. In recent times the one or the other, more or less big name of international football was already associated with Thailand during a transfer period. At least this time and in case of Robbie Fowler it seems not be valid, and what have been rumours so far could be become true this week. Fowler is expected to arrive in Thailand on Thursday this week and put his pen to paper with current Thai League Champion Muang Thong United.
According to current reports the 36-year-old could sign a 4 month deal contract based on a match-by-match wage. Nevertheless, the shortness of the contract could led us to the suggestion that Fowler will be signed with a priority to play AFC Cup only, since the fact that the final takes place in October. Thai Premier League season currently is scheduled to end at Christmas eve.
Robbie Fowler can be called a legend of Liverpool FC. From 1993 to 2001 he played for the club from Anfield road, while finding the net 120 times. Beside Liverpool FC, the Englishman was under contract with Leeds United, Blackburn, Cardiff and Manchester City before he moved to Australia's A-League in 2009. Though Fowler has not had his career officially yet finished, however, after the end of the A-League season in spring, he worked as staff coach in England for different clubs.
Already on Monday we reported on our Twitter channel about a possible move. In case you are not following us and you like to
thai-fussball.de on Twitter
.