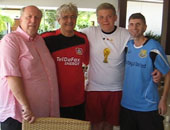 Calli, Bodo, Maurice Calmund, Willi
(c) Bodo Cieslar for thai-fussball.de
Reiner Calmund, former General manager of Bayer Leverkusen, is a very famous person within the football community, as some of you may aware. He also is a big Thailand fan and likes to spend his holidays there. So he did these days again. During his stay he opened a new home for the kids from the Pattaya Orphanage.
Reiner Calmund, legendary manager of Bayer Leverkusen is an avowed friend of Thailand. Several times a year he uses the chance to visit his old friend Gerrit Niehaus. Niehaus, a former chairman of Bundesliga side Eintracht Frankfurt owns the Thai Garden Resort in North-Pattaya. Bodo Cieslar, Chairmann of SC Galaxy Pattaya and Willi Schanz, Farang fan representative of Pattaya United met Calli during his recent stay. They took their chance and invited Reiner Calmund to pay a visit to a Thai Premier League match. Calli was really delighted and thankfully accepted the invitation.
He regret, that he will not be able to attend a match during his actual stay. Next chance for him would be during his next stay, probably Mid to End of October. Within the meeting, Calli committed himself to a interview with thai-fussball.de during the upcoming weeks. We have been very glad to hear this.