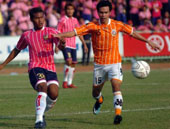 Chainat v Bangkok FC
(c) thaileagueonline.com
Finally done. After 10 match days the Regional League play offs found an end last weekend. The winners of the play offs earn direct promotion to Thai Premier League Division 1. However, it is still not enough and the relegation battle will follow in January. This is necessary due to the leagues extension from 16 to 18 clubs.
From mid October until the last weekend 12 Regional League teams, divided into two groups, battled for four promotion spots. In Group A we saw a more less boring race nearly right from the start where the favourites dominated the pace. At the end 12 points are between the third and fourth.
The race in group B was a bit more exciting than in the other one not considering that at early stage everything was over for Loei City. The Division champion from the North-East failed promotion now for the second time in a row. The same is valid for Samut Prakarn from the Central Division. While Samut Prakarn lost away to Phuket on the last day, Bangkok FC sneaked into the relegation running in on fourth. Bangkok FC won only two of their 10 matches, but eventually could end up in the 2nd League. The dark horse of group B was Rayong FC. At times they even lead the table. Despite performing well, they just finished 3rd. The two top ranked teams were Phuket and Chainat in the end, both playing in the Thai Premier League Division 1 next season.
Already today, 26 December, the draw was held for the relegation matches. In one round with 2 legs the remaining 4 clubs for the 2011 season will be find. 1st leg is on 8 January and the return leg on 15 January and here is the result of the draw:
Prachinburi - Rangsit, Rattana Bundit - Rayong, Suphanburi - Saraburi, Narathiwat - FC Bangkok.