Sukhothai against Chumphon
image: © thai-fussball.com
The eagerly awaited draw for the promotion round to Thailand's second tier took place on Monday in Ang Thong. A report on what it means to wait five hours for a draw.
On neutral field in Ayutthaya the last participant for the play-offs was determined on Sunday between the third of the North Division - Sukhothai FC, and the second from the South - Chumphon FC. The 2.000 spectators, who for the most part came from Sukhothai, got a rather mediocre game to watch with few highlights. All resulting from set pieces. And so it was not a surprise the winning goal of the night fell after a corner kick (79') when former Osotspa Saraburi player Theodore Yuyun, left unmarked, converted from the edge of the box comfortably.
Chumphon then were reduced to 10, following a tripping by one of its players, shortly before end. However, both sides had to finish the game with an equal number of players after Sukhothai saw itself reduced for time wasting. The two teams operated half-hearted offensively, probably to avoid any possible run over and there it remained 1-0.
Therefore Sukhothai qualified as the last and twelfth team for the play-off round for which the draw took place on Monday in Ang Thong. The programme was scheduled to start at 10 o'clock, but it took several hours until the draw finally happened. While league officials and club managers met behind closed doors, supporters of different clubs arrived. Cables were moved around and connected for the TV broadcast and a few food stalls were prepared.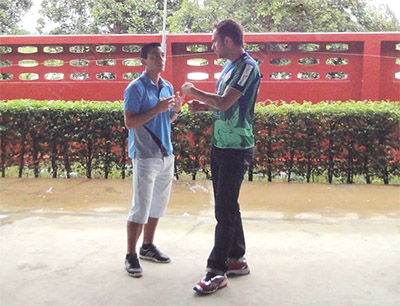 Gaston Gonzales and Arlindo
image: © thai-fussball.com
As an observer who would like to have seen the draw to happen as soon as possible, to get finally to know who meets whom in which group, one could become a little bit impatient. But it wasn't a bad thing at all as we could catch some players of the teams like Gaston Gonzales (ex-Sriracha) and Arlindo (ex-Pattaya United) while they were chatting. Nevertheless, waiting and sitting around was the Mantra of the day primarily. Or to stodge ones belly at the expenses of the Football Association. At some point, a traditional Thai-Band started to play on stage with no one took really notice of. Playing for almost half an hour, it couldn't be just a rehearsal.
May music be a nice thing, it certainly would have been great to have a few football table or similar things around for distraction. Sadly though it wasn't the case. On the fence of tense anticipation on the draw and the ruling boredom, it was all about to endure and grin. Meanwhile nearly 4 hours had gone, when FA boss Worawi Makudi, who later even granted us a short audience, arrived with his followers.
What followed next, still wasn't the big lotterie we were waiting for. Instead, yet another cultural programme of traditional Thai Music and dances were performed on stage. A crisp medley of songs like "Football is coming home" or "You Never Walk Alone", gladly in Thai, could have revived the meanwhile rusted spirits of us all. But after the second music intermezzo, five speaches indulged in eulogies about the performed work at clubs and association, followed. To some of the arrived fans it apparently was a bit too long-winded as one could infer from their faces. But thanks to modern times, there are smartphones and tablets with which one could keep his head above water.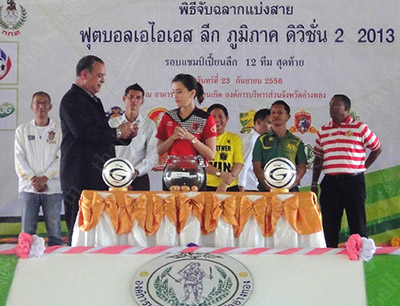 The draw 2013
image: © thai-fussball.com
With the prefaces done, Paknampho NSRU, Look Esan and Ang Thong received the trophies for winning her divisions. An opportunity which the present fans of the three used to make some noise and to cheer up their favourites. Finally, all club chairman were called on stage. All received a gift basket full with biscuits and other small surprises. We just assume the baskets landed at secretaries office later. Since a whole team of hungry footballers might hardly can eat one's fill of it, and it might not be a appropriate nutrition anyway
Five hours have gone, during which an old woman became young, when six representative of the Division winners entered the stage to finally: start the draw. The lots waited in glass bowls in form of brown plastic eggs. However, after a first drawing round in which all clubs had been assigned a group and a number, and all teams were put on both boards for the groups, a second round of a draw followed.
After seven or eight minutes, the mission was accomplished. And because the schedule had already been fixed before, now everyone knew who plays when against whom and speculations could start on whom will assert himself at the end.
The first matchday, which kick off on the weekend 5/6 October looks as follow:
Saturday, 5 October: Kasetsart - Thai Airways Look Esan, Narathiwat - Roi Et, Prachuap - Phitsanulok (
fixtures Group A
)
Sunday, 6 October: Nakhon Nayok - Chiang Mai, Sukhothai - Udon Thani, Paknampho NSRU - Ang Thong (
fixtures Group B
)
The last round will be played on the weekend 7/8 December. Although the promoted sides are determined by then, there will be a final round between the top two of each group to decide on the overall Regional League Champion.