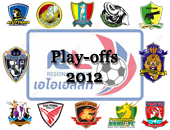 After we had a closer look on Group A of the Regional League play-offs 2012 on Saturday, it is time to have one on Group B.
The big favorite in the so called "group of death" is, of course Chiang Mai. If one sees what the club has invested this year to build up a promising academy and training facilities, of those even players from the Thai Premier League are enthusiastically talking bout, the only objective can be promotion. With Aliou Seck (18 goals), Aboubacar Sanogo (17) and Anucha Chaiyawong (14) Chiang Mai FC all alone provided the top three goal scorers from the North. Together they produced a total of 49 of the 78 goals. Anucha, Thai Premier League Champion in 2008 with PEA, already enjoyed promotion with his current club two years ago before he went off to Lamphun for a year. To give his players some extra motivation, the clubs president just this week, bought new shoes for all his players, each pair worth 7.800 Baht. Remains to hope they do not get blisters on their feet after the first match.
Another hot candidate aiming for promotion to Thailand's second tier is Rayong FC who is going to play the final round for a third time. But always missed the big deal by the slim margin of one point. In his Central & East Division, the club had to let pass only Ayutthaya and was at eye level for most of the season. With a steadily increasing and stable fan base, it absolutely would be an enrichment for the second league.
Like Chiang Mai in the north, Trang has dominated its Division and after one year of absence, the club is back in the play-offs. Though it is always hard to predict a side coming from a league with just 11 teams like the southern one, Trang should not be underestimated. Two teams from the south - Krabi and Phattalung - got promoted 2011 with probably no one had them on the sheet. Currently there are also plans to build an own stadium within the next 3 years. Hence, a promotion would be the first landmark on their future way.
Joint favorite in group B are Thai Honda which aiming to bounce back after spending one year in Thailand's third division. Although standing on first place for most of the season, the side did not play convincingly throughout and mostly won by close run. With Bamba Fadel (20 goals), Thai Honda provides one of two leading goal scorers of the Bangkok zone. Being a corporate-club virtually, with Honda Thailand a potential partner is aside if the occasion calls. Indeed, the fan base is still made of only a few dozen spectators.
Just the opposite of it is Trat FC which immediately could electrify the whole province in its inaugural season and always played in front of 3000-4000 spectators. Located close to the Cambodian border and casino's, money is not a big issue. Therefore a demanded stadium extension and additional stands were built without further ado. Moreover, with Miroslav Toth the club affords a former TPL striker playing for a monthly wage equal to the top-flight. Nevertheless the team will travel by bus to away games and not make use of planes. But it is planned to arrive on-site two to three days in advance to give players certain time to rest.
Finishing third in the in the Central & Eastern zone is a remarkable achievement, even if it became dicey in the run out. Trat FC also caused an upset when beating Army United after penalties in the Thai FA Cup. Although the game has been awarded to Army afterwards because Trat fielded an ineligible player. If Trat is able to grow with its tasks in the play-offs, the great success could wait around the corner and end in Thailand's Division One.
Finally Sisaket United. After some difficulties right from the start, the league newbie quickly rose from the dead and finally even left the highly traded Udon Thani FC behind. The club may also have benefited from the fact that Sisaket FC has moved to Ubon Ratchathani and was able to build up a new fan base. For travel expenses 2 million Baht are estimated, but like most of the clubs, put their money the home matches and is aiming for possible 15 points.
The full fixture list and updated league tables can be found on our
Group B overview
.