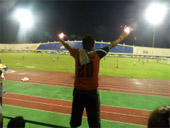 Korat Fan away
© Paul Hewitt
Just a few weeks left till the end of September and Thailand third division or Regional League will see it's end of the regular season. The battle for final play-off spots is on and has a lot to offer. We throw a look at it.
Regular season of Thailand Regional league soon comes close to an end and right after that, the play-off's to Thailand second tier are about to start. The two best ranked teams of all five regional divisions are qualified automatically. Two teams finishing third and having the most points of all to gain a direct entry too. Nakhon Ratchasima is one of them. The club from the North-East division, never has been as good as this year, but had to swallow the biggest setback in the play off race of all teams. They are still without defeat in the season, at least theoretically. Since they fielded and even not fielded an non eligible player during three of their matches, they got deducted 9 points by the league.
Though this was a harsh setback, and a play-off spot seemed out of touch, they don't gave up and fought their way back into the hunt in the meantime. Nakhon Ratchasima current form let's us suggest they will make it.
At current state, the club have 50 points on account, after deduction. If you add the nine, they would be close to second spot in the North East Division held by Loei City. However, Loei is up by ten now and need just one more point to secure the third consecutive play-off birth. Furthermore Loei City is also in the quarter finals of the
Thai FA Cup
. Meanwhile Roi Et United is safely in the play-offs no matter they finish either first or second in the Division. During last week, the club signed an agreement of co-operation with current Thai Premier League side TOT SC.
In Division North, Phitsanulok FC is already qualified as winner. Still in 2006 the club played in the Pro-League (under the hat of the SAT) and alongside with clubs like Sisaket, Khon Kaen and Chiang Mai fought for two places in the Thai Premier League. Lamphun (newly founded 2010) and Phichit FC still fight for a direct entry. Latter did quite bad in last years play-off.
Central & East division has it's winner too. It's Ratchaburi FC and even Rayong FC should have secured their spot already. Samut Sakhon, Chachoengsao and Ayutthaya FC still battling for the 3rd place, but looking at the points on account, with minor changes to make it to the finals. All of them will have to rely on other clubs involved.
Raj-Vithi vs Kasetsart
© thai-fussball.de
Probably the most toughest and probably most exiting Division till the very last day could become the the Bangkok one. With Kasetsart, Samut Prakan United, North Bangkok and Raj-Vithi still four teams are in the hunt for a direct entry and even a spot via the best third ranked team.
With the persuasive way, how Kasetsart played Raj-Vithi last week, virtually they might be through. Though over all Samut Prakan couldn't convince playful, they had a good second half of the season so far, while North Bangkok was too unsteady. Raj-Vithi had to find themselves after releasing the coach and various changes made to the squad. Already four points behind Samut Prakan United, Raj-Vithi is getting a good chance to close the gap in this weekends top match vs Samut. Talking about the Bangkok Division, Bangkok Christian College opened a new store situated between Sathorn and Silom Road.
Let's take a look to the south where
Toyota League Cup
semi finalist Pattalung looks quite good with leading the table. However, they are just have a three point gap to a spot not allowing them to participate the play-offs. And on this weekend they have to take on Krabi FC, which are second. Pattani ranked third, will have to face Hat Yai which are in fourth position. All four are seperated by 4 just points.