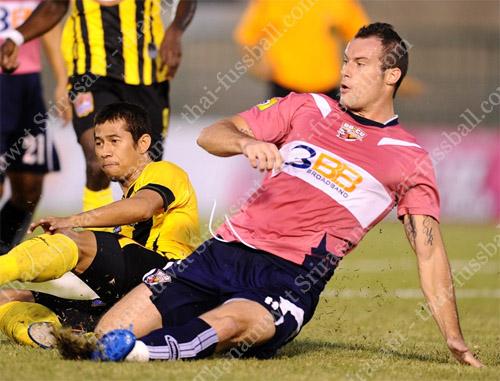 BB-CU FC, Jay Lee Harris
Image: © Thananuwat Srirasant
In a rearranged fixture last week, Songkhla just managed to draw with Raj-Pracha and squandered the last chance to gain promotion to Thai Premier League 2012.
Buriram FC, Chainat FC and BB-CU FC are the three promoted teams to the Thai Premier league season 2012. BB-CU have been the last side sealing promotion to Thailands top tier. There was not even much the side, coached by player's legend Kiatisak "Zico" Senamuang, had to do for. A 2-2 draw between Raj-Pracha and Songkhla in a catch up game last week finally had been enough to return after relegation in 2009.
It is not the first time Zico is coaching the club. With attacking football he led the freshly promoted side to a respectably eight place in the 2008 Thai Premier League season. This caught the interest of Chonburi FC where he moved to after the season. While he achieved a 2nd place with his new side, his former club (that time Chula United) got relegated.
During the 2011 season not everything went smoothly for Zico and his BB-CU eleven. Together with Buriram FC, they dominated the first half of the season and both sides battled for the top spot week in week out. However, with the start of the second half of the season the "Pink Panthers" collapsed more and more and even were caught up by Chainat and at the end, even Songkhla smelled their chance.
But the club from the south barely missed promotion for the second consecutive time. In 2010 they came up short by two points to Khon Kaen finishing fourth. Santos Chayene (17 goals) is Songkhla top scorer this season. The Brazilian forward is just on loan from Muang Thong and the club is looking to get him for another one. With Songkhla missing promotion again, we will have to wait for another year till we finally see a representative from the south in the Thai Premier League. However, with Phattalung, Krabi, Phuket and just Songkhla, for the first time, there will be four clubs from the south of Thailand playing in Division One next season. Cracking derby guaranteed.
With Chainat FC gaining promotion, for once more a just promoted side did a clean sweep. Since the introduction of the new Division One in 2007 every year one club succeeded. Samut Songkrahm in 2007, Muang Thong United in 2008, Sisaket in 2009 and 2010 Chiang Rai United.
Chainat captain Phuwadol Suwannachart has a big stake in the success without doubt. With 20 goals the prolific striker is leading the scorer ranks ahead of the last round. He found the net 13 times already last season when he was under contract with Nakhon Pathom FC. According to rumours, clubs from Malaysia and the Middle East showing interested in him. However, the club already declared him not for sale.
During the summer break Chainat signed former star player, Michael Byrne from Bangkok Glass. Whether he will be the club next season remains to be seen. Some judge the ex-Chonburi midfielder as too slowly for the Thai Premier League. Besides, Michael is just 26 years old and Fowler might not be faster than Byrne.
About the third promoted team in the alliance, Buriram FC, we do not need to lose so much words. Even before the season started it was quite clear that the 2nd club of the Chidchobs would gain promotion right away from the Regional league. It is not for nothing that player were transferred between Buriram-PEA and the FC. At least, Dudu, refused not to play in Thaialnds second division. In the end it resulted in the fact that he was released from Burriam-PEA, with running contract. Because of his contract clauses he was not able to join any other club in Thailand, instead he had to sit out the first round until Sriracha signed him midway of the season.
As everybody knows, Buriram FC becomes Buriram United from next season onwards and will play in the AFC Champions League. Buriram-PEA is loaded with high-class players. There it becomes interesting to see who remains of it at the end. After all four Thai Port players were signed a few months ago for a lot of money. Possibly they follow their old coach Sasom Pobprasert to Bangkok United. Latter had to give up his short intermezzo with Buriram FC after a short time. It is to believed that Mrs. Chidchob probably did not liked him very much.
As one of the only three promoted teams, BB-CU may will have to fight hard for not be send down immediately. The club does not have a large following and might be short of cash. It remains to be seen how Zico is able to strengthen his squad.