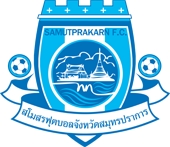 In terms of their fan base, Samut Prakan FC can be considered as one of the biggest clubs in the Regional League Division 2. Originally, the club was founded in 2004, under the roof of the provincial government. In 2008, the club moved into private hands. Since that time, Perapat Thanit is taking care of the club, as president. Until that he used to follow the club as a supporter.
Perapat's idea was to form a local club, for the people in the area of Samut Prakarn. He talked to the responsible provincial authorities and were fallen on sympathetic ears. He started nearly from scratch, with having no stadium, not pitch for training and no budget. Important for him, that time and now, was to establish a link among the club, the club management and the supporters.
Samut Prakarns biggest success so far was wining the championship of the Central East Regional Division 2 last year. Eventually in the play offs, the club failed to gain promotion to the TPL Division 1 by just one point. Sitting on a third place with four games left in the 2010 season, Samut Prakarn is still in a position to make it to the play offs. However, the club is facing some serious problems. Beginning of this month, the club was informed by Division Central East authorities, that they are not allowed to use their current stadium for the rest of the season any longer.

Samut supporters @ Rajamangala
(c) thai-fussball.de
Being under such pressure, Samut Prakarn supporters got the idea to host the home match vs Saraburi at the Rajamangala National Stadium. Both sides, club and supporters, stood together and made it happened.
Altogether, in the short history, the club was forced to use several stadiums as their home ground. Last year, games were played usually in Bang Mod. The stadium is owned by thaicom, and later on, the company signed a cooperation with Bangkok FC, which used to play at the same stadium. Samut Prakarn was forced to leave Bang Mod.
There is another stadium in Samut Prakarn, in the district of Bang Plee, but it is occupied already by another club. Thai Summit Samut Prakarn FC. A club who is playing in the Bangkok Division of the Regional League. That stadium is owned by the government, although Thai Summit invested some money already. Most likely it seems the "Fortress" is not welcome there, and most probably the authorities wouldn't gave permission to use it.
In this context, Samut Prakarn supporters started an unique project in Thai football. They founded a project with name "Prakarn Power". We talked with president Perapat Thanit about this project and the club.
thai-fussball.de:
How the club became the nickname "Fortress"?
Perapat:
We got the name by our fans. They are really crazy in terms of our team and they are going to surprise us all the time with new things. From time to time, they took a boat within the stadium. Just to emphasise our geographical relation to the ocean. Nevertheless our nickname was historically grown. Our province is known for fortifications from the past, in order to prevent the area from raids. A fortress is also to be seen in our club badge.
thai-fussball.de:
To play at the Rajamangala Stadium was also an idea from your fans...
Perapat:
Yes, another crazy thing. As a club, we are not able to afford the rent for the stadium as it is about 50.000 Baht. Our fans started a donation campaign to make it possible. On the other hand it was some kind of promotion for our club, to make people aware of our problem.
thai-fussball.de:
How does it came, that you are not able to use the Stadium at Lad Krabang Soi 54 anymore?
Perapat:
We shared the stadium with Customs Suvarnabhumi FC from Division 1. It was approved by the league anyway. But suddenly we were not allowed to host our home matches there anymore. As you can imagine, we were really surprised. League authorities informed us that to many appointments would overlap.
thai-fussball.de:
How many spectators usually are come to watch your home games?
Perapat:
Last year, when we used to play at Bang Mod, sometimes we had about 3000-4000 people. This season our average is about 800. One of the main reason might be switching our home grounds for many times over the past. Over the last two years, we played in seven different stadiums. And actually we even have no idea where to play our two remaining home matches of the season. Not to talk about if we can make it to the play-offs. For our League Cup match against Muang Thong United, we will have to rent the Thepasadin Stadium, which is used by BEC-Tero. However, it will cost us again 50.000 Baht.
thai-fussball.de:
There is always some criticism to be heard by fans, about the shortly announced new competitions. How you are taking this as a club?
Perapat:
We welcome it. It is some kind of a additional advertisement for our club and we do hope to gain some interest of potential sponsors.

Campaign Logo
(c) Samut Prakarn FC
thai-fussball.de:
What you really like, is to play in your own stadium..
Perapat:
That's a long way to go. We are just at the beginning. For the time being we would be happy if we can find a stadium for rent. Therefore our fan club became the idea to bring "Prakarn Power" to live. And of course we are very thankful. The aim is to find 1000 people donating 1000 Baht each. That would be 1 Million Baht in total. To thank every donator he will be named on our Website. Using that money, we will be able to rent a stadium for the next season.
Besides that we hope investors or sponsors become interested in our club. If one single supporter is able to raise 1000 Baht, how much a big company would be able to donate in the end? And of course we hope to come closer to our dream, to own a stadium. For that we would need at least 50 Million Baht, if not up to 100 Million Baht.
thai-fussball.de:
What is the budget for this season?
Perapat:
After 2 Million Baht from last year, we have been able to plan with 4 Million Baht this year. Considering that we do have to pay player wages, it is still not enough. Measured by tax income, our province is No. 1 in Thailand. This means potential investors are there. And thats one of the reason we hope to achieve our goals, to bring our club to the top.
At the moment we are trying to bring different business fields together with our club and in some ways to build up some identities. For example, we do have a regional producer of water bottles. He is putting our club badge on the bottles, and therefore water for our refreshments costs us nothing. But we do also have sponsor deals, where we are don't get any Baht from. The reason behind that idea is, if we advertise with big names, we may attract other potential sponsors.
thai-fussball.de:
What about the merchandising?
Perapat:
We do not really make profit out of it at the moment. Many items we give away to our partners. In order to operate the club and to pay the bills, I own a small sport shop as you can see here. We are also selling sport shoes as you see.
thai-fussball.de:
Recently the league authorities made an assessment about all clubs in the league. In terms of youth development you achieved full points.
Perapat:
Oh, we didn't knew that... Besides that, there was nobody here taking a look around. Which rank we achieved finally?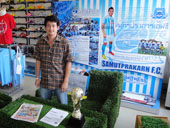 Perapat Thanit
(c) thai-fussball.de
thai-fussball.de:
Overall? I am sorry I can't say it at the moment. But I heard about your youth development already before. And that she is very good.
Perapat:
Actually we do have three junior teams under the roof of the Assumption Samut Prakan School. Juniors from 10 years, semi juniors in the age of 12 and high juniors in the age of 14. But there is no league where they are able to play in. But they participate in the ministers cup within the government project named Tongkla, which means small tree.
The most important thing for us is, especially later in the seniors squad, that they are able identify themselves with the philosophies of the club and its surrounding. That they are able to understand that we are a local club, a family. I treat every player like a brother of mine. (While talking about that, a former player is saying good bye to Perapat in a friendly manner, which proofed the words to be true)
thai-fussball.de:
Do you have some scouting system?
Perapat:
I am doing it in private. But sometimes we go out together with our players, watching some matches from other teams. So they are able to see how the other teams are playing, getting familiar with their playing style.
thai-fussball.de:
Beeing ranked 3rd in the table, you having it in your own hand to qualify for the play offs. How you would judge the situation?
Perapat:
Phuket FC is the favourite team in the play offs.
Thansk for the interview and good luck for the rest of the season.
More informations about the "Prakarn Power" campaign can be found under
Samut Prakarn FC - Prakarn Power campaign
Right after the interview our author Falk Kramer spontaneously decided to
donate 1.000 Baht for a new home of Samut Prakarn FC. He handed over
the money to Khun Perapat on behalf of thai-fussball.de.

Perapat and thai-fussball.de
courtesy of Samut Prakarn FC