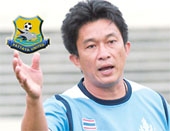 Jatuporn Pramolbal
A few weeks ago, Pattaya United officially announced the appointment of their new head coach Jatuporn Pramolbal. He follows Thawatchai Damrong-Ongtrakul on the hot seat. Thawatcha's contract terminated with the end of the season and wasn't renewed. Jatuporn is the fifth coach of the east coast club within a two years time.
The new coach isn't unknown in Thai football. Although their are not that much information available about him. That could be due to his last job, when he was responsible for the Thai women's national football team. They usually gain rather little attention. However, Khun Jatuporn, can call himself two time AFC Champions League winner as he was part of the Thai Farmers Bank squad lifting the trophy two times in a row in 1994 and 1995. During his career, the 40 year old acted as centerback.
After the first training sessions under the new coach, reactions by the players are really positive. A few foreign players are there for trial. Among others Hiroyuki Yamamoto, who played for TTM Phichit during the 2010 season. Two key players from last season have left the club. Anucha Kitpongsri signed up for Chonburi FC and Santi Chaiyaphua for Muang Thong United. Departure of the latter could be seen rather positive. It is an open secret more or less, that he was respsonible for the quarrels within the squad through last season. Two other major players, Arlindo and Kengne Ludovick meanwhile received contract extensions. However, Coach Jatuporn will be without the service from Arlindo for the next weeks due to injury. Beside a training session, we had the chance for a small chat with the new coach, which you can find below.
thai-fussball.de:
During your time as a player with Thai Farmers Bank, Charnwit Polcheewin was your coach. How did you perceived him?
Jatuporn Pramolbal:
He was a great coach, with the ability to form a strong unity out of different characters.
thai-fussball.de:
And what made him so successful?
Jatuporn Pramolbal:
His professional knowledge. He was able to form a unit, as mentioned, using his boundless efforts and energy.
thai-fussball.de:
Before you became the new Pattaya coach, you have been responsible for the Thai women's national football team. Who in your opinion is the most talented female football player in Thailand?
Jatuporn Pramolbal:
Striker Pitsamai Sornsai from RBAC University.
thai-fussball.de:
What was the reason for you to take on the challenge coaching Pattaya United?
Jatuporn Pramolbal:
Pattaya were my first address. Because they tried to get me under contract already last season. I got several offers from other Thai Premier League clubs. But Pattaya tried very hard to convince me and they showed me a clear vision and targets.
thai-fussball.de:
After finishing the season in 6th place 2010, what is your personal target for the 2011 season?
Jatuporn Pramolbal:
We like to battle for the championship as long as possible. The team have huge potential. To finish the season within the Top-3 should be possible. But I don't like to come up shorter than fifth.
thai-fussball.de:
Do you have a playing philosophy, and which one do you prefer?
Jatuporn Pramolbal:
I like the modern attacking football, nevertheless I like to put on a strong defence.
thai-fussball.de:
As a coach, on what you pay special attention?
Jatuporn Pramolbal:
Discipline is my highest priority.
thai-fussball.de:
First the ladies, now a mans squad. Any problem to adopt?
Jatuporn Pramolbal:
Personally not, among others I coached Thai Port FC already. As women's coach sometimes it isn't easy to understand some things. (he said that with a twinkle in one's eye).

We like to thank coach Jatuporn Pramolbal for this time and Willi for interviewing him on behalf of thai-fussball.de.