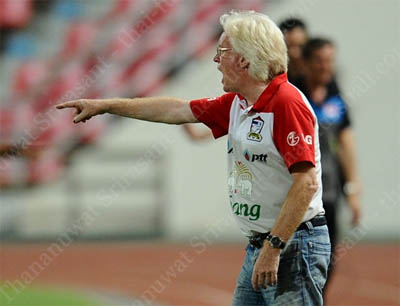 One direction, all to pull together
image: © Thananuwat Srirasant
Winfried Schafer has the one aim. To win the AFF Suzuki Cup with the Thai National team in December. But to achieve this target, a reasonable preparation is necessary.
The current scheduling of the league and Thai FA leaves no space for any warm-up game till November. On Thursday this week a meeting of the persons responsible - league, clubs, federation - takes place in Bangkok. Now, maybe with the recollection of the catastrophic preparation on the crucial World Cup qualifier against Oman at the back of his mind, Schafer released an "open letter" just before the meeting. You can read the full letter translated from German hereinafter.
to all whom it may concern
It is not only about the national team. It is not only about single clubs of the Thai league. At the end it is always about the football in Thailand. Everyone who has to deal with football in Thailand, no matter he is a coach, player, manager, president or fan, wishes the same for the Thai football. We want to see exciting, rousing games we can be proud of. We want that one in Korea, Japan, China, and Europe speaks with enthusiasm and respect of our football.
We wish Thai players become demanded professionals and attracting attention from abroad. That our clubs and national team, be it at Champions League stage or with internationals is feared by everyone. All this is possible, because the potential is there! We have the talents, we have the young and hungry players.
But to reach our targets we must work together. The clubs, the fans and the national team. If the clubs improve, the national team improves - the national team improves, the clubs improve. A success of our national team gains international attention and with it, football in Thailand benefits. Every single player, every club.
The next important station for the national team will be the Suzuki Cup. A wonderful event where we hope for the support and the enthusiasm of the Thai people. We would like to see all fans as a solid mass backing us, to be our twelfth man, enabling us to rise above and to be victorious. But you must earn this support of the fans - by playing the best possible football. For it of course we need the best possible preparation.
Therefore, we will try to organize warm-up games in September and October and ask the league and the clubs for support. Together we can make Thai football strong and lead it to an international significance of which everybody can be proud of.
Winfried Schafer
Head Coach Thailand
19 July 2012
With thanks to the management of the Thai national football team, who provided us with the letter on a quick way.